The Degen Madness Championship game is set! Congrats to Ohio State and San Diego State for making it this far.
Way back on March 25th, I wrote a column previewing the first two games of Degen Madness. At that time, I had no idea what to expect. It had been a while since I dabbled in video games and I had zero experience with eSports. Fast forward three-plus weeks and here we are on the final day of Degen Madness. If you have been along for the ride, I'm sure you have enjoyed it as much as myself. Hopefully you also made some money in the process.
Saturday's games will include the consolation 3rd place game (why not – its another opportunity to bet) and the first ever Degen Madness National Championship game. As always, all betting (spreads, totals, odd/even, etc) on MyBookie.AG. Remember all games can be viewed on Twitch, YouTube, Twitter (@GamblingPodcast), Twitter (@theSGPNetwork), Facebook, and Instagram.
3rd Place Consolation Game
Arizona Wildcats @ Kansas Jayhawks
Line: Kansas -6.5
Total: 97.5
Saturday 6pm PST
I made a comment going into Friday's games that it seemed like we were on an Arizona vs Kansas collusion course for the Degen Madness championship. Well apparently, San Diego State and Ohio State had other ideas. After an opening round bye, the Jayhawks smashed Michigan 41 to 19 and obliterated Texas Tech 57 to 34. It became apparent early on in the game last night that, after two walk-in-the-park wins, Kansas was not ready for a fight. They got out played, out coached, and out toughed by the Aztecs. Will they respond with a chip on their shoulder or will the act like the previously undefeated boxer who is never the same after getting knocked out for the first time?
Arizona, on the other hand, had their magical run end in Columbus late Friday night. Nico "Fireball" Mannion displayed a valiant effort but the Wildcats did not have any answers for the Wesson brothers and the rest of the Buckeyes. Mannion was a one man show and this deep into Degen Madness, you need a whole team effort to advance. They will have their hands full with the Jayhawks in the consolation game.
Prediction:
This game is being dubbed the Scandal Showdown as both coaches are known for giving players bags of cash to attend their universities. For KU, Udoka Azubuike is a total monster on the inside and Arizona simply does not have a match for him. Devon Dotson is one of the best guards in the country and the supporting cast compliments their star players perfectly. After the loss, Fireball Mannion will turn his focus to the NBA draft and Kansas will roll here. Give me the Under as well – 97.5 is just a bit high.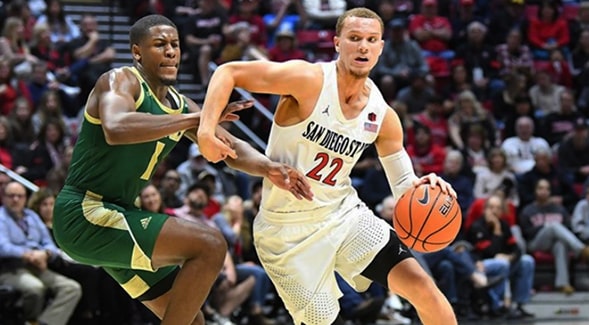 Degen Madness National Championship Game
Ohio State Buckeyes @ San Diego State Aztecs
Line: San Diego State -3.5
Total: 91
Saturday 7pm PST
Our gals! As an over six point dog, the Aztecs took down the top seed Kansas Jayhawks in Lawrence while punching their ticket into the first ever Degen Championship game. Prior to Friday night's game, San Diego State was surviving and advancing but not necessarily looking all that impressive or dominant. Meanwhile, Ohio State is quietly going about their business of knocking off teams and advancing. A team that has flown under the radar has found themselves on the verge of winning the whole freaking thing after beating the likes of Auburn, Dayton, LSU and Arizona.
While the Buckeyes don't have a single player with a rating in the 80's, they are a balanced team led by the Wesson brothers, Kaleb and Andre. Joining the siblings is DJ Carton, Luther Muhammed, and Duane Washington. They were hot from beyond the arc against Arizona and will look to keep the nets ablaze vs the Aztecs. If their sharp shooting continues, they just may be cutting down the nets.
The Aztecs come into the championship game led by a dangerous trio of Malachi Flynn, Matt Mitchell, and KJ Feagin. Looking strictly at player ratings, San Diego State has a clear cut advantage. However, this hasn't mattered in previous Ohio State games where they also had lower combined ratings than their opponent. A complete team, who can score the ball and also defend, they'll look to lock down the Wessons and spread the ball around on offense. However, make no mistake – Malachi Flynn is the alpha dog here and if a big shot is needed, he'll be the one taking it.
Prediction:
If you think I am going to pick against the San Diego State (Our Gals!) Aztecs in favor of the hated Ohio State Buckeyes, you're crazy. Expect a close game with San Diego State pulling away late. A couple big shots by Flynn down the stretch and the game's a wrap. Give me the Over as well.