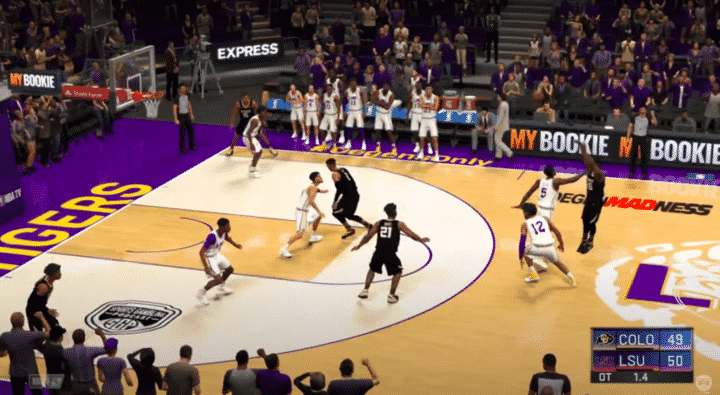 Would you look at that? The Sweet 16 has concluded and the field for the Elite 8 is set. Five of the eight teams in the field are 10 seeds or lower (Texas Tech, Virginia, Colorado, Arizona and Washington) and only one top seed (Kansas) advanced. The two remaining teams are third seeded San Diego State and ninth seeded Ohio State. Be sure to tune into every game because they are sure to be exciting.
Where can you catch the action, you say? All games will be simulated and streamed live on YouTube, Twitter, Twitch, Facebook and Periscope. Head on over to MyBookie to place your bets. They're offering spreads, totals, live betting, and you can even bet on the total to be odd or even.
*For sim data, rosters, and more Degen Madness related material, visit HERE*
*To view the leaderboard, visit HERE*
Day Ten Recaps – Debut Of The Number One Seeds
Kansas 41 – Michigan 19
Spread – Kansas -5.5
Total – 86.5
We knew that Michigan was over-matched down low, but nobody expect this to be so one-sided. Kansas came ready and they proved that they deserved their number one seed. Whether it was Kansas's stifling defense or Michigan's lazy offense, either way the Jayhawks were never in doubt in their Degen Madness debut.
The Wolverines set new Degen Madness records, although they were not in a good way. They didn't even break double digits in scoring until 1:58 remaining in the third quarter! This set up Kansas nicely for an easy win. They're set to do battle with Texas Tech next round in the upcoming Elite 8. That contest is set for Thursday at 6 PM PST.
Seeing if a Greenie will score or not is the most excitement I have had in wayyyyyyy too long. @seantgreen @TheColbyD @KramerCentric @TheSGPNetwork

— Left Coast (@pinballz45) April 11, 2020
The Favorites #DegenMadness pic.twitter.com/hRZaxFKiGG

— Sports Gambling Podcast (@GamblingPodcast) April 11, 2020
Ohio State 55 – Dayton 51
Spread – Dayton -4.5
Total – 88
This contest answered the question of who was the king of Ohio in Degen Madness. This battle was much better than the early game of the day, although this number one seed didn't fare as well. Ohio State used a late run to provide themselves with a little cushion and that's all they needed.
Dayton certainly deserved to be a one seed and they fought hard, however they couldn't put the pieces in place when it counted. This was a great game with neither team leading by more than seven, and that was the Buckeyes with said lead in the third. Ohio State advances to a tough showdown with a tough Colorado team Thursday at 7 PM PST.
https://www.instagram.com/p/B-2lKXBHCof/?utm_source=ig_web_copy_link
Degen Madness Day Ten Highlights – Sweet 16
@GamblingPodcast #degenmadness is the only thing being a twinkle to my degenerate eye with this XFL news. Thanks for fighting the good fight fellas

— XFL Jim (@XFLJim) April 11, 2020
@GamblingPodcast
I'm finally going to take the favorites in tonight's matchups. Hopefully this is when the favorites actually start to pull through. Still going to stick with odd and over though.#DegenMadness pic.twitter.com/tAGPRWv9GS

— Skyler Shane (@SkylerNShane) April 11, 2020
Day 11 Recaps – The Ending Of The Sweet 16
Texas Tech 47 – Houston 39
We saw yet another in-state battle during Degen Madness, this time from the great state of Texas. You kind of got he feel that Houston was in over their heads in this one. The Cougars may have hung around for a little while, however this Texas Tech team is a legitimate contender moving forward in the tournament.
The Red Raiders were cutting like crazy in this contest. Their terrific off-ball movement set up easy shots, and all around made this performance look dominating. Texas Tech has won both of their first two games in Degen Madness fairly easily, and they are now set for a date with the red-hot Jayhawks Thursday night at 6 PM PST.
Texas Tech dominating Houston out of the gate #DegenMadness

— Sports Gambling Podcast (@GamblingPodcast) April 12, 2020
Texas Tech: 47
houston: 39

UNDER total 90#DegenMadness

— Sports Gambling Podcast (@GamblingPodcast) April 12, 2020
LSU 50 – Colorado 49 (OT)
Spread – LSU -1.5
Total – 93.5
What a perfect way to close out a great round of basketball! Backers of both teams were on the edge of their seats early and often in this one, especially those on the LSU side. Colorado dominated much of this game, although a late run by the Tigers to tie the game proved deadly.
The Buffaloes had four shots at a game-winner at the end of regulation, but they couldn't get anything to fall. Colorado once again jumped out in front, however, LSU's grit showed up. They overcame a six point deficit to take the lead and the Dubs missed another shot at a game winner. The Tigers will take on Ohio State Thursday at 7 PM PST.
https://www.instagram.com/p/B-3vwHRn-PA/?utm_source=ig_web_copy_link
Oh man…how did the Buffs lose? But, they covered hahaha. Nice call Sean Green. Buffs – cash it! pic.twitter.com/7CsCD2Mytm

— NC__NicK (@NC__NicK) April 12, 2020
Degen Madness Day 11 Highlights – Sweet 16
Ronnie 2K interviewing Migos on ESPN NBA 2K halftime, BUT WE GOT @TheColbyD #DegenMadness

— Sports Gambling Podcast (@GamblingPodcast) April 12, 2020
@GamblingPodcast Lost every bet in game 1 then OT saved my ass and won them all in game 2 #DegenMadness

— rasawyer (@rasawyer) April 12, 2020
*Read also – Degen Madness Sweet 16 Recaps Part One*