Did you know that Josh Johnson is attempting a deep pass on 23.2% of his dropbacks this season? The most in the league. Did you know the Renegades are attempting a pass on 82% of their plays on early downs in the first half? Or that there are only two RBs in the league with 3+ rush attempts for 15+ yards and Cameron Artis-Payne has 5?
This is the type of information I obsess over. The goal is not to feed you picks, but rather give you valuable information that isn't readily available and allow you to make informed decisions on your own. All of the metrics I will be referencing in this article will be from PFF and xflscrapR.
For this week's article, I am going over 3 main topics. We will touch base on some important WR vs CB matchups. In addition, we will talk about Air Yards and aDOT and how that relates to this slate. Lastly, we will talk about Directional Passing and possible advantages to exploit this week. Let's get after it!
WR vs CB
Positive Matchups 
L'Damian Washington (LWR, STL) vs Desmond Lawrence (LCB, DC): 

Desmond Lawrence has the lowest PFF Grade of all CBs with at least 50 coverage snaps on the season. 

Lawrence has allowed the most receiving yards (216) and has the 5th highest passer rating(110.1) against him among all CB's with 50+ coverage snaps.

Lawrence is allowing 2.16 Yards per Snap, which is most in the league and allowing a catch on 65.2% of his targets.

L'Damian Washington is averaging 6.5 yard after catch per reception on the season. Good for the 5th highest among all WR's to see at least 10 targets. Desmond Lawrence is allowing the 3rd most yards after catch.

Washington has caught 16 of his 20 targets this season(80%).
Eli Rogers (SWR, DC) vs Darius Hillary (SCB, DC):

This is a scenario where I feel this is a much better matchup than the PFF Grades would indicate. 

Hillary is allowing the most yards after catch in the season(130) among all qualified CB's. 

Rogers is averaging 1.32 yards per route run on the season. However, in his first 2 games at home he averaged 2.12 YPRR. In his last two games on the road he has averaged just 0.69 YPRR. Hillary is allowing 1.45 yards per snap on the season.

74.1% of Hillary's targets were caught, which is 5th most among qualified CB's.
Negative Matchups
Keenan Reynolds (RWR, SEA) vs Ajene Harris (RCB, HOU):

Ajene Harris is PFF's 5th highest graded CB for all qualified CB's.

He's averaging under 1 yard per snap on the season and allowing a catch rate of just 57.7%.

Harris has allowed only 26 yards after the catch through 4 games and leads all CB's with 6 pass break ups.

Keenan Reynolds has caught just 39% of his targets on the season. He's seen 8 deep targets and has only caught one of them. However, it should be noted that Brandon Silvers is likely going to be benched for BJ Daniels. Per PFF, all 7 of Reynolds deep incompletions were deemed uncatchable. This is noteworthy when making your lineups this weekend
Daniel Williams (LWR, TB) vs Arrion Springs (LCB, LA):

We have Arrion Springs who is the 4th highest graded player over at PFF among qualified CBs.

Springs is allowing just 0.92 yards per snap on the season.

In addition, Springs is allowing a 56.5 rating against him on the season and averaging 9.5 coverage snaps per target
Directional Passing
We just went through some positive and negative WR/CB matchups for this week so now it's time to go over some directional passing. What this section will hopefully do is give us a good understanding on what the QB's want to do with the ball and where they want to go with it. For example, we can get an idea of how often a QB wants to throw the ball to the left, middle and right side of the field? Or maybe find out where he wants to go with the ball when he goes deep. This will be able to help us find advantageous spots to target.
We mentioned in the opening paragraph that Josh Johnson is leading the league with 23.2% of his dropbacks being 20+ yards down field. So, now let's dig into where he likes to go with those deep attempts. Johnson has been the most effective targeting the deep left and middle parts of the field. He has a PFF Grade of 91.2, went 4/10, 111 yards, 2 TD's and a 121.3 rating on deep left pass attempts. He has gone 41/49 or 5 TD's and 0 INT's when passing between the numbers. Wide Receiver, Tre McBride has really benefited from that in his first 2 games. He's caught 9 of his 12 targets on the left side of the field and has caught 3 of his 4 deep targets for 90 yards, 2 TDs and a 156.3 rating. 

Landry Jones is out for the next couple of weeks. This means we get week 1's starter in Philip Nelson back under center for the Renegades. 37 of his 45 pass attempts were less than 10 yards down the field. He only attempted 2 pass attempts 20+ yards down the field and both were incomplete. Per PFF, Nelson's combined Grade for each side of the field looked like this. 
Another QB under center for New York and it's expected to be Luis Perez this week. 52% of his pass attempts came in the middle of the field and he has completed just 3 of his 10 attempts 10+ yards down the field for 54 yards. 

Tight end, Jake Powell leads the team with in targets in the middle of the field. He's getting 77% of his targets between the numbers. 
Air Yards / aDOT
In our last section of this article we are going to over some Air Yards and Average Depth of Target information. Let's start by looking at the leaders in aDOT filtering out all receivers with less than 15 targets.
Ross is leading the way here with a 23.5 aDOT. He's the only receiver with at least 15 targets to see a 20+ aDOT. Tre McBride is another guy we talked about earlier and specifically his deep threat ability with Johnson,
Let's take a look at players with the lowest aDOT filtering out all receivers with less than 15 targets. 
Nagel is a guy who's low aDOT could actually help him with Nelson under center. Two Battlehawk receivers with the lowest aDOT's out of all qualified WR's. We can see how these teams are utilizing their WR's and give us a good idea of who to target in specific matchups. Phillips and Coates are being used as deep threats while Lewis's role in the slot is secure.
Above we can quickly see the leaders in Air Yards through 5 games. No surprise with Ross leading the way with 471 Air Yards and Cam Phillips is coming in 2nd with 420 air yards. Nelson Spruce is 4th with 324 air yards after missing week 4.
Let's take a look at the above guys Air Yards vs Rec Yards to see if there is anyone who might be under performing their opportunity.
The Blue line indicates the players Air Yards and the Red line indicates the players actual yards. Just from first glance we can see that Ross's differential from Air Yards to actual yards is the largest out of the 5. Phillips, Spruce, and Williams Air Yards to actual yards are relatively in line. We can see that Keenan Reynolds has also under performed his opportunity. 
Lastly, we are going to go over each team's Air Yards and see how those percentages spread out amongst the receivers.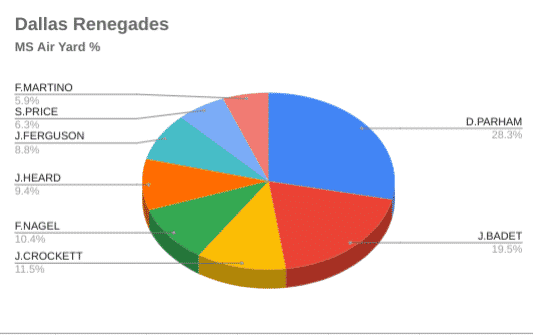 Parham leads the team with 28% of the teams Air Yards.

Badet at 2nd with 19.5%
Ross as we've seen has been an air yard monster this year. No surprise that he has seen 36% of DC's air yards


– Houston's air yard distribution is very similar to DC's.
 – A little more balance here from LA. McBride has only played the last 2 games so it will be interesting to see how this turns out.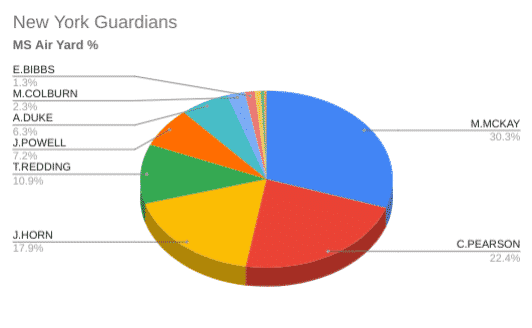 –  McKay and Pearson leading the way here both over 20%. The QB situation has been a mess, though.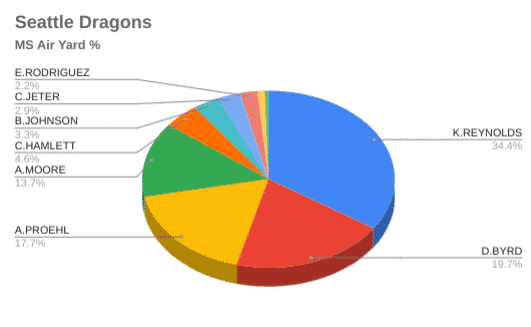 –  Reynolds was another guy we talked about earlier. No surprise to see him lead the way for Seattle.
–  Washington and Russell are neck and neck in the lower 20%. Pierson-El is another guy we spoke about earlier. He has the lowest aDOT out of all receivers with minimum of 15 targets.
–  Tampa Bay has a nice target tree of air yards here. 
That's going to do it for this week's Info Breakdown. I hope you guys crush this week. Good luck!