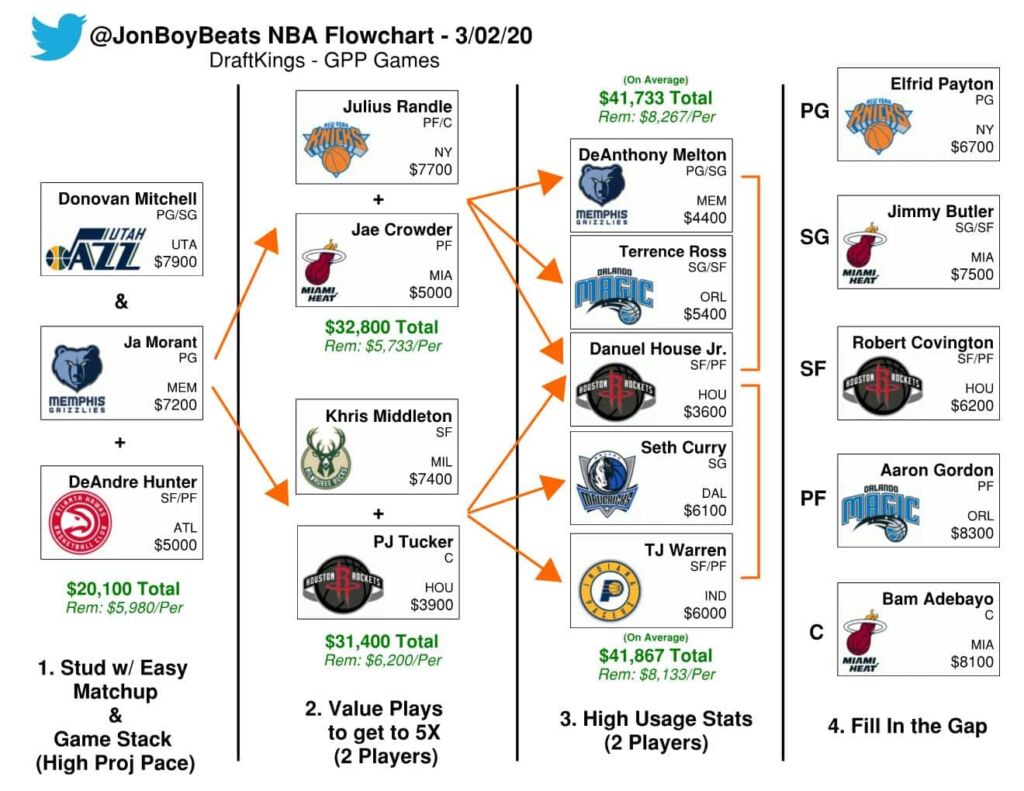 Back in action on a Monday with my NBA Flowchart for this DraftKings 7-game slate! Got a little bit busy last week and didn't get a chance to write up a flowchart but I did introduce my player ranking sheets on Twitter. Every weekday I post a sheet which highlights my Top 6 plays at each position (today's is included at the bottom of this post). In last week's list 57% of the players hit 5X Value, 48% finished in the Top 6 at their position, and 31% scored more than 40 DK Points that night! I used this same list to create the flowchart today, so without further ado, here's my breakdown and flowchart for the Monday 3/2/2020 games. For those who didn't read the initial article with all the explanations about the flowchart, you can find it here.
Stud with an "Easy" Matchup
Not only does he get a matchup against the worst team this season against Shooting Guards, but Donovan Mitchell also comes into Monday's game against Cleveland on a hot streak having scored 40+ DK Points in five of his last six matchups. This year, the Cavaliers are allowing 9% more points, 12% more threes, and 17% more steals to their opponent's starting SG. Even though this game has one of the lower Vegas totals (O/U 219) on the slate, I think we will see Mitchell perform well and hopefully make it his 5th straight game scoring 30 points or more.
Game Stack w/ High Projected Pace
The matchup between Memphis and Atlanta features the highest Vegas total of the day with an Over/Under of 239.5. In addition, Memphis plays with the 7th highest pace while Atlanta comes in at 4th fastest for the season. We know this game has a chance to be high scoring, so let's look at where we can find the best matchups. Over the last two weeks, Atlanta has been a Top 3 easiest matchup for opposing point guards, and Ja Morant is coming into this duel against Trae Young on a little bit of a hot streak himself. He will look to exploit Young's poor defensive play and notch his third consecutive double-double. On the other side of the floor, De'Andre Hunter saw a continuous uptick in minutes and fantasy points in the month of February. He is breaking through into the $5,000 barrier for one of the first times this season, however even at this price point he would still have gone for 6X Value in six of his last eight games.
Bargain Players to get to 5X Value
Khris Middleton sat out Sunday's game against the Hornets with a stiff neck, but all signs were pointing to that being a precaution and that he should be a full go for today's game against the Heat. Miami has been especially bad against SFs lately, allowing 11% more points, 12% more assists, and 23% more threes over the last two weeks. With the Bucks on the 2nd game of a back-to-back I think Coach Bud will lean on Middleton a little bit more heavily since he sat on Sunday and I think a 5X Value number of 37 DK Pts is well within his sights. After spending most of the season above the $4000 mark, PJ Tucker has recently fallen below that. At such a low price for a starting Center, we have to consider him especially since he will be matched up against the poor defense of Taj Gibson for a lot of this game. It's worth noting that Mitchell Robinson is a huge defensive upgrade over Gibson (along with pretty much every other basketball statistic and skill), however the Knicks have not been too keen on playing Robinson in the starting lineup this year. Keep an eye on if anything changes out of New York before tip-off today.
Go here for more info on online betting.
High Usage Players
The Orlando Magic continue to make their push for the playoffs and look to be the clear favorites to lock up the #7 seed. Having won five of their last 7 games, the Magic owe a lot of that to the hot shooting of Terrence Ross. In that same 7-game stretch, Ross is averaging almost 4 made three-pointers per game and is shooting them at a 43% clip. The Trailblazers have given up 28% more threes to opponent SGs over the past 3 weeks, so look for Ross to stay hot in this one. Speaking of three-pointers, let's move on to Seth Curry and check out his matchup with the Chicago Bulls. While I know his 75% field goal shooting over the last two games is not sustainable, it's hard not to like Curry's matchup against the injury riddled Bulls team. Over the past couple of week's, Curry is absolutely blowing away his 20.5 DK PPG average this season including a huge 46 DKPt outing against Miami and a 37 DKPt night in Minnesota.
I have included the full Player Ranking sheet at the bottom of the post here so you can get a feel for any of the players that I didn't go into detail in the writeup. I post these sheets everyday on my Twitter page, so if you find them useful and can't wait until next week's article to scratch the NBA DFS itch, make sure to check it out! If time permits, I think I will be able to squeeze out another flowchart this week so be on the lookout for it.