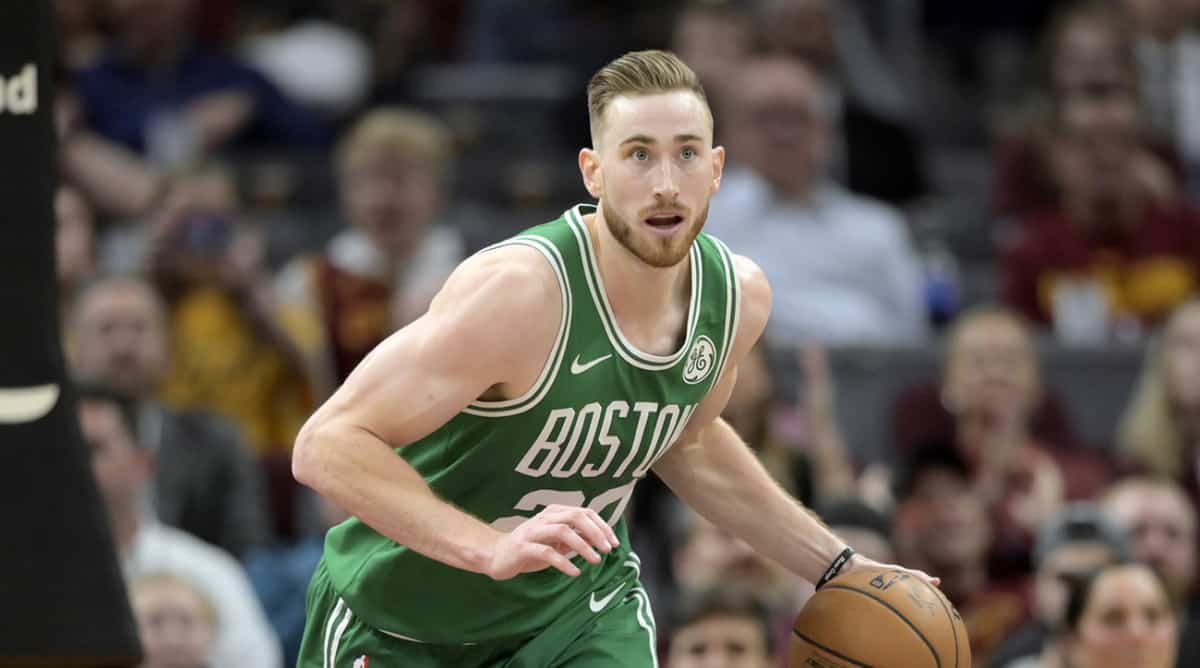 As I have said many times before, there isn't an immediate joy rewarded after a long work week quite like Friday NBA Daily Fantasy. And with a new angle of approach for us to add to our arsenals, Monkey Knife Fight provides not only a fun way to enjoy DFS in a different light, but also incorporates research that forces players to break outside of their typical shells when building rosters.
For our first Friday back since the All-Star break, we have a hell of a nine-game slate to tend to and a number of weaknesses to exploit. And with countless games to attempt on the site, Monkey Knife Fight makes for challenging fun by forcing us to think a bit outside the box of normal Daily Fantasy train-of-thought.
Minnesota Timberwolves vs. Boston Celtics
More or Less (Fantasy Points)
(Prize: 2.5x)
Gordon Hayward: MORE than 34.5 Fantasy Points
Malik Beasley: MORE than 31.5 Fantasy Points
Fresh from the All-Star break, the Boston Celtics right out-of-the-gate are without Kemba Walker, which means a wealth of usage and ball distribution to be employed. And whenever Kemba misses time so far this season, Gordon Hayward stands to be among the first in line for increased usage.
Averaging 34.5 fantasy points per game in 2019, Hayward has most recently displayed increased production by averaging 43.55 in his past five games played, where two games of which came in Walker's absence. Minnesota has also been among the bottom seven teams against Power Forwards in the past 30 days of action.
In the case of Malik Beasley, he has been in Minnesota's starting rotation since being traded from the Denver Nuggets and absolutely thriving as a member of the Timberwolves, averaging 22 points, 6.7 rebounds, and 3 assists per game. The Boston Celtics rank in the bottom half of teams in the league against shooting guards, allowing the ninth-most fantasy points per game to the position.
Despite the arrival of D'Angelo Russell to the Minnesota backcourt, Beasley still managed 41.5 fantasy points in his last game (vs. Charlotte), and the lacking depth at guard with Kemba Walker not suiting up suggests a potential added element of opportunity for Malik Beasley to exceed his fantasy goal of 31.5 points.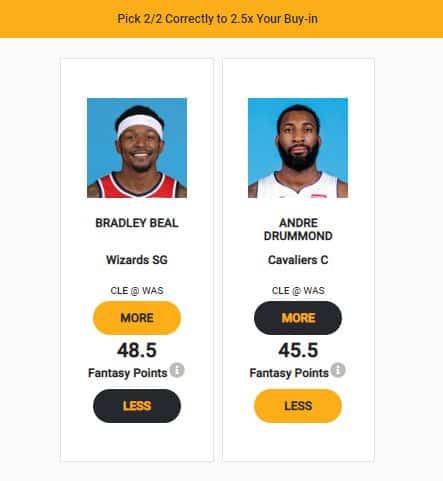 Washington Wizards vs. Cleveland Cavaliers
More or Less (Fantasy Points)
(Prize: 2.5x)
Bradley Beal: MORE than 48.5 Fantasy Points
Andre Drummond: LESS than 45.5 Fantasy Points
While the Cleveland Cavaliers are essentially out of the mix of Playoff hopeful teams, don't look now but the Washington Wizards are actually beginning to breathe down the necks of the Orlando Magic in the Eastern Conference standings, with the eight-seed three games within their grasp. And this should mean a steady dose of Bradley Beal, who is already the Usage dominator of the Wizards rotation.
Beal's fantasy totals are down over his past four games, but the added Playoff incentive insinuates that the Wizards' star shooting guard should take the reins going forward the rest of the season, as the sixth-highest Usage rating among all players in the league registering relevant minutes (32.9 USG%).
And at the same time the Wizards are the weakest team defensively in the league, the Cavaliers are following one step behind with the 29th-ranked Defensive Rating of 115.1, swinging the door wide open for Bradley Beal to exceed his fantasy point goal.
Unfortunately for Andre Drummond these days, his trade destination didn't appear to make fantasy production any easier. The Cleveland frontcourt is found more congested than any time in recent memory, with Kevin Love and Tristan Thompson still getting their typical workload.
While Thompson may be held out for the remainder of the season starting in March or April, that's still to be determined and 45.5 fantasy points seems a bit lofty for Drummond, who just barely played 22 minutes and saw more floor time given to Thompson. Also take into consideration that there aren't Double-Double performance bonuses awarded on MKF, which also deducts an element from which Andre Drummond would typically bank on toward his better fantasy performances.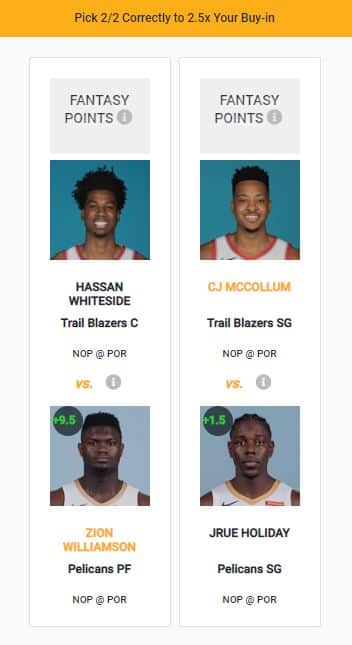 Portland Trailblazers vs. New Orleans Pelicans
Rapidfire (Fantasy Points)
(Prize: 2.5x)
Zion Williamson (+9.5 FP) over Hassan Whiteside
CJ McCollum over Jrue Holiday (+1.5 FP)
The return of Brandon Ingram to the starting rotation will definitely be an added concern, but given the circumstance of getting points as a handicap here (for Zion), I am willing to take my chances on Zion Williamson and CJ McCollum besting their head-to-head fantasy point bouts against Hassan Whiteside and Jrue Holiday, respectively.
I have trouble thinking that Coach Alvin Gentry will be getting away from Zion anytime soon, who's averaged 46.12 fantasy points over his past two games played, and the best performances of his shortened season. Zion's Usage rating is over 36% during that small sample, and Portland is surrendering the most fantasy points per game to opposing power forwards all season (50.72 FP/G).
Hassan Whiteside is facing a New Orleans Pelicans team who has surprisingly played stiffer defense against opposing centers, allowing the third-fewest fantasy points per game to the position (34.48 FP/G). Averaging 38.5 fantasy points per game in his past five games played, I will gladly take the 9.5-point buffer on the fantasy performance of Zion over Whiteside.
And while CJ McCollum has seemed to be putting up his usual 35-fantasy point average as of recently, Jrue Holiday has been hitting stride that we haven't seen from him most of the season (although this is also in part due to the injury absence of Brandon Ingram). However, the magnifying glass on McCollum's production goes into an entirely different focus with Damian Lillard set to miss 3-4 games due to an injury sustained in the final game before the All-Star break.
Holiday is averaging 48.16 fantasy points over his past three games played and nearly 33 minutes per game in that span (back to nearly his full 34.6 MPG season average). Holiday's production comes in forms outside of Usage alone, contributing 6.5 assists, 4.7 rebounds, and 1.7 steals per game. But given the circumstance of Holiday now having to compete again with another star in the rotation, as opposed to McCollum losing the most usage-dominant player on the Trailblazers in Damian Lillard, the opportunity differential is massive.
It could be a close call, but my thought is that the impact of Lillard's absence on this Portland offense makes for far too much additional usage and minutes to be soaked up by CJ McCollum, further surpassing Jrue Holiday in overall fantasy points on Friday night.