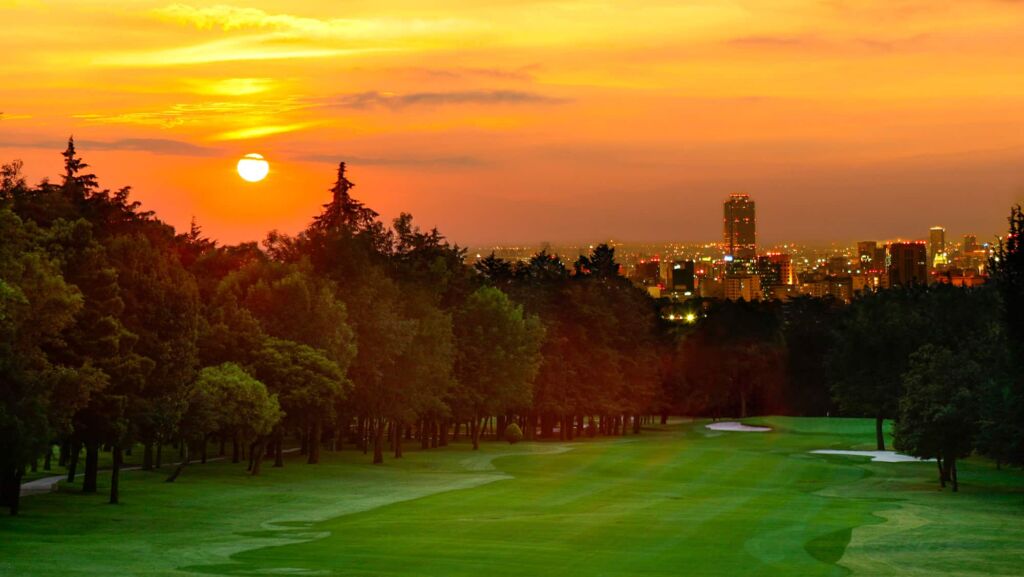 The Genesis Open is barely in the ground, but we're already pressing onward as 72 of the world's best head south of the border for the WGC – Mexico Championship at Club de Chapultepec in Mexico City.
This event marks a bit of a transition in the schedule as the PGA Tour starts to shift from the Pacific Time Zone to the East Coast. With a stacked field and a lack of course history to bank on, betting and daily fantasy will be challenging this week. It will be difficult to properly weed out the contenders and pretenders among a never-ending parade of big names.
Here's a run down of everything a gambler should know before putting down any bets.
The Field
As expected, the tournament's status as a World Golf Championship has attracted the biggest names in the sport for a high purse no-cut format with guaranteed pay days and FedEx Cup points for all who participate. Highlighting the field at the top are two-time WGC – Mexico Champion Dustin Johnson, Jon Rahm, Rory McIlroy and Justin Thomas.
The biggest notables about this field isn't who's in it, but those who decided to take a much needed week off from the jam packed schedule that is the PGA Tour. They include Patrick Cantlay, Brooks Koepka, Rickie Fowler, Jason Day, Justin Rose, Henrik Stenson and Tiger Woods as players who qualified for the field but are choosing to stay home. The omission of Tiger Woods from the proceedings surely will disappoint his fans and the tournament director, but after a very poor performance at Riviera he probably needs a break to regroup.
Among the familiar faces in the field that we'll see for the first time in a PGA Tour event in 2020 are Tommy Fleetwood, Tyrrell Hatton, Shane Lowry, Matt Wallace and Lee Westwood. In addition, exciting young players who have been tearing it up on the European Tour like Victor Perez and Robert MacIntyre will look to become a household name for American golf fans this week.
For a list of the full field, click here.
The Golf Course
This is only the fourth year that this golf course has hosted a WGC, as this tournament was previously known as the WGC-Cadillac Championship on the Blue Monster Course at Trump Doral, located just outside Miami, FL. But after Trump made some not-so-kind remarks about the character of Mexican immigrants in 2015, the governing bodies of the PGA Tour, European Tour, and the other officially sanctioned world tours pulled the all-time troll move by switching the location of the event from Trump's golf course to – wait for it…MEXICO!
There's a debate that can be had on if it's proper for a sports league to mix impactful decisions with politics, but there's little debate that the Blue Monster was very unpopular for both the players and the golf media, especially after the renovations that were made for the 2014 tournament. Players complained about the design the greens, the length, and the overall boring and repetitive layout of each hole. The golf course is overly-bunkered and overly-hydrated with water hazards on almost every hole.
To put on the tin-foil hat for a second – I think the PGA Tour used Donald Trump's comments, no matter where you stand on them, as a cover to move the event from a saturated South Florida market to Mexico in an attempt to #growthegame. While Miami is a large city with numerous marketing opportunities, there's no real growth to be had there as it just felt like another run-of-the-mill tournament in Florida. But like their ambitions with the WGC-HSBC Champions event in Shanghai, there came the opportunity to put a premier event at the 23rd largest city in the world with a fast growing population. There they could attempt to siphon off an untapped market for golf and further expand its global footprint.
All of that aside, the average American fan could care less about any financial ambitions and just cares about watching the world's best play on an interesting golf course. While there certainly isn't a lack of star power in the event, the golf course is, to put it bluntly, woefully inadequate to host an all-star event:
Most holes at Club Chapultepec are of the same template – long, tree-lined, slightly doglegged tee-to-green designs with back-to-front sloped greens and shallow greenside bunkers. While tall trees and fairway bunkers off the tee may pose a bit of a challenge, because this golf course is at an altitude of 7,800 feet everyone can add about 10% to their normal yardage off the tee. That creates the opportunity to hit well past any bunkers or take lines over the tops of the trees to cut the corner. While this golf course runs at about 7,300 yards on the scorecard, when accounting for altitude it plays more like 6,700 yards.
This golf course encapsulates one of the biggest gripes about the WGC tournaments. This is an event of all-stars with one of the highest purses in the world, yet they're played at Mickey Mouse golf courses like Club de Chapultepec, or Sheshan International, or TPC Southwind (puke). An event of this stature with as fantastic of a field it attracts should be played on an equally fantastic and interesting golf course. Maybe this can be a problem that's fixed once the top 48 players in the world jump ship to the Premier Golf League to create a truly world tour, but that remains to be seen. For now, apparently this is the best the WGC's have to offer.
Betting Strategies
Last week at Riviera tested almost every facet of a player tee-to-green and with their putter. That's typically what architecture masterpieces does to a player and requires them to step outside the box and be a little more creative with how they approach a golf course.
This week, however, is simply a test of execution. Everything at Club de Chapultepec is right in front of the player because all the holes are tight, tree lined, and straight. There's no tricks or frills the golf course can throw at them. It's simply a golf course where a player picks their target and hits it straight at it.
In looking at past leaderboards, all of them contain the best players in the world, so simply relying on strokes gained statistics won't really do the trick. However if there is one edge a player can have over their competitor at Club de Chapultepec it's distance, particularly off the tee. Because of the altitude, long players are able to take crazy and aggressive lines off the tee to set themselves up with a wedge in hand for their second. Some gamblers might look at this golf course and assume accuracy is more important than distance because of all the trees on the golf course. That's not the case here – overall longer players have an advantage over the shorter ones.
This is indicative when looking at the relative importance of skill sets on scoring at Club de Chapultepec: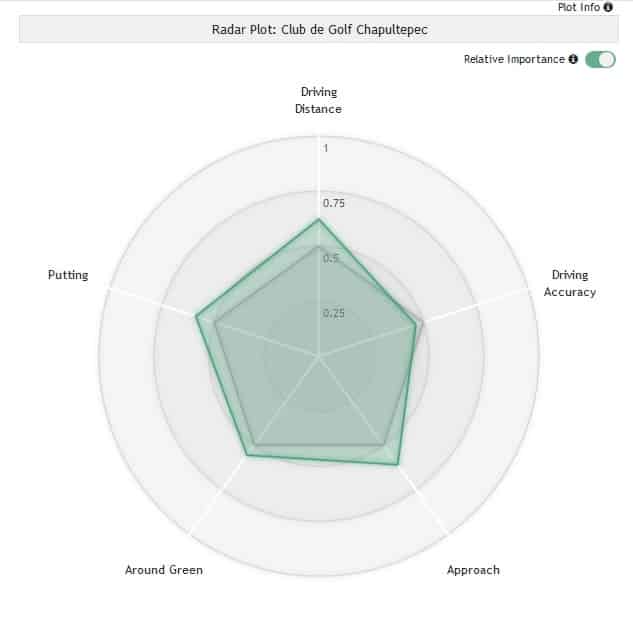 While almost every skill set has an elevated importance than the traditional PGA Tour stop, approach play and driving distance are the biggest contributors. This is also apparent when looking at the historical dispersion of scoring based on each strokes gained category:

In terms of Horses for Courses, of those in the field with at least 8 rounds at Club de Chapultepec who have gained more than 2 strokes on the field per round include Dustin Johnson, Rory McIlroy, Sergio Garcia, Tyrrell Hatton, Paul Casey and Tommy Fleetwood. In addition, correlated courses in terms of importance of relative skill sets are the Stadium Course at PGA West, Quail Hollow, TPC Boston, and Torrey Pines South. Players in the field who have enjoyed success at these golf courses include Patrick Reed, Hideki Matsuyama, Gary Woodland, Tony Finau, Webb Simpson, Kevin Na, Charles Howell III, Brandt Snedeker, Paul Casey, Rory McIlroy, Jon Rahm and Sergio Garcia. That doesn't mean you have to necessarily pick these players this week, but rather provides a template of the types of golfers who are expected to play well at Club de Chapultepec.