Finally the wait is over! On two accounts.
First, the UFC is finally back again this Saturday, after taking an interminable break over the holidays (it'll be four weeks this Saturday since the last event). And they're back with a doozy – UFC 246 from the T-Mobile Arena in Las Vegas.
The other "finally the wait is over" is in regards to one half of Saturday's main event – Conor McGregor makes his return to the octagon, his first appearance since losing to Khabib Nurmagomedov in October of 2018 (one positive aspect of Notorious being back in the cage – at least during the time he's in there, he won't be out assaulting old men in bars or "allegedly" sexually assaulting women). His opponent is fan favorite Donald 'Cowboy' Cerrone.
SEE ALSO
Conor McGregor's Most Notorious Quotes
Conor McGregor Is Back: Breakdown of Conor vs Cowboy
You can read my in-depth breakdown on Conor-Cowboy right here. The current line is -320 for McGregor, but I'm going to steer clear of betting on this one. Who knows how Conor will look after so much time away from the cage? But on the other hand, Cowboy is looking shopworn his last few fights. Probably leaning to the Irishman in this one, but not at those odds.
So what am I recommending betting on this Saturday? Read on.
Holly Holm (-132) vs Raquel Pennington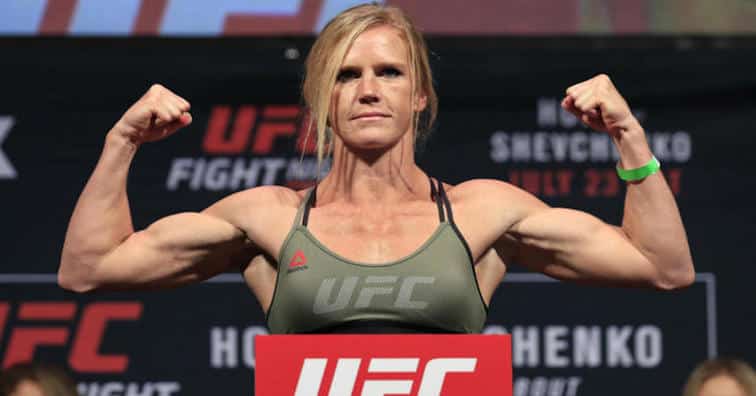 Risky going with a fighter coming off the bad end of a head kick knockout, but I think Holly Holm is a safe play in this one. Amanda Nunes knocks out everyone, so no shame in that. And this was Holm's first time being knocked out in MMA.
So, assuming her chin isn't toast, she's good to go. Plus her opponent Saturday, Raquel Pennington, has one knockout win in 17 MMA fights. Additionally, Holm has already beaten her once, in HH's UFC debut back in 2015. Look for the ultimate gatekeeper, Holly Holm, to bounce back with a win at UFC 246.
Aleksa Camur (-130) vs Justin Ledet
The 24-year-old Aleksa Camur will be making his proper UFC debut this Saturday, after winning via flying knee KO on Dana White's Tuesday Night Contender Series last summer. A product of Strong Style Fight Team in Ohio, home of the UFC Heavyweight Champ Stipe Miocic, Camur has all the markings of a top prospect.
He's a perfect 5-0 as a pro, with all those fights ending via (T)KO, he's strong and athletic, and obviously well coached. And he seems to be catching his opponent, Justin Ledet, at the right time. After starting his career a perfect 9-0 (with 1 No Contest), Ledet decided to abandon the heavyweight division for his original home at light heavyweight (where this fight will be contested at). Since that time he's dropped two straight, with the last one ending with him eating a spinning back fist TKO. Coming off a KO and going against a younger, more athletic, hard hitter like Camur isn't a winning formula.
SEE ALSO
Conor McGregor's Most Notorious Quotes
Conor McGregor Is Back: Breakdown of Conor vs Cowboy
Overall Results for This Column
Record: 33-24
Earnings (based on $100 bet per): $33.86
Return on Investment: 1%