He's baaaaaack. The UFC's cash cow, its prodigal son, is set to return to their cage. If he can keep himself out of jail, that is. After having gone full Mike Tyson since his last time competing in the octagon (multiple assault charges, multiple sexual assault allegations, paternity claim), Conor McGregor is ready to compete again in the sport that made him notorious (make that Notorious).
The winner of this lottery ticket – aka McGregor's opponent – is fan favorite Donald 'Cowboy' Cerrone. The catch here is that despite both being natural lightweights (155 pounds), this fight will be contested at welterweight (170 pounds). The thought is McGregor has BMF title winner (and welterweight) Jorge Masvidal in his future plans, so he wanted this fight at 170 pounds.
So 2020 will start off with a bang for the UFC, as this fight is scheduled to take place at UFC 246, which goes down January 18th from the T-Mobile Arena in Las Vegas. And the returning Irishman is currently a very healthy betting favorite, with MyBookie listing him at -220 (+180 for Cowboy). Lots of money has apparently been coming in on McGregor, as the line opened in the -160 area.
But is this smart money? Let's break down the fight and see.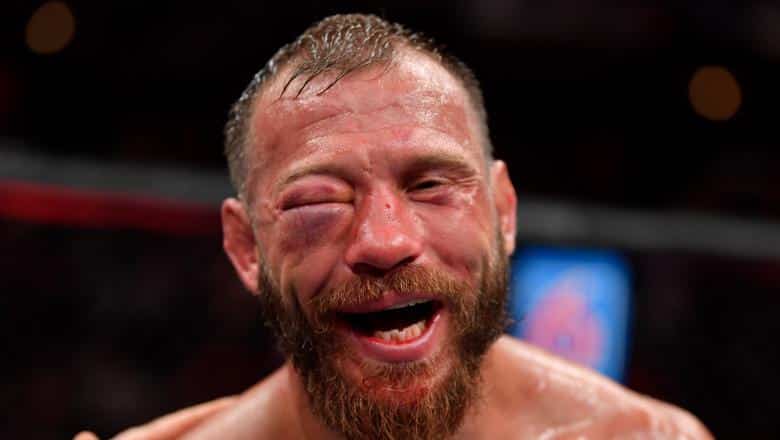 (Cowboy's winking at you)
Tale of the Tape
The Cowboy should be the larger fighter in this matchup, as he's fought extensively at 170 pounds, while McGregor has spent most of his career at 145. Cerrone is also four inches taller.
However, McGregor will have a one inch reach advantage, as well as the advantage of being a southpaw in a predominately right handed world. He's also five years Cerrone's junior, and has significantly less wear on his tires (25 pro fights to Cerrone's 40).
Slight advantage: Cerrone
Striking
The striking stats for these two pugilists are fairly similar, with McGregor having a slight edge in strikes landed and strikes absorbed. There are a couple of distinct advantages for the two fighters in the striking realm, however.
Cerrone is a great kicker, and McGregor has been susceptible to kicks in the past. However, the Irishman has a huge advantage when it comes to striking power. He's got that one-punch knockout power that is craved in the sport, and the precision and timing to pull it off – 18 of his 21 pro wins are via (T)KO.
Cerrone, on the other hand, doesn't share that power, or McGregor's chin – he's been TKO'd in his last two fights. Plus, he really has a hard time absorbing body blows. While Cerrone could use his strikes to get McGregor to the ground, more than likely if this one turns into a striking battle he's going to be outgunned.
Advantage: McGregor
Grappling
Here's where the Cowboy shines – his grappling. He's great at using his striking to knock down his opponent and tap him out. And McGregor has had that happen to him in all four of his pro losses – all have come via tapout. So if Cerrone can get this fight to the mat, he has a good chance at ending it.
Big advantage: Cerrone
Intangibles/Miscellaneous
Lots to chew on here. Cerrone has taken a beating over his career and has been finished in two straight fights. But McGregor has been out of action for over a year and hasn't won a fight since 2016.
Cowboy isn't always the smartest fighter and gets sucked into firefights on the feet, which plays right into McGregor's wheelhouse. But McGregor has shown he's been able to be broken in fights and is quick to tap out to submissions.
McGregor is a master at playing head games with his opponents, but he's been quiet and respectful in the lead up to this one, and Cowboy is a grizzled vet who's seen and heard it all. McGregor seems to have spent most of his off time partying and getting arrested, but Cowboy tends to choke in the "big fight".
Advantage: no one
My pick – McGregor via KO