The GOAT of quotes is back (he's also a pretty good fighter, just probably not a GOAT). Conor McGregor makes his long awaited return to the UFC cage at UFC 246 on January 18th, facing off against fan favorite Donald 'Cowboy' Cerrone. This is the fiery Irishman's first appearance in the octagon in 15 months, during which time he found himself in numerous legal squabbles, both big and small, but no cages or rings or octagons.
While McGregor has taken the high road in the lead up to the Cowboy fight, showing his opponent more respect than he's shown any opponent in the past, there are still plenty of choice quotes in his back catalogue to enjoy (or scoff at or tssk at or shake your head at – your call). Here are some of his most famous.
Who the fook is that guy?!
Perhaps Conor's most famous quote. At the UFC 205 press conference when Jeremy Stephens had the temerity (word of the day – it means boldness) to interrupt a question directed at McGregor, he got put on blast. Good chance McGregor really didn't know who the fook he is, nor does he now.
Red Panty Night
Another classic McGregorism. He basically just tells Rafael dos Anjos, and the rest of the world, how it is – when you fight him, he changes your life. Time for your wife to break out the red panties.
I would invade his favela on horseback.
In the run up to UFC 189, McGregor really got inside opponent, and featherweight champion, Jose Aldo's head. So much so that when the bell rang on fight night, Aldo uncharacteristically charged across the cage at McGregor and got KTFO. Quotes like this doozy helped get the psychological job done for Conor.
This solid gold pocket watch, three people died making this watch.
(Conor quote at 3:27)
Even back in 2013, before McGregor was a multi, multi-millionaire, it was all about that money.
Gods recognize Gods.
Me and Jesus are cool. Gods recognize Gods. Those words came out of Conor McGregor's lips during the UFC 197 media conference. But would Jesus wear that shirt?!
If you breathe oxygen, I do not fear you.
No video for this one, as it was from a print interview. This was back in 2013, so he didn't know enough to fear Khabib Nurmagomedov yet.
I slaughter your pets and wear them as coats. And I only wear them once.
Speaking of Khabib, Conor had that to say to him during a Twitter spat.
He cannot finish his dinner, let alone an opponent.
Old school Conor, dissing upcoming opponent Dustin Poirier in 2014. (McGregor finished him under two minutes)
Your wife is a towel mate.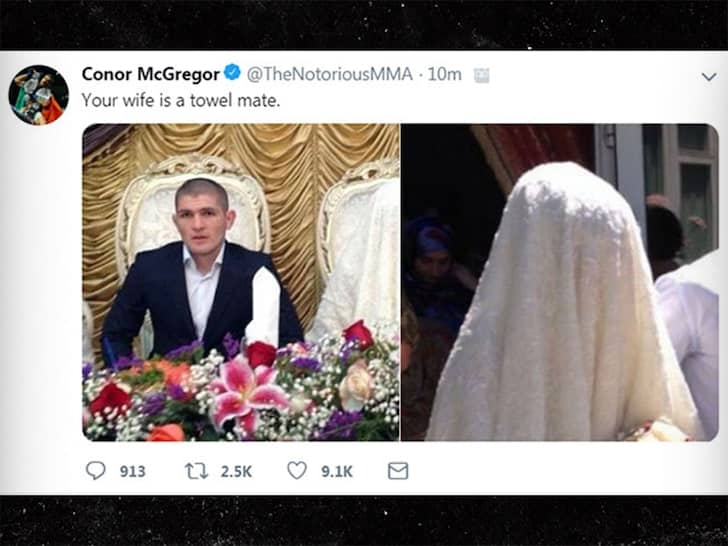 At least McGregor was wise enough to delete this Tweet after he had sent it. But the damage was done, as he came off as racist and tone deaf, mocking Khabib's Muslim faith. McGregor hasn't been shy with taking the low road on the trash talk, doing personal attacks on opponents, invoking family, faith, country – anything that could be considered taboo. They don't call him Notorious for nothing.