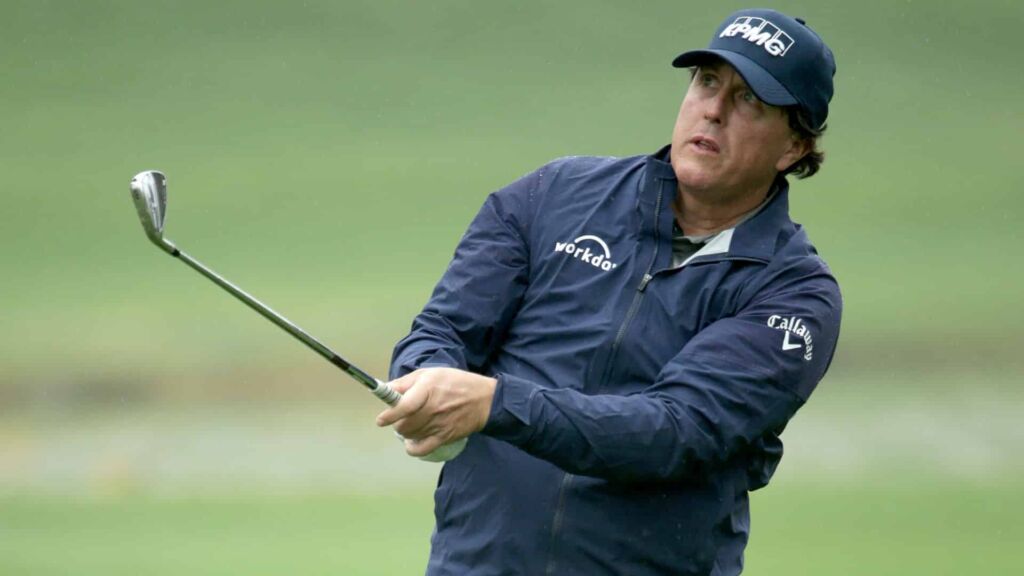 When filling out a DraftKings (use promo code SGP) lineup (use the promo code SGP), picking among the favorites is a fairly safe proposition. It's when you have to choose between a pool of golfers down the line is where you make or break your chance to win big.
Here's the critical decisions you'll face as you fill out your lineup for the American Express (values courtesy of DraftKings).
Play at DraftKings and use promo code SGP for a deposit bonus up to $500
Golfers Valued $8,000-$8,900
Abraham Ancer – $8,900
Brendon Todd – $8,800
Phil Mickelson – $8,700
Brian Harman – $8,600
J.T. Poston – $8,500
Alex Noren – $8,400
Ryan Moore – $8,300
Lucas Glover – $8,200
Russell Knox – $8,100
Chez Reavie – $8,000
I'm going to guess when I recommend Phil Mickelson this week I'm going to be on an island – and rightfully so. He has been absolutely dreadful since last spring where not only is his ball striking shaky, but so is his usually reliable putting. Maybe it's too much wishful thinking and I'm buying in to his propaganda videos on social media that shows him working hard in the gym and hitting bombs, but I have a sneaky suspicion we see some magic from him out in the desert. For the last two years Phil has entered a PGA Tour season on the downswing only to have a very nice early season run. Maybe that's just who he is now! Plus, he's always had really good success in this tournament that features limited rough and easy greens where he can pour in a ton of birdies. Those are the events I like to use Phil the best in, and my gut tells me he'll have an added incentive to show well as the host of this tournament.
Length is one of the strengths in a player I'm looking to target for the American Express this week, and unfortunately Brian Harman doesn't have any that. But despite the lack of length off the tee he still has been gaining strokes in that department in the new season. Harman ranks 59th this season in Strokes Gained – Off-the-Tee and has gained strokes on the field in five of his six ShotLink measured tournaments. It's a tremendous improvement from where it was last year, and couple that with a solid history at PGA West and his usually good putting I like another decent finish for him this week.
While he only ranks 106th this year on the PGA Tour in Driving Distance, Alex Noren is averaging 298.6 yards per drive. That is more than adequate length to take on all three golf courses and gain an edge on the field. He also seems to have rediscovered the elite ball striking he had when he won four times in 2016 and comes into this tournament in great form. What he will need to turn around quickly is his putting, where he lost approximately 3.8 strokes to the field on the greens last week at the Sony. Despite this, Noren historically is known as a pretty good putter, and if that regresses to the mean it could produce a nice finish at the American Express.
Play at DraftKings and use promo code SGP for a deposit bonus up to $500
Golfers Valued $7,500-$7,900
Vaughn Taylor – $7,900
Kevin Na – $7,800
Andrew Putnam – $7,800
Harris English – $7,700
Zach Johnson – $7,700
Denny McCarthy – $7,600
Rory Sabbatini – $7,600
Brendan Steele – $7,500
Daniel Berger – $7,500
It was a disappointing end to his fall, but Harris English rides into 2020 both motivated and with rediscovered form. After dropping down to conditional status on the PGA Tour, English responded with four Top 10 finishes in the fall and gained a little over 1.4 strokes per round on the field tee-to-green. The only concerns I have is he's likely to be a trendy pick this week and comes into this event off a long layoff, so it remains to be seen if he can pick up where he left off. Despite this, he checks a lot of boxes of a player I'd target and has a great history in this event. English has the length to overpower all three golf courses, and if he rolls the rock as well as did last fall he should be quite useful in DFS.
If you took a general poll of the golf media and asked "who is the best putter in the world?" those in the know would say it's Denny McCarthy. This year McCarthy has gained just under 1.75 strokes per round on the field on the greens. He put up stellar putting stats last year as well, but his inconsistent ball striking put a cap on his ceiling. But he's improved in that department so far this year, especially off the tee where he's picked up 10 yards of distance and has improved his strokes gained in that category year over year. Great driving and hot putting is the name of the game this week at the American Express, and good performances in both areas for him should yield a solid finish.
Daniel Berger was a guy I liked last week at the Sony Open and while I can live with his T38 finish, I was disappointed in the result after he got off to a nice start. Berger had a great ball striking week but was pretty poor on the greens over the weekend, losing three strokes to the field over the final two rounds. Nevertheless, I'm encouraged to see him put up ball striking numbers similar to those he had before his nagging wrist injuries, and he has more than enough length to gain an edge on the field. It'll come down to putting for Berger, but I'm willing to back him again given his turnaround, his high ceiling and the hope he can bounce back on the greens.
READ ALSO
The American Express Golf Preview and Betting Strategies
Bottom of the Barrel (Golfers <$7,500)
Sebastian Munoz – $7,400: Munoz was a trendy pick last week at the Sony Open but struggled over the first two days to a disappointing missed cut. I'm attributing his missed cut to his irons, which aren't the strongest part of his game and were exposed in the windy conditions at Waialae. Benign conditions at the Stadium Course, La Quinta and the Nicklaus Tournament Course should better able bring out the best in Munoz, who's a great driver and can pour in a ton of birdies in a hurry. Expect a rebound performance from him this week.
Carlos Ortiz – $7,200: Ortiz saw some of his momentum fade last week at the Sony Open after a really nice fall season. What got the best of him last week was his putting, where he lost two strokes to the field on the greens. But he continued to show pretty good ball striking tee to green and has the length off the tee needed to have an edge on the field. His putting has been up and down so far this season, but a rebound in that department should yield a better result on the leaderboard.
Cameron Tringale – $7,100: Tringale doesn't have the strongest track record in this event, but he has a lot of the tools needed to play well in it. Tringale has good length off the tee, solid putting and high birdie rates. Why he's only had so-so success in this tournament is a bit of a mystery, but should he display all three of those things this week it will finally lead to a decent result.
Others To Consider: Danny Lee ($7,300), Harold Varner III ($7,000), Nick Taylor ($7,000), Bronson Burgoon ($6,800), Doc Redman ($6,800), Nick Watney ($6,700), Kevin Chappell ($6,700), Scott Harrington ($6,500), Sam Ryder ($6,500), Xinjun Zhang ($6,400), Adam Schenk ($6,400)