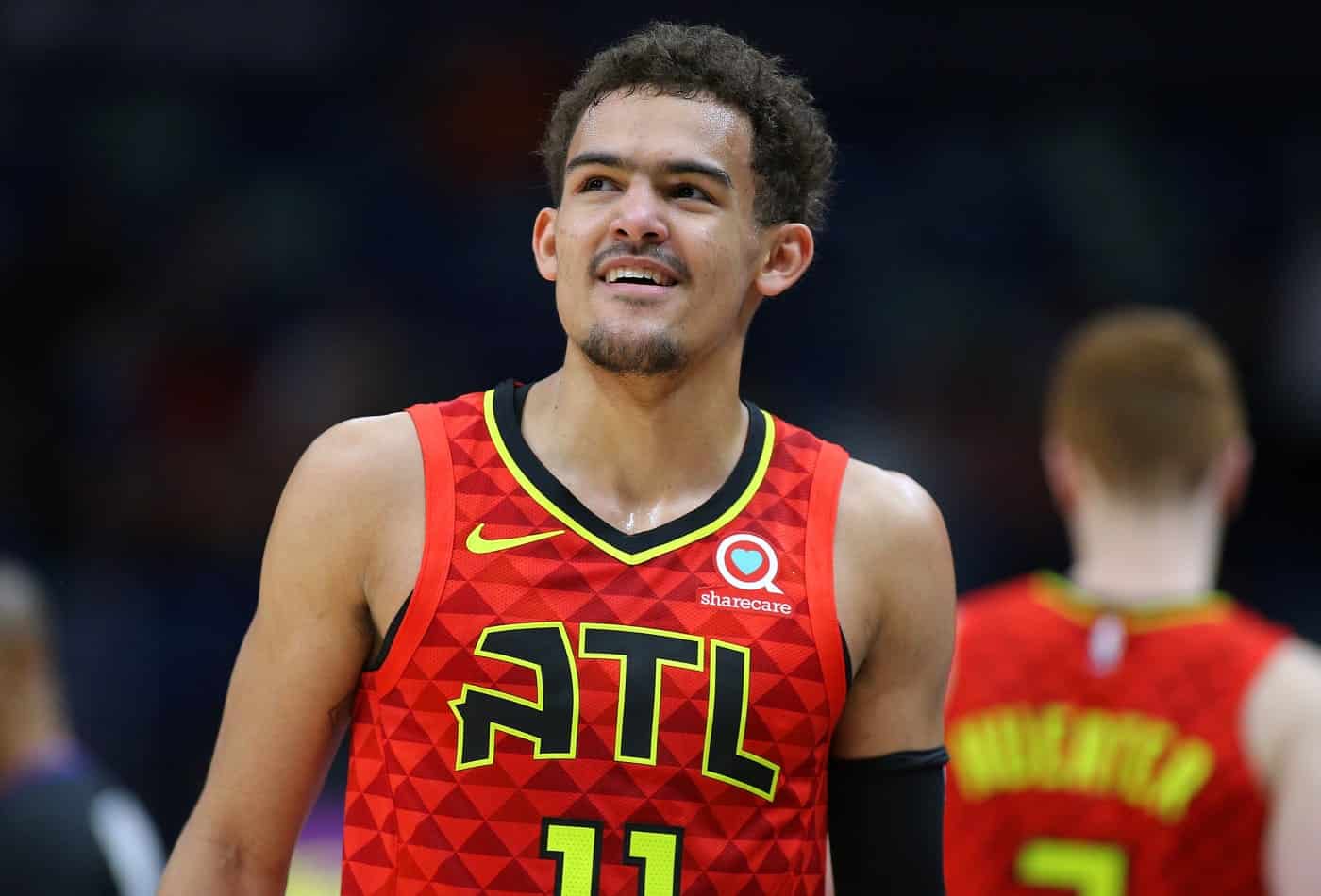 Happy Friday! We end the work week with a ten-game slate to wash away the burden of Thursday's four-game sin; a sin in which I failed to recommend Tristan Thompson. I have no qualms with apologizing when I miss (or miss out) on a play that winds up achieving well-beyond value (and eventually breaking the slate in this case). If it makes anyone feel any better, my lineups were absolutely decimated. But we live to fight another day, and such is the life of a GPP-player specifically. Let's move forward!
We're treated to a number of extremely invigorating spots on this buffet-sized slate, with MVP-frontrunner Luka Doncic taking on the potentially Anthony Davis-less Los Angeles Lakers, in what feels like the fifteenth time they've played already this season (it's their fourth).
And in what's likely the most anticipated game on the slate from a Daily Fantasy perspective, Trae Young and the Atlanta Hawks venture to Capital One Arena to battle it out for the title of Defensive Inferiority with the Washington Wizards, as both teams rank in the bottom three in the league in the Defensive Rating category. Also to the appreciable fantasy angle, this game provides two of the fastest paced teams in the league, which will assuredly equate to the highest Over/Under on the slate (the lines are not out at this time).
Let's jump in and make some money [back from yesterday in my case]!
Play at DraftKings and use promo code SGP for a deposit bonus up to $500
UPDATE (2:37 pm PST, 1/10/19):  
Added Bradley Beal (most notably) and a handful of other players since this morning.

Kicked out Davis Bertans due to minutes restriction and limited role.
Guard
Trae Young, ATL ($10,400)
Coming off an 80.25 DraftKings Fantasy Point performance, Trae Young is primed for an outstanding matchup with the defensively-inept Washington Wizards. Not only do the Wizards give up the fourth-most fantasy points to the Point Guard position this season (60.09 DKFP/G), but they also rank dead last defensively overall.
Young is averaging 38 minutes per game along with a 35.1% Usage rate, scoring 61.25 DraftKings Fantasy Points per game over his last four games played since returning from an ankle injury, and the matchup doesn't get much better than this. His $10,400 price tag may seem lofty but is more flexible in roster construction than the near-13K of Luka Doncic, who has a much stiffer matchup.
Where many will be trying to spend-up to get to Doncic, I will be getting to Trae Young, who I believe has a much better shot at hitting value and is a top play in both Cash Games and tournaments.
Go here for more NBA picks.
Devin Booker, PHX ($8,400)
Having a fantastic recent stretch of games and his most positively consistent ones as of late, Devin Booker comes into Friday's home matchup against the Orlando Magic averaging 51.25 DraftKings Fantasy Points per game over his last three games and 49.60 DKFP over his last seven. Booker is also averaging over 38 minutes in those last seven games, and a massive 34.78% Usage rate in that span.
The Orlando Magic have been among the bottom four teams in the league over the last thirty days against Shooting Guards (per Defense Vs. Position weighted rankings at Hashtag Basketball), and giving up 53.05 fantasy points per game to the position this season.
With an immovable price tag that never seems to crest over the $8K threshold, and concrete play as of recently, Devin Booker is a solid Cash Game and GPP (Guaranteed Prize Pool) play.
Other Guards
Luka Doncic, DAL ($12,600)
Bradley Beal, WAS ($8,600)
Zach LaVine, CHI ($8,300)
Donovan Mitchell, UTA ($8,200)
Jimmy Butler, MIA ($8,000)
De'Aaron Fox, SAC ($7,500)
Lou Williams, LAC ($7,400)
Lonzo Ball, NO ($7,300)
Khris Middleton, MIL ($7,000)
J.J. Redick, NO ($5,600)
Dillon Brooks, MEM ($5,300)
Terrence Ross, ORL ($4,500)
George Hill, MIL ($4,100)
Bryn Forbes, SA ($3,900)
Play at DraftKings and use promo code SGP for a deposit bonus up to $500
Forward
LeBron James, LAL ($11,000)
With Los Angeles Lakers star forward Anthony Davis facing the possibility of missing Friday's game after suffering a gluteal maximal contusion on Tuesday against the Knicks, LeBron James will likely be the leader in distribution of said-missed workload in a tested matchup against Luka Donic and the Mavs.
LeBron has been leading the Lakers through an impressive six-game winning streak and has been posting dominant numbers across the board. He's averaging 57.25 DraftKings Fantasy Points and 36 minutes per game over the past eight games played, to the tune of 1.59 DKFP per minute. He's also posted three Triple-Double performances in that eight-game sample, which is an added bonus on DraftKings (4.5 DKFP total for each, if you count the Double-Double bonus as well).
Although his price tag has caught up to him recently, LeBron should likely be able to exceed value regardless of if Davis is absent, and especially if the Lakers are to remain competitive through this game. LeBron does, however, carry an injury tag of Questionable status due to illness, but that did not hold him back from playing in the Lakers' last game.
Domantas Sabonis, IND ($9,100)
He's battling some left knee soreness, but if you didn't happen to notice his last 53.5 DKFP performance against the Miami Heat over 37 minutes logged, it doesn't seem to be hampering Domantas Sabonis that much at all. In a very favorable spot against a soft Chicago Bulls frontcourt, Sabonis is all that much more inclined to reproduce a similar stat line.
Sabonis is averaging over 48 DKFP and nearly 35 minutes per game over the past six games, accompanied by a 23.28% Usage rate in that span. The Chicago Bulls are the worst defense overall against Power Forwards in the past 30 days, and among the bottom five all season. The Bulls also have allowed the seventh-most fantasy points per game on average to the position.
With Malcom Brogdon's health recently a lingering question as he wavers on returning each night, and Myles Turner being extremely inconsistent, Domantas Sabonis looks to put the Indiana Pacers on his back and smash the scoreboard against a feeble Bulls post unit.
Other Forwards
Giannis Antetokounmpo, MIL ($11,100)
Kawhi Leonard, TOR ($9,900)
Brandon Ingram, NO ($9,200)
John Collins, ATL ($8,500)
Jaren Jackson Jr, MEM ($7,100)
Montrezl Harrell, LAC ($6,700)
Troy Brown Jr, WAS ($6,600)
Marcus Morris, NYK ($6,500)
Bobby Portis, NYK ($6,400)
Miles Bridges, CHA ($6,200)
*Nemanja Bjelica, SAC ($6,000)
T.J. Warren, IND ($5,700)
**Thaddeus Young, CHI ($5,700)
Draymond Green,GS ($5,700)
JaMychal Green, LAC ($5,000)
Glenn Robinson, GS ($4,500)
Justin Holiday, IND ($4,100)
*Downgraded to 'Questionable'; monitor status leading up to game-lock.
**Moved to bench position (from starting) in lieu of Daniel Gafford; still don't mind the play.
Center
Bam Adebayo, MIA ($8,000)
Although having had a rougher recent patch of games in terms of fantasy production, Bam Adebayo draws a very promising matchup against the Brooklyn Nets despite their improvement at the position from last season. Adebayo's minutes remain consistently at a high number, and in this I find my patience for him to bounce back.
Should his Usage increase back to what it was just a few games ago back up over the 20% mark, I fully believe that Bam can re-instill the impressive progress he had been making in a stifling manner this season up until just recently. The Brooklyn Nets are surrendering the sixth-most fantasy points per game to the Center position and I see no reason why Bam can't hit his mark this evening.
He's a bit more of a gamble in tournaments than anything at this rate since we're not certain of how capable he is of hitting near his ceiling given the recent decline in Usage, and at a price tag just high enough that makes that gamble that much more costly. But I think Bam Adebayo is a fine play in Cash Game formats and still feasible in tournaments if you're a believer like myself.
Play at DraftKings and use promo code SGP for a deposit bonus up to $500
Other Centers
Nikola Vucevic, ORL ($8,800)
Rudy Gobert, UTA ($8,600)
Deandre Ayton, PHX ($7,800)
Jonas Valanciunas, MEM ($6,700)
Myles Turner, IND ($6,100)
Jarrett Allen, BKN ($5,600)
Dwight Howard, LAL ($5,600)
Alex Len, ATL ($5,200)
Brook Lopez, MIL ($5,200)
DeAndre Jordan, BKN ($4,700)
Anzejs Pasecniks, WAS ($4,600)
Willie Cauley-Stein, GS ($4,400)
Ian Mahinmi, WAS ($4,300)
Harry Giles, SAC ($4,000)