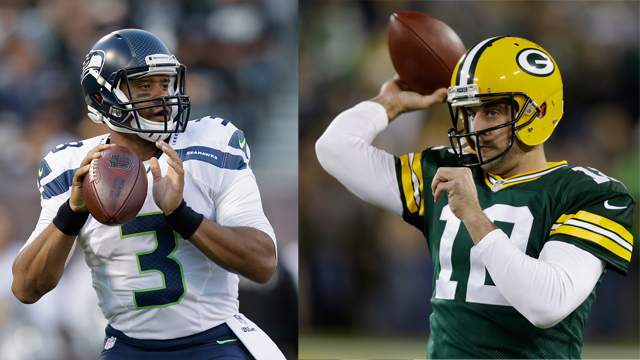 A football fans dream; Sunday Playoff football with two of the most respected veterans with all to play for, a win and advance or lose and your season diminishes. Let's look into a few names that need to be on your roster for the upcoming Draftkings slate.
Play at DraftKings and use promo code SGP for a deposit bonus up to $500
TEAMS: Seattle Seahawks vs Green Bay Packers
WHEN: 6:40 EST Sunday 1.12.2020
WHERE: Lambeau Field
Aaron Rodgers (GB), QB ($10,400/$15,600 Capt.)
The Lambeau legend takes the field on Sunday knowing this might be one of his last shots at a Super Bowl run and having home-field advantage might have a huge role in this matchup.
Rodgers splits have historically improved when playing at home, and this season continued that trend. At home, the Packers play-caller averaged 8.0 yards per attempt, on the road 6.1 YPA. He also was able to complete 2 more touchdowns playing at Lambeau, while having much more success with the big play.
At home, Rodgers completed 33 passes of 20+ yards compared to 19 while playing as the visitor. That bodes well facing a defense that allowed the 2nd most passes of 20+ yards and 5th most plays of 40+.
On the season, Seattle allowed 19 DK points per game to the QB position and also the 6th most pass yards. When you dig into the numbers some more, you find the Seahawks only allowed 19 passing TD (T-6th best), making it pivotal for the Packers to turn red zone opportunities in touchdowns.
In his last postseason run in 2016, Rodgers had a 9-2 TD while averaging 334.7 pass yards per game. Enough said, RODGER THAT!
Aaron Jones (GB), RB ($10,000/$15,000 Capt.)
A silent killer, the Packers ball carrier was quietly the 2nd overall scoring RB in full point PPR this season while finishing 4th in fantasy points per game (20).
Closing the season with back 2 back 25+ touch performances, I expect the Packers running back to be heavily involved in a game that is predicted to have weather implications giving Rodgers options to dump the ball down and get him out in space. Seattle allows 4.2 yards per carry allowing opposing running backs to tally 25.9 DK PPG.
If Green Bay can get Jones involved on the passing game early they will see early success vs a defense that allowed the 4th most receiving yards to enemy backs while surrendering 18 rushing touchdowns, 2nd most trailing only the Panthers.
Fire up Jones with confidence as I could see him with a multiple touchdown performance helping on the ground and through the air.
DK Metcalf (SEA), WR ($9,600/$14,400 Capt.)
Quickly becoming a fan favorite, Metcalf comes into the divisional round off a 32 point explosion thanks to 7 catches for 160 yards and a touchdown. Now he takes his talents to a frigid Lambeau field where the weather might keep the ball on the ground for a team that ran the ball 3rd most this season with 481 attempts. Always a threat to beat you deep, Metcalf has shown he is much more than that as of late silencing  some preseason critics who spoke of a "limited route tree"
He's outperformed Tyler Lockett in the last 2 games which were considered must-wins out targeting the #1 Wideout 21 to 15 while accumulating 241 yards and two touchdowns compared to lockets 113/1.
The Packers pass defense ranked in the top 3rd of the NFL in various categories, so the matchup is less than ideal. But, I do think the trust gained with Russell Wilson along with his freak physique make him a lethal weapon opponents must gameplan for.
Jimmy Graham (GB), TE ($4,800/$7,200 Capt.)
In the words of the great Tupac Shakur, "Revenge is the sweetest thing next to"…Nevermind. A revenge game for the journeyman veteran looking to make some postseason noise once again.
Let's get serious though, not so much about revenge but it's all about the matchup here. The Seahawks were one of the best teams to target with Tight Ends allowing the 2nd most DK PPG to the position (15.7). Graham has been hit and miss all season only getting in the end zone 3 times, but Seattle gave up 1099 receiving yards to tight ends and are suspect to the big play where the Packers will be looking to attack. The 10-year veteran has 7 catches this season of +20 yards and is averaging 11.8 YPC, his highest in 3 seasons.
Allen Lazard (GB),WR ($6,000/$9,000 Capt.)
When trying to construct a lineup that may differ from the public, sometimes taking a chance with the #2 WR can give you a boost over big fields. Lazard has taken over the #2 role in the wide receiver group, and we look to capitalize off potential opportunities. I look for the Packers to attack Seattle downfield and Lazard is coming off games with 9 and 8 targets also converting a crucial late gameplay earning Rodgers trust going into the postseason.
Play at DraftKings and use promo code SGP for a deposit bonus up to $500
---
2 U Parlay
Packers ML  Under 45