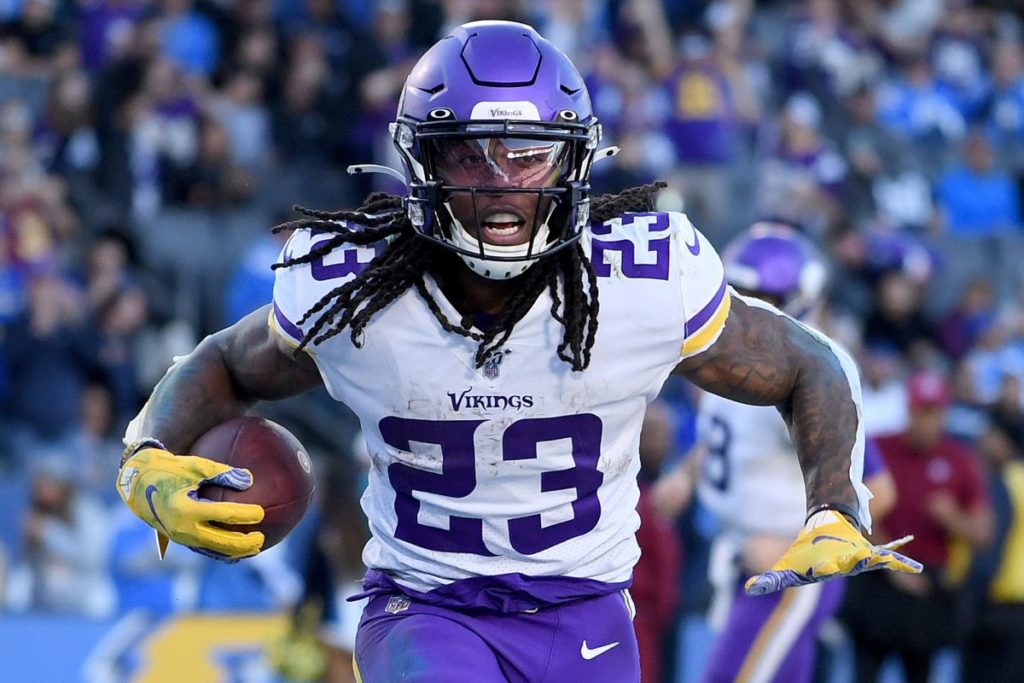 Did you happen to win your Fantasy Football Championship and are fiending to roll that money over to the next best thing? Or are you on the other side of that coin: feeling the effects of a season-long tilt that seemed ever-so promising and awarded you a dreaded runner-up "Congrats!" ribbon?
I am officially batting the cycle of both outcomes, and being the resident Daily Fantasy Degen of SGP's written content, I'm always looking for the next best reason to relate with you the reader. And tonight we have a superb matchup that's going to decide a lot for the NFC North division, when the Minnesota Vikings play host to the Aaron Rodgers Packers.
So regardless of season-long wins or woes, let's shelve that box of content until next season and address what's on the forefront, and I think I speak for everyone in the room thinking this loudly when I say…
IT'S MIKE BOONE SZN!!!1!
Aaron Rodgers (GB), QB ($10,400/$15,600 Capt.)
The 2019 season for Aaron Rodgers has featured its share of ceiling and floor performances for the much-disputable Greatest Of All Time of the quarterback position, but Monday Night's grand stage shouldn't be one to fade him on.
Despite having a one-dimensional passing attack with Davante Adams being the only true reliable target, Rodgers has the ability to carve apart nearly any secondary and the Vikings happen to have one that's revered for its performances of yesteryear rather their recent ineptitudes.
Harrison Smith is a beastly hitter at the safety position, and while Minnesota ranks 8th overall against the pass per Football Outsiders DVOA metric, they sit in the middle of the pack in passing yards allowed per game (239.9) and passing touchdowns allowed overall (23).
Rodgers at the Captain position may not be the most ideal route of attack given the rigid remaining salary the decision will leave you with, but rostering a majority share of entries with the Packers savior quarterback will ensure you're covered for any ceiling performances while still leaving plenty to work with elsewhere.
Mike Boone (MIN), RB ($9,000/$13,500 Capt.)
The legend of preseason DFS lore has seen the path paved for him to start at the running back position, and what a better time than Week 16 to see Mike Boone plow onto the scene as the John Doe Jesus for both season-long and Daily Fantasy formats combined?!
With Dalvin Cook and Alexander Mattison sidelined going into Monday Night, Boone is the sure-to-be chalk play of the day and with plenty of reason for the anticipation following a stout preseason résumé. And with only Ameer Abdullah left to threaten his workload, Boone is in line for a busload of touches when facing a Packers defense who ranks 25th against the rush per DVOA metrics.
It's going to make for an interesting evening considering DraftKings awards a full-point per reception, and Abdullah will be the guy in the mix slated to work on passing downs most of the time. Averaging nearly seven yards-per-carry through the 2019 preseason, the attention will be all over Boone with a limited player pool given the circumstances of a Showdown slate.
While I fully advocate to get the lion's share of Boone into your lineups for this evening, prepare to pivot to Abdullah as well if you're multi-entering in order to mitigate the slew of ownership coming in on Boone.
Aaron Jones (GB), RB ($10,800/$16,200 Capt.)
Very much the poster child for high ceilings and low floors, Aaron Jones comes into Monday Night Football with a season filled with blowout performances only few saw coming, along with a share of utter duds on days everyone anticipated fireworks. In a divisional primetime matchup combined with playoff seeding implications, Jones will have to come to play his best ball this evening in order for the Packers passing game to setup shop.
While the Vikings rush defense ranks staggeringly among the top four per DVOA rankings, they have yet to face a stalwart backfield in recent weeks which adds to pad their stats against the run game. In fact, the last prominent rushing attack the Vikings were put that task to defending was that of the Seattle Seahawks, who stampeded them to the tune of 218 combined team rushing yards and over 100 all-purpose yards surrendered to both of the Seahawks running backs in Chris Carson and Rashaad Penny respectively.
With Jamaal Williams prevalent in the passing attack and as a change-of-pace tandem mate, I believe Aaron Jones can replicate his better performances of 2019, as he's also seen two more of those promising performances in his most recent games, averaging 25.65 DraftKings Fantasy Points in those outings. Aaron Jones has a stiff test on Monday Night, but if the Packers are to stay competitive, they'll need him at his finest.
Kyle Rudolph (MIN), TE ($6,400/$9,600 Capt.)
After a six-week stint of near statistical absence to open the season, Kyle Rudolph since blew up to the touchdown-dependent tight end we recall from years past, posting five double-digit
DraftKings Fantasy Point performances through the six weeks that followed and surged back into relevance at the position.
Facing a Green Bay defense that ranks 28th overall against the tight end position per DVOA metrics, Rudolph could be a very sound option on this Monday Night Showdown and potentially holding the means to the top as he's very capable of breaking the slate.
Surprisingly, Rudolph remains a top target overall for Kirk Cousins in 2019, and currently the third-most targeted option on the Vikings' season with 46 total targets. However, it's in the red zone where the damage is truly done by Rudolph, as he stands pat as the top-targeted option in this area of the field, drawing a team-high 30% of targets in the Vikings' red zone drives.
Keep in mind: Irv Smith Jr. is the Mike Tolbert of Tight Ends and vultures a share of red zone work from this receiving corps to throw a wrench into the mix. Therefore, I would be paying some shares toward ol' Irv as a pivot as well. But Kyle Rudolph will be earning my attention through many of my Monday Night entries.
Davante Adams (GB), WR ($11,400/$17,100 Capt.)
If you're at all familiar with my style of play and contrarian angle I forever attempt to shed some light upon in my content, you'll know that it oft bothers me to clamor on about chalk plays due to the fear of appearing run-of-the-mill. But it's very difficult to get creatively contrarian when it comes to pivoting off of Davante Adams, because volume and dependability is simply that hard to ignore (especially when a player is surrounded by the very opposite of such).
Davante Adams has been nothing short of outstanding in the games he's played during the 2019 season, and with injury setbacks being his only detriment to production. He's been the only player on Green Bay with ten or more targets in any game (besides one games to Marquez Valdes-Scantling), let alone the six games he's produced as many or more this season. And to no surprise, Adams is also the most targeted player in the red zone for the Packers, garnering 25% of Aaron Rodgers' pass attempts in the area.
There is simply nobody nearly as concrete in production from week-to-week on the Packers offense, and the Vikings secondary has been proven to allow big games to top receivers (Tyreek Hill destroyed them for 140/1). Fading Davante Adams would not be recommended in the slightest, as I will be far over the field's ownership on this Monday Night.