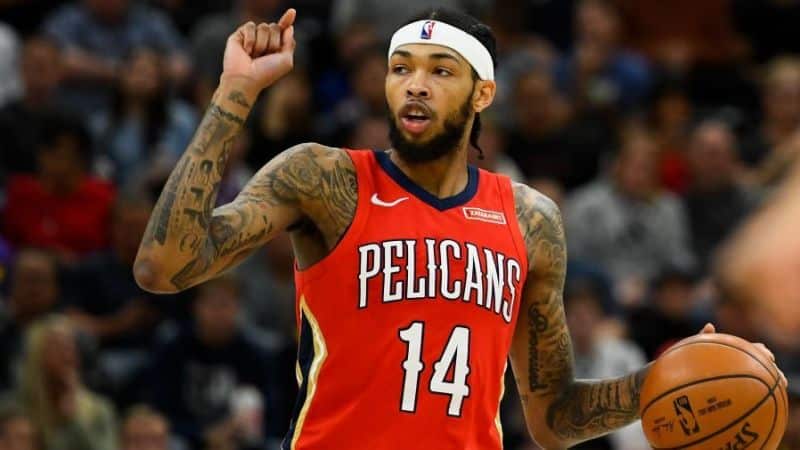 Guards
Bradley Beal, WAS @ NYK ($9,300 DK/$9,400 FD)
Beal has pretty much been EVERYTHING for the Wizards this season … outside of Davis Bertans' otherworldly three-pointer rampages. Well, Beal really will need to do everything for Washington tonight as much of his team is out. Bertans = out. Moritz Wagner = out. Thomas Bryant = out. Rui Hachimura = out. Isaiah Thomas has been suspended for two games.
This offense is going to run through the backcourt this evening. It's a great matchup on the road against a bad Knicks team, and Washington still has a solid implied team total of around 115 points.
Ish Smith, WAS @ NYK ($4,500 DK/$4,500 FD)
"Call Me" Ishmael was a solid fill-in when Isaiah was off the court earlier in the season. Everything I wrote above about his team not having many healthy players applies here too. Ish and Beal should be stacked together in your core as often as possible. He'll get plenty of run tonight against a team that can't stop a mosquito … so Ish, who's just a bit bigger, should be awesome.
Shabazz Napier, MIN @ GSW ($3,400 DK/4,700 FD)
Clearly, he's a much better value on DraftKings, but still worth a look in FanDuel. If Napier gets the start again on Monday, he has an easy matchup against a Warriors team that's shit-poor defensively. The Warriors rank in the bottom third of the league in points allowed per game, points allowed per possession, and assists allowed per game. Also, there's a strong chance that KAT sits another game with his knee issue, so that would give the green-light for the rest of the team to shoot away … including Shabazz.
Forwards
Brandon Ingram, NOP @ POR ($8,400 DK, $8,700 FD)
Slenderman has been giving opposing defenses nightmares this season. The change of scenery from the West Coast has clearly done Ingram well. He's at a 21.4 player efficiency rating, which is a large boost from a crappy 13.4 last season, and a team-high 29% usage rate.
Tonight he returns West (kinda) to play sad Trail Blazers team that plays at a faster than average pace and ranks in the bottom third in points allowed to opponents. The game total is set at 230, so there should be plenty of points for Ingram to gobble up … since he doesn't look like he eats anything else.
Chris Boucher, TOR @ IND ($3,500 DK/$3,900 FD)
The Raptors' frontcourt is banged up with Marc Gasol and Pascal Siakam  both our with injuries. While the Pacers' defense is really solid, Boucher is a great value play since he's being forced into an expanded role.  He played 24 minutes in the Raptors' Sunday game, scoring over 40 fantasy points with 12 field goal attempts, grabbed seven rebounds and blocked four shots.
Centers
Nikola Vucevic, CHI @ ORL ($8,200 DK/$7,700 FD)
It's the Battle of Nikola tonight! Well, in fantasy basketball … not in real life. Two Nikolas have made the list (see below).
Vucevic feels like an especially solid play tonight, but his price really stands out on FanDuel. When is the last time you remember seeing it that low? That's an amazing price for a player who seems like he's fully healthy again!
Nikola Jokic, DEN @ PHO ($9,100 DK/$9,500 FD)
Chunky Joker got off to a disappointing start, but he's turned things around and has been averaging over 50 fantasy points in his last six games. He gets a cake matchup tonight against a Suns' team that is already missing DeAndre Ayton again (this time to injury).
Phoenix ranks as the league's sixth worst rebounding team by the percentage of missed shots they rebound and have allowed the seventh most points to opponents.
Mitchell Robinson, WAS @ NYK ($5,800 DK, $6,200 FD)
This is a much better play on DraftKings, but worth a look in FanDuel. Robinson's minutes have been all over the place this season. Hopefully now that Fizdale is gone, his minutes will start to even out.
Robinson has a player efficiency rating of 23.8 this season, fourth best among centers. The Wizards are the league's worst defensive team, league's worst rebounding team, and (as mentioned above) missing most of their team to injury. This a great matchup for Robinson (and Julius Randle).
Example lineups