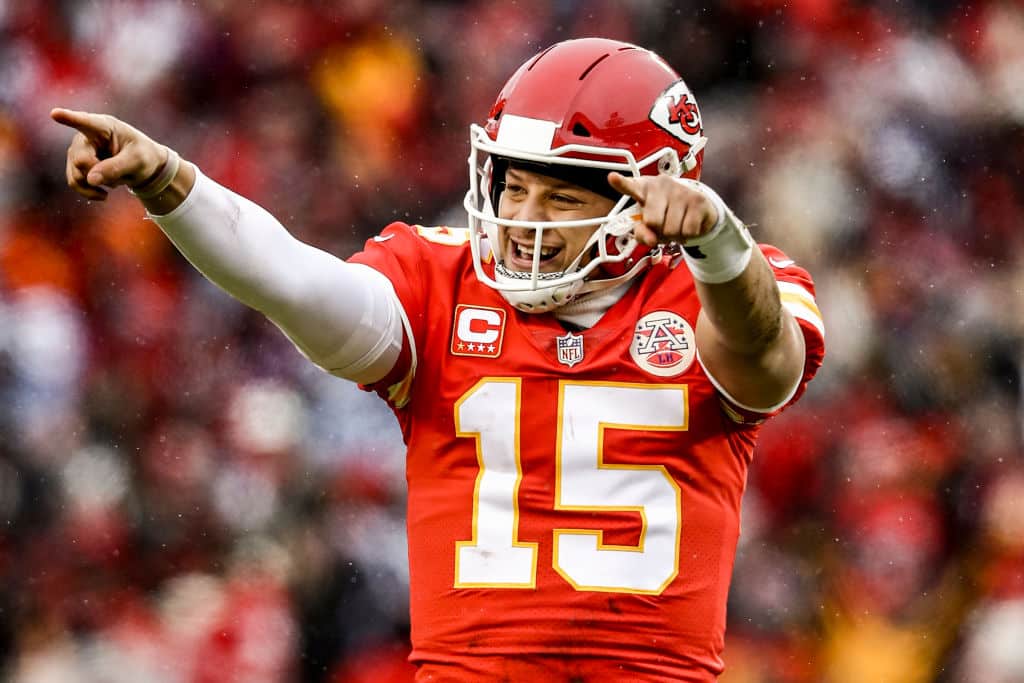 Showdown players UNITE! With the NFL regular season winding to a close, the Showdown season is only heating up further as primetime games become the focal point and playoff pictures shape into full-figure (and all the way up to Super Bowl). And with a Week 16 featuring a Kansas City Chiefs team vying for the best playoff positioning as possible, the Chicago Bears play host in hopes to play spoiler as there's miniscule hope for them to make the postseason.
Despite the lack of overall playoff impact this game may have in the grand scheme of things, there are still intriguing angles to be experimented with from a daily fantasy perspective and lots of money to indeed be made. Let's take a look at a few of these players of potential profits…
Tyreek Hill (KC), WR ($11,000/$16,500 Capt.)
A player whose name is mentioned and the obvious is instantly stated, Tyreek Hill is always a top option on any slate simply from a raw talent perspective and has the pure ability to blow the doors off any given matchup, especially if mistakenly guarded at any time one-on-one.
Facing a Bears secondary that ranks seventh overall against the pass per Football Outsiders' DVOA Defensive Efficiency rankings, they also happen to sit fifth-overall defending the WR #1 according to DVOA Defense Vs. Receiver Type.
While not only does Tyreek Hill bring an asterisk to nearly every defensive statistical category stacked up against him on any given week, he's also given the added potential of a waning interest in this game from a Chicago defender's standpoint. At the same time I'm not [and never would be] accusing anyone of intentionally lacking in effort, I feel that the logic in human nature would constantly gauge a necessity for maximum effort circumstantially on a per-down basis if a "nothing to play for" mentality ever inadvertently enters the equation.
With that being said, in all likelihood Hill should not be facing the elements to a hindering extent and draws a matchup with cornerback Kyle Fuller, and a 'Questionable' Prince Amukamara. And given the incredible ceiling performance being one jaguar dash away at all times, Tyreek Hill is nearly unavoidable under the Sunday Night holiday spotlight.
Anthony Miller (CHI), WR ($8,200/$12,300 Capt.)
Although there isn't much left to play for besides spoiler, that's not to say Anthony Miller can't continue his late 2019 prime performance that's been turning the heads of many and finally proving his previous season's proponents to be right.
Totaling 32 targets over and 21 receptions over his last three games, Miller is a Points Per Reception format monster. In a game they'll likely be behind early, the Bears should be relying on him early and often, and fantasy owners will be as well as he's averaged 23 DraftKings Fantasy Points in that time span.
Drawing the Fuller cornerback brother of the opposite side of the field, Kendall Fuller should be lining up against Miller throughout this game. With only two passes defended all season over nine games played and two as a starter, Kendall Fuller will have his hands full with Anthony Miller, making the targets likely plentiful on behalf of Mitchell Trubisky.
Patrick Mahomes (KC), QB ($12,000/$18,000 Capt.)
The man likely drawing a majority's share of the broadcast viewership, Patrick Mahomes continues his pursuit of a bounce back performance since returning to the field from a knee injury earlier this season. Coming into Chicago's Soldier Field, the temperatures should be a cold-yet-manageable 36 degrees Fahrenheit in comparison to the likes of snowy Kansas City, Missouri.
While the Bears don't necessarily provide the best matchup on paper, the Chicago defense is allowing an average of nearly 22 points per game and 259 passing yards over their last three games played. And when David Blough can put up 259 yards on you, I'd be looking extra intensively to roster plenty of Mahomes under that pretense alone (although Aaron Rodgers only managed 192 yards).
Mahomes can easily put up massive numbers on any given Sunday and should be itching to get his second big performance since coming back from injury. At the same time his recent performances have left a lot to be desired, given the sheer number of healthy weapons that he has available to utilize, I don't see a reason Patrick Mahomes doesn't exploit the weaknesses of this Bears defense enough to exceed value.
Mitchell Trubisky (CHI), QB ($8,800/$13,200 Capt.)
Despite a presumptuous mantra of mediocrity bestowed forever upon him through many of the public eye, Mitchell Trubisky has actually been a fantastic fantasy value at the quarterback position for the past three weeks of the season. At this still-discounted price point, Mitch should be in line to throw the ball often if ever behind in the game, which could be as early as the first handful of minutes.
Trubisky is averaging 25.79 DraftKings Fantasy Points and 327 all-purpose yards per game in his past four games played, while still managing to come in under $9,000 on a Showdown slate. This four-game span also saw ten total touchdowns produced by Mitch-A-Palooza, two coming on the ground and two games with three touchdowns through the air.
This price to me says he's still yet to be entirely trusted by the public, and all the more reason you should be looking to roster him. Trubisky, given his ability to scramble out of the pocket as well, provides much upside and should be the reason if the Bears are to stay in this game to any extent.
Given a newfound rapport with receiver Anthony Miller, this Chicago offense suddenly looks encouraging to roster pieces from, and it's all due to the shedding of ineptitude by Mitchell Trubisky that has turned it all around.
Jesper Horsted (CHI), TE ($1,600/$2,400 Capt.)
The dart-throw that has remained to be one regardless of his performance log (must be the name), Jesper Horsted is priced down egregiously for this Showdown slate and is simply begging to be rostered for all reasons including his birth moniker.
Over the four-game time span of Trubisky's recent resurgence, Horsted has been solid for his price-point in two of them, and with an increase in targets over his last two games played. While he's not going to be a dominating target monster here, the bargain-bin salary point leaves significant ability to roster spend-up talent while harboring a considerable (while touchdown-dependent) upside.
He's had nearly one red zone target per week since his start in Week 12 and makes an excellent punt with all things considered. Jesper Horsted draws a fourth-ranked Chiefs defense against the tight end position per DVOA, but his red zone targets alone in combination with his price point make for palatable roster considerations on this Sunday Night.