While the PGA Tour has taken a hiatus, this week will feature an unofficial event down in the Bahamas that is basically the tour's version of an All-Star game. A limited field of only 18 players, all of whom are in the Top 50 in the Official World Golf Rankings and more than half the field within the Top 20, travel down to the Bahamas for the 2019 Hero World Challenge at the Albany Golf and Beach Resort.
Because there are only 18 players to choose from this week, making sure you pick the exact right combination of players for DraftKings or your props this week is absolutely vital. Complicating matters is that most of these players are coming into the tournament off a long layoff, and there isn't any strokes gained statistics maintained on the golf course. Bettors will have to tread very carefully this week.
Here's everything there is to know about the 2019 Hero World Challenge.
The Field
As mentioned previously, while there's only 18 players in the field this week all of them have the pedigree to come away with a victory. In addition, the golf course isn't one that suits one particular style of play, meaning that this is one of the more wide open tournaments that'll be played all year.
The tournament is hosted by the Tiger Woods Foundation, and the Big Cat once again is the featured attraction for fans tuning into the event. Tiger silenced all his critics in October when he returned to the PGA Tour and won the ZOZO Championship in Japan, letting the world know that what we saw out of him during the summer of 2019 was an aberration. While he hasn't fared well since this event moved to the Albany GC, he's in a great spot to get another win before the calendar rolls over to 2020.
Other players in the field who have played great this fall are Jon Rahm, Justin Thomas, Patrick Cantlay, Xander Schauffele, and Webb Simpson. It won't surprise anyone if one of these players comes away with a win.
For fans of the Presidents Cup, this is an opportunity to take a look at almost everyone on Team USA before they head to Melbourne next week. Eleven of the 12 representatives for Team USA are participating in the field this week. The one notable omission is Dustin Johnson, who on Saturday pulled out of the tournament citing he'd rather get one more week of physical therapy and practice before playing in the Presidents Cup.
Reading the tea leaves, this seems like a giant red flag. Dustin Johnson got his knee surgery in early September, yet he's opting for physical therapy and practice instead of playing in a stress free cash grab on a flat golf course in the Bahamas? Something stinks on this one. If he was really close, I think he'd be playing this week. Plus, is he seriouslyy concerned about being ready for the freaking Presidents Cup, the Pepsi One of international golf competitions?
My best guess – he's going to withdraw from the Presidents Cup, but Tiger has asked him to hold off on announcing so that a couple of players in the field this week can tryout for that last spot. The candidates for the last spot are Kevin Kisner (who has blown pretty much every opportunity this fall he's had to prove he belongs on the team), Chez Reavie (an intriguing choice for how Royal Melbourne plays), and Jordan Spieth (the perfect choice for Royal Melbourne if he wasn't striking the ball like he was an 8 handicap). The guy who finishes the best this week hops on the plane to Australia.
And if all of them perform poorly, then this is the dude that needs to get the call (hell it probably should be him regardless):
The Golf Course
The roots of this tournament go back to 2000 when it was then known as the Target World Challenge at Greyhawk Golf Club in Scottsdale, Arizona, and played for the benefit of the Tiger Woods Foundation. When healthy, Tiger would play in every edition of the World Challenge and would donate all his prize money to his foundation. The next fourteen tournaments were played at Sherwood Country Club in California, changing sponsors from Target to Chevron to Northwestern Mutual. In 2015, Hero MotoCorp took over as primary sponsor, and in 2016 it moved the event to the Albany Golf Course and Resort in the Bahamas.
The Albany Golf Course and Resort first opened in 2010, designed by the legendary Ernie Els with consultation from the Greg Letsche Golf Design company. As one of the most recognizable names in golf, Ernie Els used his name to create an empire of branding across several products, from his own winery to a restaurant division and a golf course design company. Situated 10 minutes from the Nassau airport, the golf resort is perfect for tourists as well as for visiting professionals looking to stay and play there. Players such as Justin Rose, Ian Poulter and Tiger Woods also own property on the resort.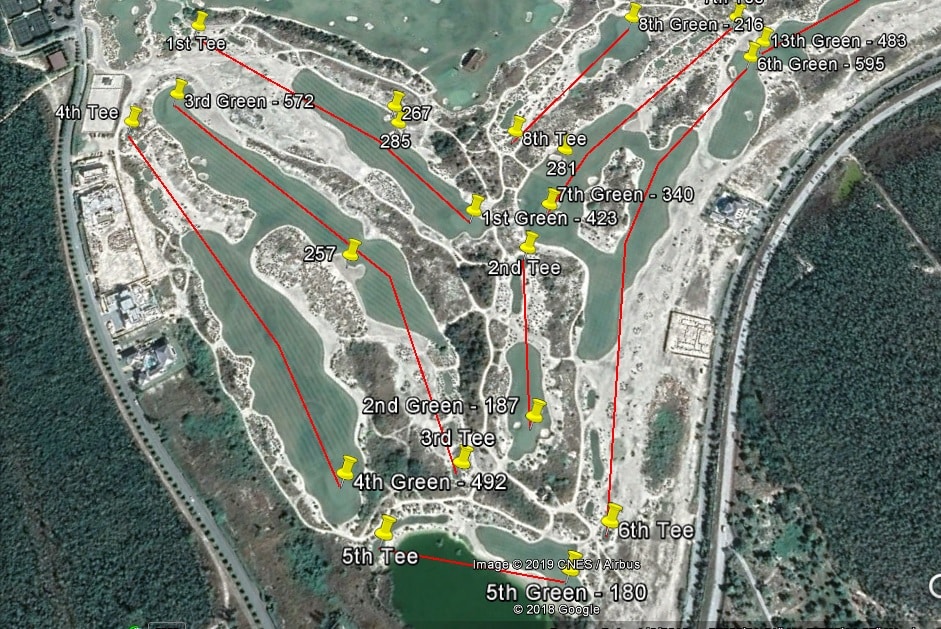 When creating the golf course, Ernie Else drew inspiration from some of the most recognizable tracks around the world. His overall concept was to try and recreate a firm and fast place like Royal Melbourne, running through wind swept sand dunes with very little rough and native waste areas flanking the fairways. He recreated the 13th at Muirfield (where he won the 2002 Open Championship) with the Par 3 second hole by carving the green into the sand dune. Most of the greens at Albany GC are turtleback shaped, similar to that of Pinehurst (another sand dune golf course – sensing a theme here?).
The problem for Els, however, is that the piece of property he picked had absolutely none of the natural features required to recreate those places he looked to draw upon. The property originally was all rock and is almost completely flat. Therefore, a lot earth needed to be moved to build the golf course. This also included grinding up the rocky terrain to manufacture sand dunes and plant native species of vegetation in sandy waste areas. Despite having to manufacture a golf course that's supposed to look natural and rugged, overall they did a pretty good job in doing so.
Betting Strategies
You're going to see the experts this week say things like premium ball striking is must and strong historical performances on windy coastal golf courses are the key to success this week. But here's the stone cold truth – that's a description of pretty much every player in the field this week. They'll try and sound smart by making these types of arguments, but the reality is it just serves to fill up mandatory word counts and isn't very helpful to readers and bettors.
With windy, firm and fast conditions that feature wide fairways, Albany GC isn't a place that suits one particular style of golfer. Shorter and more accurate hitters can take advantage of almost always hitting from the fairway and hit their approach shots close. Longer bomb and gouge specialists who might be weaker with their irons are able to hit the ball long and straight and have short wedges into the green. In the four tournaments played at Albany GC, two of the winners have been long ball specialists (Jon Rahm and Bubba Watson), and two of them have been more balanced players tee-to-green (Hideki Matsuyama and Rickie Fowler). In addition, short but premium ball strikers like Henrik Stenson and Jordan Spieth also have great track records at Albany GC. It's a tournament that any variety of ball striker can win if they get hot with the putter.
And that's probably what this tournament is ultimately going to come down to – a putting contest. That's always a type of tournament that's hard to predict because putting is the most volatile part of every players game and can change in an instant not just from one tournament to the next, but from day to day! There's very few players in the world that are capable of consistently stringing together tournament after tournament of awesome performances on the greens.
In order to find success in DFS, you're going to have to absolutely nail your lineup with at least the winner and most of their roster inside the Top 10 by the end of the weekend. Anyone who has more than one guy in their lineup who finishes in the lower half of the leaderboard is pretty much toast. As such, don't be afraid to fill out not just a lot of lineups but try and use a lot of combinations of everyone. Treat these lineups as essentially scratch off lottery tickets, as this tournament is basically one big crap shoot.
In terms of futures bets and matchups, I'm going to look more at the odds to make bets instead of try and target certain players. That means in most cases I'll be looking at the underdog in head-to-head matchups, and for futures bets to try find players who I perceive as undervalued. The odds to win the tournament are going to be a lot higher than most tournaments because of the 18 player field, but there still can be values to find 10/1 or more.
At the end of the day, there really isn't a bad bet to be made for the Hero World Challenge. A case can be made for every player in the field (yes, even you Bubba Watson). When betting this tournament, don't take it too seriously, don't overthink things and just have fun doing so.