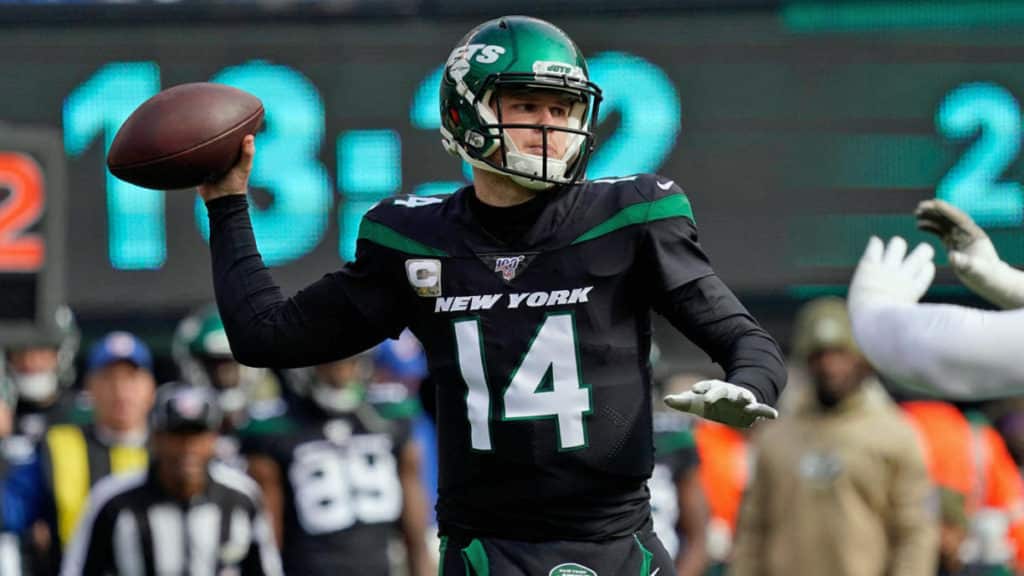 [UPDATED: SAT 11/30, 6:00 PM]
Is it time for seconds already? After a Thanksgiving slate that can be more remembered for the jokes regarding a substitute quarterback's name rather than the action on the field, hopefully you came away with some cash in your bankroll to build upon, lick your wounds (if any), and live to enjoy another day of DFS (because "fighting" another day sounds more like something that actually requires strenuous physical labor, unless waking up at 4 am every Sunday to prep player projections is your idea of battle).
We're treated to a studly slate where we can choose between such top-flight quarterbacks as Patrick Mahomes and Lamar Jackson, spend up to luxury box at running back with Christian McCaffrey, and a buffet of wide receivers that can supplement a variety of salary tiers necessary to afford any of the aforementioned talents available. However, other affordable means at quarterback provide an interesting route for achieving costly combinations among your position players. Week 13 makes for a very incredibly versatile array of selection to differentiate yourself from the pack as well.
Without derailing too far down any particular path of my attention deficit, let's dig into the "leftovers" of Week 13, which in this case happen to be the best part of this week's offerings in daily fantasy football…
Quarterback
Sam Darnold, NYJ ($6,100 DK/$7,600 FD)
Consideration: Cash Games, GPP (All Entry Field Sizes)
The frugal formula to rostering those pricey position players alluded to earlier? Look no further. Sam Darnold is actually looking like everything I want in a daily fantasy quarterback over the last three weeks: low ownership, low price tag, high output in fantasy points. So keep your mono jokes to yourself, because the only thing sick about Darnold these days are his quarterback ratings (yes, I went there).
If you remove the one God awful outing against the Patriots secondary (that DOES NOT match-up well for Darnold), over his last six performances since coming back from the injury designation that will live in infamy, Darnold has averaged 22.01 DraftKings Fantasy Points and not once has he cost $6,000 or higher. Also since his dud versus New England, he's progressed his way week-to-week in minimizing turnovers and increasing his passing yards per game to the 300-yard mark per game. Baby steps, I know. Hang in there.
Against a Cincinnati defense who has been a punching bag all season, the Bengals rank 31st overall in DVOA Defensive Efficiency against the pass (per Football Outsiders) second only to the Miami Dolphins and are essentially among the weakest in defending against nearly every receiver type (WR1, 2, 3, TE, RB). While the Bengals don't surrender the highest average of passing yards per game on paper, they are 21st overall in passing yards allowed per game (250.9 PA YPG), tied for the second-lowest number of interceptions all season with five (which is typically Darnold's downfall), and their defense as a whole has the second-lowest number of sacks on the season as well (16 sacks).
On a slate with several position players I am eager to spend-up to on many rosters, I will be getting to plenty of Sam Darnold who allows for the financial flexibility required to do so.
Other Cash Game QBs:
Carson Wentz, PHI ($5,800 DK/$7,300 FD)
Kyler Murray, ARI ($6,400 DK/$7,700 FD)
Jameis Winston, TB ($6,300 DK/$7,600 FD)
Patrick Mahomes, KC ($7,400 DK/$8,600 FD)
Other GPP QBs:
Nick Foles, JAC ($5,700 DK/$7,500 FD)
Lamar Jackson, BAL ($7,000 DK/$8,700 FD)
Aaron Rodgers, GB ($6,500 DK/$8,100 FD)
Baker Mayfield, CLE ($6,200 DK/$7,600 FD)
Dart-Throw GPP QB:
Kyle Allen, CAR ($5,500 DK/$7,200 FD)
Running Back
Phillip Lindsay, DEN ($5,000 DK/$6,300 FD)
Consideration: Cash Games, GPP (Small/Med Entry Field Sizes)
There's no denying a great player when being priced down a bit too low regardless of their surrounding circumstances, and Phillip Lindsay is an excellent example of such. An unfortunate biproduct of a lackluster offense, Lindsay's silver lining is having carved-out the lead role in the Denver backfield (finally) to incur such necessary volume to make him worthy of roster capability in fantasy lineups. And this Los Angeles Chargers rush defense as a whole makes Lindsay all that much more encouraging of a play, especially when taking the Chargers' weaknesses into consideration.
Not only does the Chargers rush defense rank 20th overall in yards per game allowed (112.3 per game), but according to Football Outsiders' DVOA Defense vs. Receivers rankings they're 28th overall against running backs as the receiver type. Besides his rushing capabilities, Phillip Lindsay excels in the Broncos passing downs and accounts for the third-most team targets on the season for Denver, ironically tied with his backfield mate, Royce Freeman, with 37 targets each. However, the rushing attempts are by far in favor of Lindsay as of late, most recently out-touching Freeman 29-10 attempts over the past two games.
Phillip Lindsay provides affordability, moderate-to-high upside in point-per-dollar fantasy production, and allows you to fit a number of luxury-priced players into one lineup when paired with another cheaper candidate on your roster (such as a couple of the quarterbacks mentioned above).
Other Cash Game RBs:
Le'Veon Bell, NYJ ($7,200 DK/$7,300 FD)
Christian McCaffrey, CAR ($10,500 DK/11,000 FD)
Aaron Jones, GB ($6,800 DK/$8,000 FD)
Leonard Fournette, JAC ($7,500 DK/$7,600 FD)
Other GPP RBs:
Nick Chubb, CLE ($7,800 DK/$8,200 FD)
Saquon Barkley, NYG ($7,400 DK/$7,600 FD)
Derrick Henry, TEN ($7,600 DK/$8,600 FD)
LeSean McCoy, KC ($4,800 DK/$5,800 FD)
Dart-Throw GPP RB:
Derrius Guice, WAS ($4,500 DK/$5,400 FD)
Wide Receiver
D.J. Moore, CAR ($6,800 DK/$6,800 FD)
Consideration: Cash Games, GPP (All Entry Field Sizes)
The fact this guy has been under the radar for so long baffles me (with how he has been performing), but more D.J. Moore for us makes for all the merrier.
Over the past four games D.J. Moore has been absolutely outstanding, averaging a monstrous 23.97 DraftKings Fantasy Points per game and only costing more than $6,000 once, which was last week when the pricing finally started catching up to him. And against a Washington Redskins secondary ranking 21st overall in DVOA Defensive Efficiency and having allowed the eighth-most touchdowns through the air (20 TDs), Moore looks to be in a very solid position to put up some big numbers.
Moore has also exceeded the 100-yard mark three of the last four games as well (and the other game of the four where he posted 95 yards), which garners a small point bonus on some sites such as DraftKings. He's only had two weeks where he didn't at least break even on his salary cost, and coupled with low ownership nearly every week, I don't see a way around rostering D.J. Moore given all of his potential benefit.
Other Cash Game WRs:
Cooper Kupp, LAR ($7,100 DK/$7,800 FD)
Davante Adams, GB ($7,000 DK/$8,000 FD)
D.J. Chark, JAC ($6,800 DK/$6,900 FD)
Jamison Crowder, NYJ ($5,600 DK/$6,300 FD)
Other GPP WRs:
Tyreek Hill, KC ($8,900 DK/$8,300 FD)
Mike Evans, TB ($6,900 DK/$7,700 FD)
Jarvis Landry, CLE ($6,400 DK/$7,400 FD)
Courtland Sutton, DEN ($5,800 DK/$6,600 FD)
Dart-Throw WR:
JJ Arcega-Whiteside, PHI ($3,200 DK/$4,900 FD)
Keelan Cole, JAC ($3,600 DK/$5,100 FD)
Tight End
Jack Doyle, IND ($3,300 DK/$5,000 FD)
Consideration: Cash Games, GPP (All Entry Field Sizes)
Sadly we no longer have Andrew Luck employed under helmet by the Shield to serenade us with his name so enticingly, but Jack Doyle hasn't been considered this good of a play in quite some time (albeit by default). He's now the top target at a thinned-out tight end position and alongside a receiving corps marred in mediocrity.
Jack Doyle has spent most of the past two years vying to be the lead man over Eric Ebron, and much of last season was littered with peaks and valleys in his production due to injury absence. But since the departure of Andrew Luck, Doyle's production has since somewhat stabilized, where he's averaged over ten DKFP in his past three games. With Ebron being recently placed on the IR, Doyle becomes the chalk play of the week at the position.
He's facing a Tennessee defense that has by no means been a schlock job this season and that will be fighting tooth-and-nail in a game extremely critical in the determination of the NFC South title. However, Tennessee's weakness on defense happens to be at tight end, where the Titans sit 26th overall against the position according to Football Outsiders DVOA Defense vs. Receivers rankings.
It's Jack Doyle chalk weekend and, considering his price point and high ceiling we've witnessed in the recent past, I'm willing to fully embrace it.
Other Cash Game TEs:
Dallas Goedert, PHI ($4,100 DK/$5,200 FD)
Ryan Griffin, NYJ ($4,300 DK/$5,600 FD)
Darren Waller, OAK ($5,500 DK/$6,100 FD)
Hunter Henry, LAC ($5,800 DK/$6,600 FD)
Other GPP TEs:
Travis Kelce, KC ($7,200 DK/$7,100 FD)
Noah Fant, DEN ($3,700 DK/$5,100 FD)
Mike Gesicki, MIA ($3,600 DK/$5,000 FD)
Cameron Brate, TB ($3,100 DK/$5,000 FD)
Dart-Throw GPP TE:
Nick O'Leary, JAC ($3,200 DK/$4,200 FD)
Kaden Smith, NYG ($2,900 DK/$4,000 FD)
Defense/Special Teams
Cash Game D/STs:
Browns ($2,600 DK/$4,600 FD)
Panthers ($3,800 DK/$4,700 FD)
Broncos ($3,000 DK/$4,400 FD)
GPP D/STs:
Jets ($3,700 DK/$4,900 FD)
Eagles ($3,600 DK/$5,000 FD)
Rams ($3,200 DK/$4,100 FD)
Dart-Throw GPP D/ST:
Cardinals ($2,300 DK/$3,500 FD)