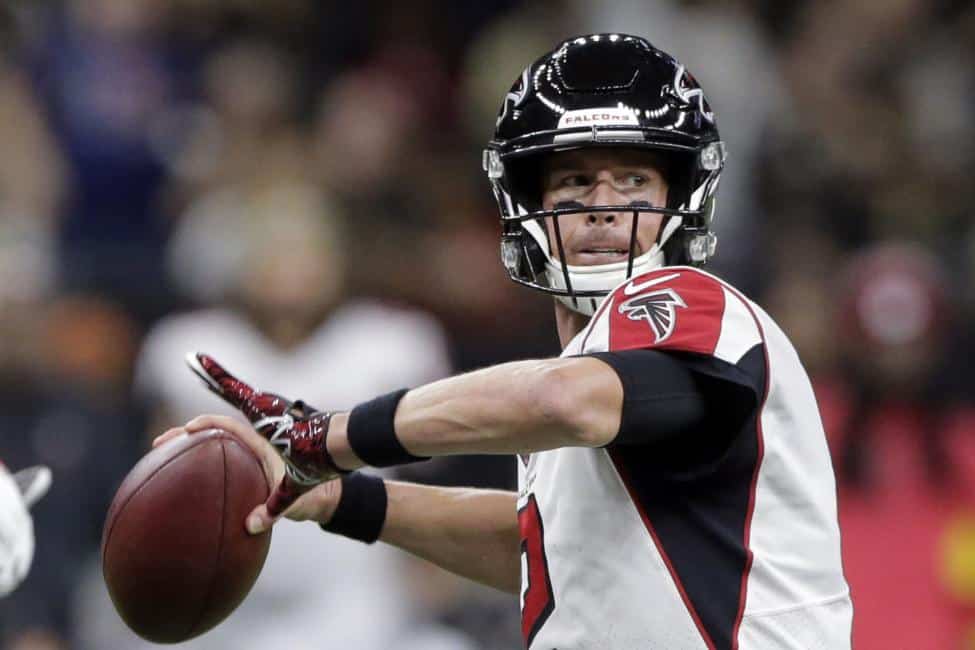 Lest we forget…

If there's at all a thing to be thankful for early into preparation for this Week 12 NFL Daily Fantasy Main slate, it's that we don't have to worry about chalk coming in the form of bargain-bin mediocrity that we're forced to play due to a low price and promising match-up on paper, as opposed to raw talent.
So if there's anyone apologizing, it's me, to anyone who read last week's DFS Picks article and happen to have heeded any of my advice in relation to playing Brian Hill. If it makes you feel any better, it was my worst weekend of the season.
Now that that's out of my system, let's focus on a new week and the actual talent that's hard to ignore in combination with a match-up that is practically an early gift from the holiday season ahead. And thankfully, the focal point of my roster builds this week also isn't projected to be 89-percent owned or something of that absurd nature.
Let's get to making that Brian Hill investment back…and hopefully, at the hands of his veteran field general.
Quarterback
Matt Ryan, ATL ($6,700 DK/$7,900 FD)
Consideration: Cash Games, GPP (All Entry Field Sizes)
This is not contingent on a price tag, a see-saw avalanche of ownership decisions, or value based on newfound opportunity volume. This is simply a fantastic match-up, and there is no way in hell that I don't wind up with Matt Ryan as my majority-share quarterback by a vast margin come Sunday.
The Tampa Bay Buccaneers secondary is downright abysmal. They've allowed 290.9 passing yards per game this season (second-most) and 25 TD through the air (also, second-most). This Bucs defense made Kyle Allen look brilliant in London, and the Atlanta Falcons passing offense behind Matt Ryan has thrived (despite a defense that can't keep them in games), averaging 300.3 passing yards per game (third-most) and 20 touchdowns (sixth-most). Ryan is averaging 23.3 DraftKings Fantasy Points per game, and a talented Falcons receiving corps led by Julio Jones and Calvin Ridley has suddenly emerged to be the lethal tandem many anticipated following last season.
The Falcons' passing offense DVOA Efficiency Rating (per Football Outsiders) is 12th overall, which while not the greatest in the league, has improved their overall rank from last week (from 16th) in a weighted ranking impacted less by games that took place earlier in the season as the year progresses (hence partially why this improved going into this week).
Regardless of which players I'm most considering at other positions, I believe the starting point for a majority of my lineups will revolve around Matt Ryan.
Other Cash QBs:
Russell Wilson, SEA ($6,800 DK/8,200 FD)
Derek Carr, OAK ($6,100 DK/$7,400 FD)
Baker Mayfield, CLE ($5,900 DK/$7,500 FD)
Other GPP QBs:
Jameis Winston, TB ($6,200 DK/$7,600 FD)
Sam Darnold, NYJ ($5,800 DK/$7,400 FD)
Jeff Driskel, DET ($5,500 DK/$7,300 FD)
Dart-Throw GPP QB:
Ryan Tannehill, TEN ($5,300 DK/$7,100 FD)
Running Back
Derrick Henry, TEN ($6,900 DK/$8,400 FD)
Consideration: Cash Games, GPP (All Entry Field Sizes)
We debate about Dalvin, McCaffrey, Barkley, and Le'Veon, but all the while Derrick Henry has coasted under many-a-radar for 2019 into a Top 9 DFS Running Back through eleven weeks of the season. Averaging 17.8 DraftKings Fantasy Points per game, Henry has been growing in dominance as the year has moved forward and averaging 30 DKFP in his past two outings (24.9 and 36.1 points). In Week 10, Henry touched the ball 25 times over 49 total plays on offense run by Tennessee, accounting for 51% of their attempts.
This Jacksonville Jaguars defense has sputtered against the rush this year, surrendering the fourth-most yards on the ground per game on average (134.6 yds/game). They're also tied for the sixth-most touchdowns allowed via the running game with eleven total for 2019. And when it comes to the weighted DVOA ranking (per Football Outsiders) against the ground game, the Jags are 30th overall and have been steamrolled by backs of Henry's caliber most of the year.
At a more-than-feasible price point and in a Tennessee offense that now clearly pours through him first and foremost, Derrick Henry should be among your top considerations in both Cash Games as well as GPP's.
Other Cash Game RBs:
Nick Chubb, CLE ($8,100 DK/$8,200 FD)
Jaylen Samuels, PIT ($6,900 DK/$6,900 FD)
Alvin Kamara, NO ($8,200 DK/$8,300 FD)
Josh Jacobs, OAK ($7,400 DK/$8,000 FD)
Other GPP RBs:
Tarik Cohen, CHI ($4,800 DK/$5,700 FD)
Derrius Guice, WAS ($4,700 DK/$5,400 FD)
Kareem Hunt, CLE ($5,600 DK/$5,600 FD)
James White, NE ($5,300 DK/$6,100 FD)
Dart-Throw GPP RB:
Bo Scarbrough, DET ($4,200 DK/$6,400 FD)
Wide Receiver
Calvin Ridley, ATL ($6,500 DK/$6,700 FD)
Consideration: Cash Games, GPP (All Entry Field Sizes)
I will state that I've intentionally avoided writing-up a pitch/catch combo (as two positional-headlining players, in the same article rather) to avoid the possibility of being misconstrued as a "lazy" contributor (or in the case of two Patriots players, a homer). It's easy to assemble from an on-paper standpoint and can easily be prescribed as a key to success on most given weeks in some argumentative context.
With that being said, it's time to break that mold here with Calvin Ridley. I can't ignore how good this match-up is, and Matt Ryan has to throw the ball to someone besides Julio Jones, who will likely be doubled to some extent on each play for the entire game. With Austin Hooper's status seeming to appear in early doubt for the week, Ridley stands to torch this Buccaneers secondary who ranks 31st against the #2 WR according to DVOA Defense Vs. Receiver rankings at Football Outsiders.
He's seeming to be hovering around half the field ownership of Julio Jones from what I've gathered, averaging nearly seven targets in his last six games, along with 15.6 DK Fantasy Points on average in that same span. You certainly can't go wrong with pairing Julio and Matt Ryan, which I will do plenty of. But not only will several of those include Calvin Ridley, but I'll roll him solo as well.
Other Cash WRs:
Julio Jones, ATL ($8,000 DK/$8,400 FD)
Julian Edelman, NE ($6,900 DK/$7,500 FD)
Allen Robinson, CHI ($6,500 DK/$7,500 FD)
Kenny Golladay, DET ($6,600 DK/$7,800 FD)
D.K. Metcalf, SEA ($6,300 DK/$6,700 FD)
Other GPP WRs:
Mike Evans, TB ($7,300 DK/$8,000 FD)
Chris Godwin, TB ($7,200 DK/$7,800 FD)
Marvin Jones, DET ($6,100 DK/$7,200 FD)
James Washington, PIT ($5,000 DK/$6,100 FD)
Jamison Crowder, NYJ ($6,200 DK/$6,500 FD)
Dart-Throw GPP WR:
Russell Gage, ATL ($3,900 DK/$5,300 FD)
Tight End
Vance McDonald, PIT ($3,500 DK/$5,300 FD)
Consideration: Cash Games, GPP (Small-Field Entry)
I understand that anything to do with this Pittsburgh offense immediately induces a dull feeling upon roster considerations, but when it comes to a solid Cash Game tight end for the week, Vance McDonald fills the roll quite nicely.
Of all things to consider, the best receiver on the field come Sunday, with a very strong likelihood, is going to be James Washington. McDonald has averaged seven targets in his last three games (seven in each), and a touchdown coming from the Week 9 outing versus Indianapolis.
The Cincinatti defense ranks 31st against the tight end position per DVOA Defense Vs. Receiver rankings and, while only allowing four touchdowns to the tight end position, there are too many targets to distribute on the Pittsburgh offense if both JuJu Smith-Schuster and Diontae Johnson are absent due to concussion protocol (and not to mention James Conner's injury as well).
As much as I would like to condone him as a GPP play, it's hard to imagine the ceiling for McDonald to be where it needs to be, if you're being realistic about the ceiling of Mason Rudolph. But I will hammer this play in smaller tournaments, and certainly would in Cash Games (if I did actually play them).
Other Cash TEs:
Jason Witten, DAL ($3,500 DK/$5,300 FD)
Darren Waller, OAK ($5,700 DK/$6,200 FD)
Dallas Goedert, PHI ($3,700 DK/$5,200 FD)
Ryan Griffin, NYJ ($4,200 DK/$5,600 FD)
Other GPP TEs:
Ben Watson, NE ($3,100 DK/$5,200 FD)
Jacob Hollister, SEA ($4,300 DK/$5,800 FD)
Zach Ertz, PHI ($6,000 DK/$6,100 FD)
Cameron Brate, TB ($3,600 DK/$5,400 FD)
Dart-Throw TE:
Blake Jarwin, DAL ($2,900 DK/$4,500 FD)
Defense/Special Teams
Cash Game D/STs:
Bills ($3,400 DK/$4,700 FD)
Patriots ($3,300 DK/$4,600 FD)
Steelers ($4,000 DK/$5,000 FD)
GPP D/STs:
Browns ($3,800 DK/$4,500 FD)
Titans ($3,200 DK/$4,700 FD)
Lions ($3,100 DK/$5,000 FD)
Dart-Throw D/ST:
Bengals ($2,100 DK/$3,800 FD)