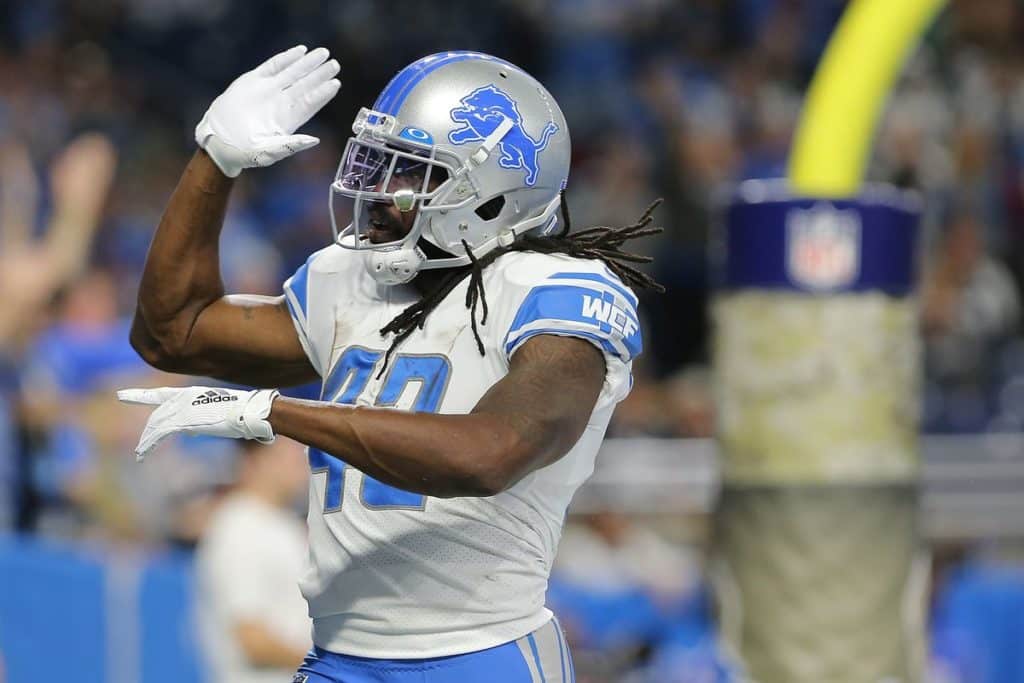 Well, if you happen to play a league schedule according to the majority standard across all formats, then there are only two weeks of regular season action remaining before we're faced with the playoffs (if you're fortunate enough to even be there in any of your leagues). Which means it's time to possibly lock in a top seed for a potential first-round bye… and this requires patching any weak portions of your roster by injecting players in the best matchups possible for the next five weeks.
Sometime this means playing weekly and bi-weekly flyers in great spots varying week-to-week, and that's part of the nature of this beast around this time of year which differentiates the mediocre managers from the next echelon of competition thinking two steps ahead. And thanks to the Detroit Lions, there's a little something for everyone in need at any position heading into PLAYOFF SZN.
Per usual, everyone discussed in this article will be focused in the demographic of players under 55 percent ownership across all Yahoo Fantasy Football leagues.
Bo Scarbrough, RB (DET, 1% Ownership)
The Russian Roulette of Detroit Lions running backs following the season-ending injury to Kerryon Johnson has been, much like many other backfield committees, anyone's [wrong] guess to nail on a weekly basis. But if a hot hand is anything whatsoever indicative of reason for emergency investment, then Bo Scarbrough is the flex flyer you may be looking for.
Outrushing the fellow member of the Lions backfield by nearly five to one in the 35-27 loss to Dallas, Scarbrough managed fourteen carries for 55 rushing yards and a touchdown. With an upcoming matchup against the Washington Redskins rush defense that allows 136 yards per game on the ground, I would say Bo Scarbrough is worth the investment at flex in the push toward the playoffs, and quite possibly all the way to a Fantasy Football Championship.
Deebo Samuel, WR (SF, 53% Ownership)
I would assume it would be shallower leagues that find the talents of Deebo Samuel to be available among the waiver wire, but even in ten-team leagues I would have no problem getting to the guy shaping up to be a top targer in San Francisco.
Despite the current absence of George Kittle being a partial circumstance of benefit to Samuel, his ever-increasing number of targets per week (and especially what he's doing with those opportunities) would be ridiculous to ignore. In a hard-fought home victory against the Cardinals in Week 11, Deebo hauled in eight receptions on ten targets, amassing 134 receiving yards in lieu of the team-high target share.
Although the likelihood of his availability is slimmer in standard 12-team leagues, Deebo Samuel is still very much worth mentioning, considering he's still available in nearly half the leagues on Yahoo and has nobody threatening his targets anytime soon.
Jeff Driskel, QB (DET, 3% Ownership)
Say what you will about the somewhat hopeless theme of Detroit Lions scrub fill-ins here, but the certainty is that they're available in most leagues and also serve some of the highest value in terms of ceiling-upside per matchups in the remaining five weeks of the fantasy season. And it's a Lions team that will likely be down in most games, has extremely talented wide receivers, and Driskel isn't that bad either. Throwing 15-for-26, 264 all-purpose yards (209 passing, 51 rushing) and three touchdowns (two passing, one rushing) against the Cowboys is no joke, and especially when things looked entirely out-of-hand.
He's improved between his first and second week starting for the Lions, and making a solid case for himself by averaging 23 fantasy points in his two appearances. And with Matthew Stafford now missing the remainder of the season due to back surgery, the sky is truly the limit for Jeff Driskel when it comes to fantasy production stemming from an in-game deficit to provoke such. Driskel gets the Redskins' 25th-ranked pass defense (per DVOA Weighted Rankings of Football Outsiders).
Cameron Brate, TE (TB, 2% Ownership)
After witnessing quite possibly the dumbest ball-handling maneuver of the 2019 season, I ask you: Are we done with the O.J. Howard grenade experiment yet? (If you haven't seen this yet, just YouTube "OJ HOWARD FUNNY FUMBLE" and I guarantee it comes up)
Much to your probable dismay, along with that of many others reading this, Cameron Brate is the guy over in Tampa at the tight end position and at least as long as Jameis Winston is still there, this will remain the case. And at 2% ownership, that's just ridiculousness that must be addressed.
If you're out on ten receptions stemming from a team-high fourteen targets for 73 yards (almost double the next most target-getter in Mike Evans, who had eight), then by all means leave him for the next guy looking to smash into a playoff spot. Otherwise, I'd suggest even stashing him if you're a "one-tight end, per roster" kind of manager just in case something unfortunately unexpected does arise mid-playoffs (or just prior).
Other Waiver Wire Considerations:
Derrius Guice, RB (WAS, 47%)
Jacoby Brissett, QB (IND, 38%)
Kalen Ballage, RB (MIA, 37%)
Cole Beasley, WR (BUF, 35%)
J.D. McKissic, RB (DET, 34%)
Kyle Allen, QB (CAR, 34%)
Danny Amendola, WR (DET, 32%)
Daniel Jones, QB (NYG, 29%)
Noah Fant, TE (DEN, 28%)
Jacob Hollister, TE (SEA, 27%)
Peyton Barber, RB (TB, 26%)
Kenny Stills, WR (HOU, 23%)
Sam Darnold, QB (NYJ, 22%)
Ryan Tannehill, QB (TEN, 21%)
A.J. Brown, WR (TEN, 20%)
Dallas Goedert, TE (PHI, 19%)
Nyheim Hines, RB (IND, 17%)
Randall Cobb, WR (DAL, 14%)
Demarius Thomas, WR (NYJ, 10%)
Irv Smith Jr, TE (MIN, 3%)
Ryan Griffin, TE (NYJ, 3%)
Jonathan Williams, RB (IND, 3%)
Jakeem Grant, WR (MIA, 2%)
Kendrick Bourne, WR (SF, 1%)