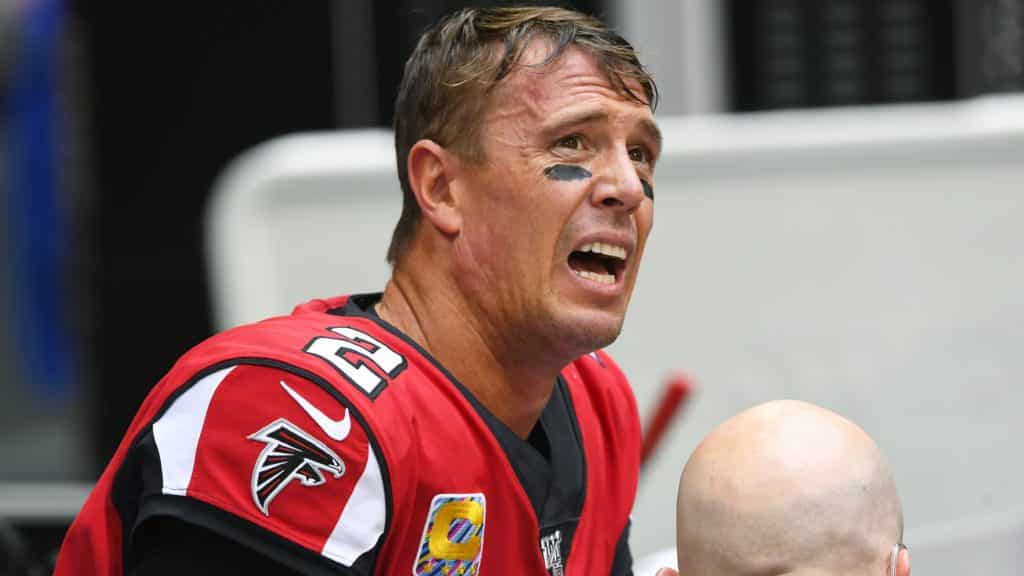 What's up degen nation! We are back at it for Week 10 DFS Draft Kings pivot picks. Just like the last couple of weeks, everyone is targeting two games, ARI/TB and NO/ATL.
Draft Kings pricing this week is juiced up, and there is no clear square play like Samuels was last week. So, we must dig up some plays that can differentiate us, while still using the best plays from those games. As always, projections provided by dailyroto.com. Let's get it!
QBs
The Chalk: Jackson $7300, Murray $6500, Brees $6700, Winston $6800
The Pivot: Matt Ryan $6100
Coming off an injury and a bye week, plus it being a tough matchup, is why no one wants to start Ryan. However, before the injury game he had thrown for over 300 yards in every game and two or more TDs in 5 out of 6 games. The Saints are tough, but historically, this game is a track meet.  Plus, he still has Julio, Ridley, and Hooper. They are big dogs, which means they should be throwing a lot. I like him to match or outperform Brees, and that will give us some serious leverage in tournaments.
RBs
The Chalk: CMC $10500, Montgomery $5300, Kamara $8200, Jones $4300
The Pivots:
Singletary $5000
Everyone is on Montgomery for a good reason, his QB sucks, and he has a great matchup. This is a natural pivot point with the price. Singletary finally had his coming out party last week, but this is far from a sure thing with the corpse of Gore hanging around. It's not a terrible matchup, and he has game-breaking ability. We have been waiting for him to take this job all year, so let's push the chips to the middle and cash em.
Ballage $3800
Arians came out and said Jones was going to be the starter, so everyone is rushing to play him. Can we trust Arians and his coach speak? There are still two RB's that are going to get touches during this game, and you know who doesn't have anyone lurking behind him? Ballage. Look, I get it, he's not that good, and the team is trash, but at such a low price, he must fall into the end zone for it to pay off. With the savings, it opens things up for some studs and can leverage the Jones play.
WRs
The Chalk: Thomas $8300, Kirk $5200, Evans $7600, Godwin $7400
The Pivots
Kupp $7300
I get that road Goff is trash and Pit has a stout defense, but how is someone averaging over ten targets a game, in his last four, getting no love?  Kupp has been a beast all year, and no Cooks again this week. Reynolds is getting more ownership, which is nuts. Give me Kupp at sub 8%.
Aj Brown $4300
Corey Davis and Delanie Walker are both out, and the game script should be a lot of throwing. Sign me up for the big-bodied talent of Brown. The kid looks great coming off the bus and got seven targets last week. He's an excellent cheap option, with an ok floor, and tremendous upside going against the lousy KC pass D. Expect a significant uptick in target share and for him to pay off.
TEs
The Chalk: Kelce $6400, Hooper $5500, Gesicki $3100
The Pivot: Ellison $2500
My boy Giordani already wrote this guy up, so go check out his article as well. This isn't purely a salary save because he has decent upside. The Jets secondary, like the rest of their team, is a joke. I expect Ellison to get 6-8 targets and with his salary an easy payoff. It also allows you to get more studs elsewhere in your lineup.
Defense
The Chalk: IND $3500, CLE $2500
The Pivot: PIT $2600
I already mentioned road Goff above. His home-road splits are something to behold. Going cross country against a tough defense, I trust this mental midget will throw at least two picks. Hopefully, one for a pick 6.  I don't see how the Steelers don't rattle his cage and cause mistakes.