The CAA has long been a great conference. Sure, they used to be a lot stronger when they had the likes of Old Dominion, VCU & George Mason but this conference still has some good programs like Charleston, Northeastern & UNC Wilmington.
1. Delaware
I'm sure CAA will hate me for this pick. The AP voted Delaware the 5th best team in the CAA polls and other publications have them finishing 6th.
For me, it's simple. Hofstra and Northeastern take big hits and Delaware returns some young players who are sure to get better. Plus, the Blue Hens bring in some nice transfers.
Blue Hen head coach Martin Ingelsby is in year four with Delaware and each year his teams record has improved and this year should be know different thanks to the return of guards Ryan Allen & Kevin Anderson who both averaged double digit points per game last year. Mix that with some transfers from UAB, Villanova, High Point and you have my dark horse in the CAA.
2. Charleston
Charleston seems like they always keep a decent program and last year was no different going 24-9 despite missing the NCAA Tournament. This year Charleston should be one of the favorites to win the CAA and with great reason they return Senior guard Grant Riller.
Riller may be the top player in the CAA averaging just about 22 points per game last year. He's joined by another seasoned guard in Brevin Galloway in what could be the top backcourt in the CAA. The real question for the Cougars will be if they can get some good play from their big men after the departure of Jarrell Brantley. Head coach Earl Grant should have this team contending no matter what.
3. Hofstra
Hofstra was all but packing for the NCAA tournament before they got upset in the CAA Tournament. Many publications have Hofstra winning the CAA this year despite losing Justin Wright-Foreman who averaged 27 points per game last year and forward Jacquil Taylor.
Joe Mihalich is a proven winner at head coach as his resume goes back to Washington D.C. and playing for legendary head coach Morgan Wootten. Mihalich is as high on this team as any he's ever coached despite the key losses because he returns three guards who should put up nice numbers in Eli Pemberton, Desure Buie & Tareq Coburn. I expect all three to average double digits this season led by Pemberton.
4. Northeastern
Northeastern won the CAA last year as season head coach Bill Coen did another terrific job and upset Hofstra in the CAA Tournament. This year, I wouldn't be surprised at all if Coen made another run and won the CAA. However, I do think it'll be a bit harder since the Huskies lost four huge contributors from a season ago led by guard Vasa Pusica.
On the plus side, they have senior guard Jordan Roland, who averaged nearly 15 points per game last year. Alongside Roland in the backcourt, the Huskies have Bolden Brace who averaged just shy of 10 points per game last year. Together they should keep Northeastern afloat the top of the CAA.
5. James Madison
It's the big year four in the Louis Rowe era at his former alma mater and to be fair Rowe and the Dukes have had a better winning percentage every year and this year should be his best team yet.
The Dukes return three of their top four who all averaged over double digits last season. Led by the likes of guards Matt Lewis and Darius Banks and forward Dwight Wilson the Dukes starting five should be as good as they come in the CAA. Forward Zach Jacobs will need to step up this season at the other Forward spot.
6. Towson
Pat Skerry enters year nine with the Towson Tigers and there's reason for optimism in Towson with the fact the Tigers welcome back 8 of their top 9 contributors from a season ago led by guards Brian Fobbs and Tobias Howard.
Towson could have some value for being a sleeper in the CAA considering just how young the Tigers were a year ago. Skerry needs a big season after having his worst season since his initial season at Towson.
7. Drexel
The Drexel Dragons and head coach Zach Spiker enter year 4 of the Spiker regime with each year having a better win percentage than the year prior. This year, the Dragons lose their top three scorers from a season ago, but they return last year's CAA Freshman of the Year in guard Camren Wynter. He averaged 11 points per game along with 5 boards and 5 assists per game.
Alongside Wynter, the Dragons also return forward James Butler who averaged double digits a season ago. Keep an eye on guard/forward Zach Walton and guard Kurk Lee who averaged just under 10 points a season ago but only played in 7 games or less.
8. UNC Wilmington
C.B McGrath enters year 3 at UNC Wilmington and the pressure may be starting to build up. The Seahawks have been a pretty good mid major over the years and they've laid an egg the past two years with McGrath at the helm.
This year, UNCW loses their top scorers from a season ago both happened to be forwards so their going to need someone to step in and fill those shoes. Guard wise the Seahawks should be fine with the return of Ty Gadsden, Kai Toews & Jay Estime the real question is can they find some big men to contribute for what they lost?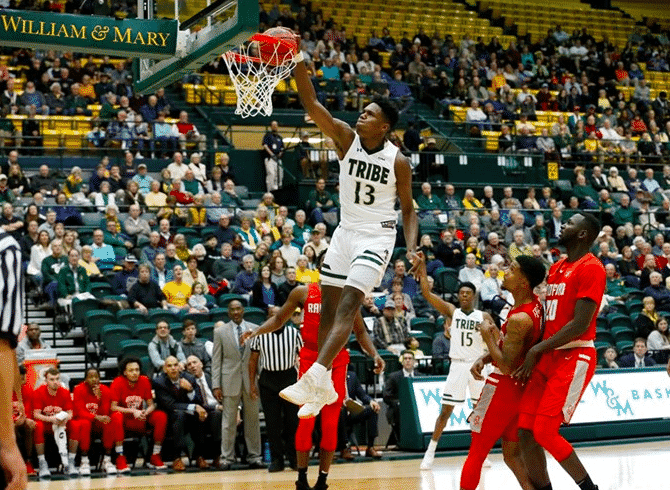 9. William & Mary
I'm still a bit shocked William & Mary fired head coach Tony Shaver whom many thought was one of the better coaches in the CAA got the boot after 16 seasons. Shaver was just 14-17 last year but prior to that he had 5 winning seasons in a row and always finished in the upper half of the CAA. The new head coach is Dane Fischer coming over from George Mason where he was an assistant for the past four years.
Fischer has never been a head coach so only time will tell but one thing Fischer has to be excited about is the fact he inherits 6'10 forward/center Nathan Knight who averaged 21 points and 9 rebounds a season ago. Knight is easily one of the top players in the CAA and is actually getting NBA scouts saying he may just have a future on the next level. Other than Knight though Fischer has his work cut out for him since they lose four of the top five scorers from a season ago.
10. Elon
It's a new era for the Phoenix of Elon and the new head coach is Mike Schrage coming over from Ohio State where he was an assistant head coach the past two years.
Schrage should have his work cut out for him because the Phoenix lose their top five leading scorers from a season ago. Schrage is forced to turn to guard Kris Wooten and forward Chuck Hannah to lead this team into the 2019-20 season and well those guys aren't too experienced themselves so expect this to be a tough year for the Phoenix.