Gameweek 9 Predictions
Southampton 1-2 Leicester
Brighton 1-1 Everton 
Manchester City 3-1 Aston Villa
Watford 2-2 Bournemouth 
West Ham 1-1 Sheffield United 
Burnley 1-2 Chelsea
Newcastle 1-1 Wolves 
Arsenal 2-1 Crystal Palace
Liverpool 3-1 Tottenham 
Norwich 1-2 Manchester United
Summary
Manchester City closed the gap on Liverpool to 6 points last weekend and should cruise past Villa on Saturday. However, things should return to how they were, as I'm not expecting Tottenham to pick up anything at Anfield.
Arsenal, Manchester United and Wolves all play on Sunday after European competition, but Wolves are the only team I am expecting to drop points, as they face tough trip to Newcastle after just playing in Bratislava. Arsenal should be able to cope with back to back home matches, while Manchester United should be too strong for Norwich, despite not winning away from home in EPL since February.
Game of the Week: Liverpool vs Tottenham
This weekend's game of the week focuses on the Sunday afternoon clash between Liverpool vs Tottenham at Anfield. Liverpool are odds-on favourites for good reason, as they are unbeaten in the league since the first game of 2019 and have won 17 of their last 18 matches, while at Anfield , they have 11 top flight wins in a row and have remained unbeaten at Anfield since April 2017.
Tottenham may have won 5-0 in midweek, but they have only won 4 of their 13 games this season and have already had some embarrassing defeats, including a 7-2 humiliation at the hands of Bayern Munich. Spurs have also failed to win each of their last 10 Premier League away games, losing 8 of them and conceding 19 goals in the process. The combined XI significantly favours Liverpool, although Spurs do have several top players- such as Heung-min Son- who didn't make the cut, but who would make a combined XI against most other Premiership teams.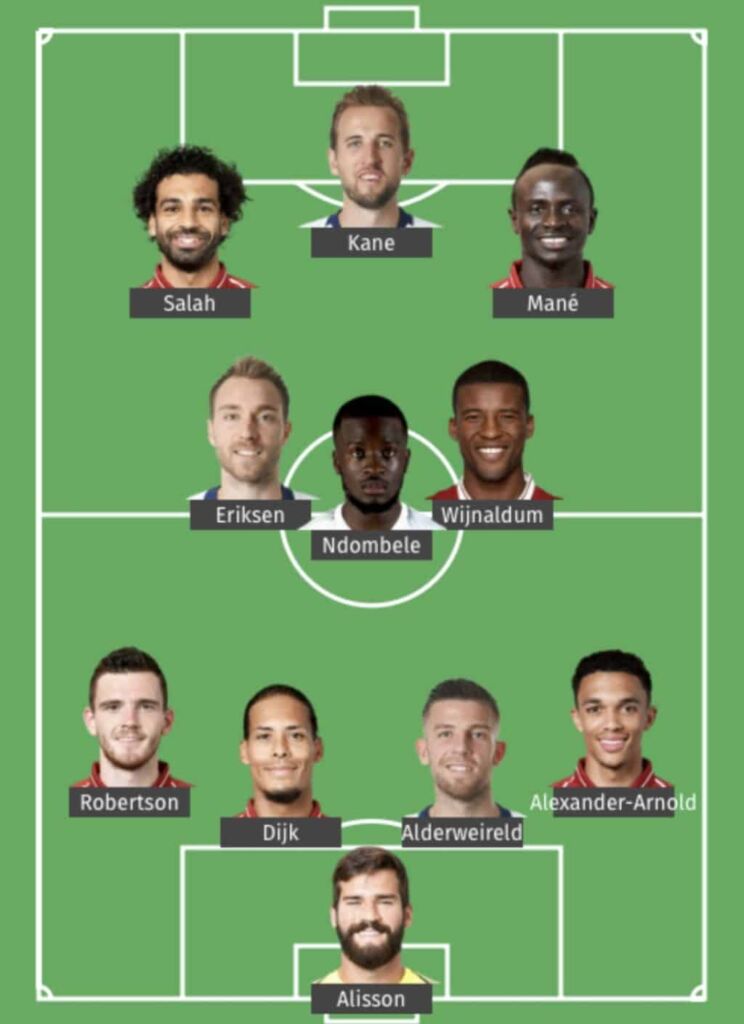 Prediction-
Tottenham are poor against Liverpool, losing all 3 matches to them last season, including the Champions League Final. They have won just 1of their last 13 league meetings with Liverpool and have lost 5 of their last 8 Premier League trips to Anfield.
Liverpool 3 Tottenham 1