1. Auburn @ LSU
These games have been fantastic recently but perhaps this one could get away. Auburn struggles throwing the ball but has a terrific defense. LSU has had their best offensive team ever perhaps and this game is in Death Valley.
2. Wisconsin @ Ohio State
Wisconsin got upset by Illinois last week a team they were favored to beat by more than 30 points. Well Badgers if you lose this game there's a decent chance you may not even play for a Big Ten Championship with the way Minnesota is playing.
3. Notre Dame @ Michigan
Can Jim Harbaugh win one big game at Michigan this year? He's 0-2 so far with losses to Wisconsin and Penn State but he still has Notre Dame, Michigan State & Ohio State left to rally the Wolverines. If Notre Dame losses this game their invitational hopes may just be gone.
4. Penn State @ Michigan State
This is the ultimate trap game for Penn State after a huge two week stretch of winning at Iowa and at home against Michigan. Meanwhile Michigan State has had a down season but the Spartans are ripe for an upset especially after getting two weeks to prepare for this game. Plus, this game is in East Lansing.
5. Texas @ TCU
Texas needed a last second field goal to beat Kansas in Austin last week. That's not a good look and now they'll have to hit the road against a TCU team that's been a bit of a let down this season. This is setting up like this is TCU's super bowl so watch out Longhorns.
6. Washington State @ Oregon
Perhaps a dangerous spot here for the Ducks. The Ducks score their biggest win of the season last week in Seattle against Washington and now return home and take on a down Washington State team. Wazzu has been down and a mess this season but the Cougs have had the Ducks number recently and last week Wazzu seemed to look good in all areas of the game.
7. Duke @ North Carolina
A nice little mid season rivalry game. Sure, it's not what it is in basketball but this game has serious implications on the ACC Coastal division. The loser of this game will most likely be eliminated from the chance of representing itself in the ACC Championship game.
8. UCF @ Temple
There is still a path for UCF to make it to the AAC Championship and most of that rides on coming up to a cold Philadelphia with a half empty stadium and grabbing a win against Temple. Cincinnati still has to play Temple & Memphis which they could both lose which would set up UCF to run the table if they can get past Temple. Temple could also do the same catching UCF and Cincinnati at home.
9. Oklahoma State @ Iowa State
Don't look now but Iowa State has been rolling the past three weeks and the rest of the Big 12 should watch out. Oklahoma State is on the other side of that coin as the Cowboys have been losing games left and right and sure could use a big win in Ames.
10. Virginia @ Louisville
Huge game here for Virginia if they want to win the Coastal division. Louisville is really overachieving this year and has their eye on a bowl game. Virginia has never won the Coastal and this year is supposed to be their year but Pittsburgh and Virginia Tech are right on the Cavaliers tails.
11. Utah State @ Air Force
The Mountain division of the Mountain West gets things figured out after this one. Boise State and Utah State are looking like the top tier teams but don't sleep on Wyoming and Air Force and this is Air Force's chance to prove it's a contender this year.
12. Maryland @ Minnesota
Row the boat. Row the boat. Gently down the stream. PJ Fleck is working miracles and the Golden Gophers should be moving to another win on their so far undefeated schedule. Maryland is due for a big game if they want any chance at making a bowl game.
13. SMU @ Houston
Minnesota & SMU have to be some of the best stories so far in this College Football season. Can SMU continues the magical run with a win on the road against a down Houston team?
14. California @ Utah
California really was going to be a player in the Pac 12 this year but then their starting QB Chace Garber got injured for the season and things have really went downhill. There's no denying their defense and run game is solid but the air game and vertical attack is just not there since the injury. Utah is in the middle of a solid run of wins after the early USC loss the Utes have been flying under the radar.
15. Oklahoma @ Kansas State
Here's your chance Chris Klieman. You and KSU are 24 point underdogs at home with an awesome crowd awaiting you. Can the Wildcats hang in this game and perhaps pull off some magic? This is the first real road test for Oklahoma for games at UCLA & Kansas aren't real road tests.
16. Missouri @ Kentucky
Missouri laid an egg last week against Vanderbilt but still remains in control of their own fate. Kentucky has lost a few in a row but should get their QB Sawyer Smith back so perhaps they'll actually be able to accomplish a forward pass this week. Kentucky wants another bowl game this year and this is one they need.
17. USC @ Colorado
USC is still in play for a Pac 12 Championship but they must tackle the Buffs on a Friday night in Boulder.
18. Miami (FL) @ Pittsburgh
Pitt needs to not look past this game. Yes, I'm aware that Miami is pretty bad this year but Pitt can always lay an egg and they can't afford that with them having already lost to UVA and not having that tiebreaker.
19. Tulane @ Navy
These games have been fun the past couple years. Navy is a contender in the West and perhaps Tulane can be too but Tulane needs to win this game if they want any chance at that. The AAC west has SMU, Memphis, Navy, & Tulane and really has had a strong year.
20. Ohio @ Ball State
A huge game in the MAC this week as Ohio who's been a little bit of a disappointment takes on the talk of the MAC in Ball State. Ball State has came out of nowhere this year after losing their top QB and RB to grad transfers this past offseason many had the Cardinals being down this year but head coach Mike Neu had other ideas. Here's a huge one for MAC implications.
21. Iowa @ Northwestern
With Wisconsin losing to Illinois and now the Badgers playing a 2nd back to back road game at Ohio State where one would figure Ohio State wins that game. Suddenly Iowa has life in the Big Ten West. They still haven't played both Wisconsin or Minnesota so perhaps the Hawkeyes still could make it to the Big Ten Championship game. Which means they must take care of Northwestern in Evanston.
22. Arizona State @ UCLA
ASU lost a big one in Salt Lake City against Utah and now they get the 2nd back to back road game at UCLA. UCLA is a weird team because they're actually better than their record indicates and ASU needs this win if they want to stay in the PAC 12 South race.
23. Boston College @ Clemson
BC is on their backup QB but even with that said they've won both games with him at the helm. Clemson is destroying average to below average ACC teams every week. Maybe just maybe BC can keep this close but I have my doubts.

24. Memphis @ Tulsa
Memphis needs this game with a game against SMU looming. Tulsa is much better than their record indicates and the Golden Hurricane have enough offensive firepower to really give AAC teams a hard out.
25. Texas Tech @ Kansas
Both these teams are better than I thought they'd be but still not where they want to be. If Texas Tech really wants a bowl game in year one of the Matt Wells era than this is a must win game. Kansas and Les Miles almost pulled off a big upset last week and if they get this perhaps they can start dreaming of a bowl game.
26. South Carolina @ Tennessee
Both these teams are on their backup quarterbacks but Tennessee is on their third string QB compared to South Carolina being on their 2nd string. South Carolina looks like the better team here but playing at Rocky Top is never a gimme in this rivalry.
27. Indiana @ Nebraska
Win this game Indiana and you and head coach Tom Allen are going to their first bowl game under Allen. I know it's a road game in Lincoln but this Nebraska team isn't there yet and this is your big chance. On the other hand Nebraska has 4 wins and has a bowl game on their mind. Plus, the Cornhuskers are coming off a bye week so they've had two weeks to focus on the Hoosiers.
28. Mississippi State @ Texas A&M
Both these teams have been disappointments but both these teams have an opportunity here to move closer to a bowl game here. Jimbo Fisher hasn't necessarily set College Station on fire and one must think at what point do the fans start to question the hire and the 75 million dollars they are paying Jimbo? This is a must win for Jimbo.
29. Illinois @ Purdue
Lovie Smith finally got the big win his Illini needed. The real question now is can they build on it and come in to West Lafayette and grab another big win? Purdue is having a bad year and have been destroyed by injuries but if Jeff Brohm and the Boilermakers want any shot at a bowl game this year than this here is a absolute must win game.
30. Arizona @ Stanford
This is a huge game for both these teams if they want to hit a bowl game this season. Arizona is 4-3 but if they lose this they only get one losing team on their final four games and that's a much improved Oregon State team. Stanford is 3-4 but if they can grab this win and perhaps beat Colorado & Cal then the Cardinals would be bowling. Stanford has been destroyed by injuries this year so that would be a win for David Shaw to get to a bowl game.
31. Syracuse @ Florida State
Syracuse has been a huge disappointment for me this year. Florida State has been a huge disappointment for many college football experts but not me. I was weary of Florida State coming into the season because their offensive line play was so bad last year. Syracuse has regressed so much this year though that I do believe this game is Florida State's to win.
32. Western Kentucky @ Marshall
This is a huge game in the conference USA here. Western Kentucky has came out of nowhere to surprise many and well Marshall is perhaps their biggest threat despite somewhat underachieving so far this year.
33. Arkansas @ Alabama
Arkansas is really really bad so this shouldn't be much of a game despite Alabama starting their backup QB. Arkansas hasn't won a SEC game in over two years and it's starting to look like it will be three years.
34. Eastern Michigan @ Toledo
An absolute huge game in the MAC if any of these teams still want a shot at playing for the MAC Championship. Both these teams should go bowling but come on now these teams want to be representing their schools in the MAC Championship.
35. Florida International @ Middle Tennessee
FIU struggled out the gate but somehow managed to find their stride especially if they can grab this one against a Middle Tennessee team that we all expected to be a bit down this year after losing so much. Even with that said Rick Stockstill has Middle Tennessee a bit better than where I had them projected.
36. Central Michigan @ Buffalo
Another fun one in the MAC that could perhaps have MAC Championship eliminator written all over it. Buffalo has been up and down all year and I know they lost a lot last year but I still thought the Bulls were a contender this year. Central Michigan is headed in the right direction led by their star RB Jonathan Ward.
37. Liberty @ Rutgers
Liberty is looking for their first ever bowl game win a few more wins here. The Flames have been a nice little surprise but this game starts a vicious back to back to back three game road stretch. Sure, it's at Rutgers, at Umass and at BYU but if the Flames can just grab this and Umass then the Flames are bowling.
38. North Texas @ Charlotte
North Texas hasn't been as good as they were last year but still they are a pretty good football team with a bowl game and maybe even a CUSA title still on their mind. Charlotte is in year one of the Will Healy era and they've looked like a much better team this year despite 2-5 record. Here's a nice chance to perhaps pull an upset and move the 49ers in the right direction.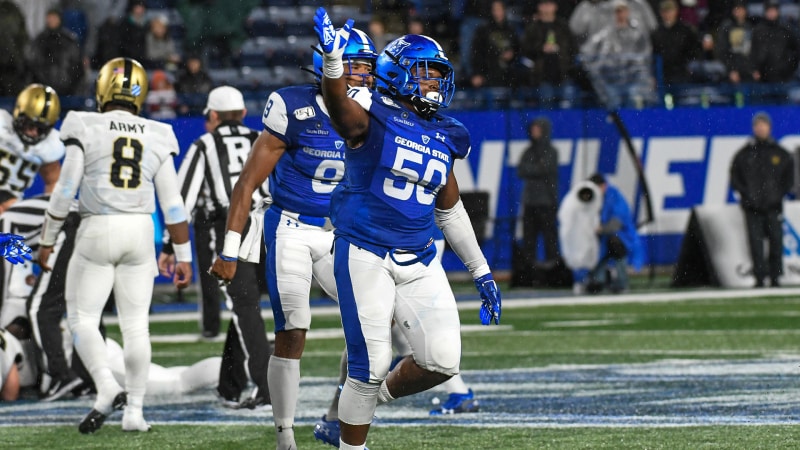 39. Troy @ Georgia State
Win this game Georgia State and the Panthers are bowl bound. Troy is just 3-3 but they too want a bowl game but Georgia State might just be thinking about the Sun Belt Championship. With a game against App State looming in a few weeks Georgia State need not lay an egg.
40. Hawaii @ New Mexico
New Mexico is just 2-5 and a bowl game seems pretty much out of the picture so perhaps the Lobo's can get up and win a big one for head coach Bob Davie against a Hawaii team that has dropped two in a row. Hawaii needs this one if they still want to contend for a Mountain West Championship.
41. Florida Atlantic @ Old Dominion
FAU might of lost a close one to Marshall last week at home but the Owls are still very much alive to perhaps play for the Conference USA Championship which is even more the reason why they can't lay an egg at ODU especially with a back to back road game looming against first place Western Kentucky next week.
42. San Jose State @ Army
Army has been quite the disappointment this year having lost three in a row and sitting at 3-4. San Jose State has been somewhat of a surprise story despite dropping the last couple games. The Spartans are much better than many projected them to be but maybe they still aren't good enough to travel cross country and beat what should be a hungry Army team.
43. Nevada @ Wyoming
Wyoming wins this game and the Cowboys should be bowling and still in contention to perhaps play for a Mountain West Championship. Sure, the Cowboys still haven't played Boise State or Utah State but hey one can dream right?
44. South Florida @ East Carolina
Senior QB Blake Barnett is out for the year for USF and now they must hit the road against a ECU team that seems to be improving every week.
45. Colorado State @ Fresno State
Colorado State got a nice win against New Mexico and then a bye week before this game in Fresno and if the Rams can somehow pull this off then maybe there is hope for a bowl game but I wouldn't bet on it. Fresno State is a good football team and I think they are much better than their record indicates which is why I think Fresno will still contend for a MWC Championship.
46. San Diego State @ UNLV
It isn't always pretty but San Diego State and head coach Rocky Long are currently in first place in the Mountain West and the Aztecs have been doing it with a nasty defense and nice ground game led by running back Juwon Washington. UNLV has just one FBS win granted it was at Vanderbilt of the SEC. San Diego State needs to not overlook this game and handle things in Vegas.
47. Miami (OH) @ Kent State
Kent State needs this game if they want any chance at a bowl game. Miami (OH) needs this game if they want any chance at a bowl game. Something has to give.
48. Louisiana Tech @ UTEP
I know the schedule has been light but don't look now but Louisiana Tech is 6-1 with their one loss being at Texas. Can Skip Holtz and LT move to 7-1 and head into a bye week before hosting North Texas?
49. Appalachian State @ South Alabama
Appalachian State is ranked and looking very good but they need to not take this game lightly. As pressure builds as undefeated App State gets closer and closer to playing a road game at South Carolina in the SEC the higher the chances are that the Mountaineers overlook a game. I don't think this is that game but stranger things have happened.
50. Texas State @ Arkansas State
Arkansas State is better than their record indicates and just a week ago they played Louisiana Lafayette good but came up short. Texas State is still figuring things out under their first year head coach.
51. Bowling Green @ Western Michigan
Bowling Green is horrible but yet even them pulled a huge upset a few weeks back when they beat Toledo as a 27 point dog. Western Michigan must note that and not have that happen to them.
52. Southern Miss @ Rice
Southern Miss is still in contention to play for a C-USA title so this is one they shouldn't or can't afford to drop.
53. New Mexico State @ Georgia Southern
Georgia Southern has a bowl game on their mind so they need this one bad. New Mexico State is just looking for a win at this point.
54. Akron @ Northern Illinois
Akron is perhaps the worst team in all of FBS football and now maybe they'll realize that firing Terry Bowden was a terrible decision. NIU needs some wins to get this proud program back on track.
55. Uconn @ Umass
Oh man here it is. The game we've all been waiting for…..