The West Coast Conference had a great season last year. Sure, Gonzaga some thought would go further and Saint Mary's lost in the first round but overall as a conference this was a deeper conferences than most years. Last year I even argued that it was deeper than the PAC 12. This year things should swing back to the PAC 12 but that doesn't mean the WCC isn't a decent mid major conference. Here are my projections for the WCC.
1. Gonzaga
Surprise, Surprise it's Gonzaga's conference to win again. Yes I am aware that they lost Rui Hachimura, Brandon Clarke, Zach Norvell & Josh Perkins but the zags reload pretty well. Killian Tillie is finally healthy and well he's going to be a force in the WCC. The Zags also bring back experienced veteran now in Corey Kispert and Mark Few landed some big time transfers in Admon Gilder from Texas A&M & Ryan Woolridge from North Texas. Mix all of those guys with some talented newcomers who'll I'm sure will shine. Players like Filip Petrusev, Anton Watson, Brock Ravet and others should all develop some as the season goes along. The last time we thought Gonzaga was going to take a step back they played for the National Championship so we'll see what happens here.
2. Saint Mary's
The Gaels should be even better than last year's squad that made the tournament. Led by their star guard Jordan Ford and forward Malik Fitts whom both should be even better the Gaels could really battle for the top spot in the WCC. The only real key loss from a season ago was Jordan Hunter. Head coach Randy Bennett is a proven winner and might have his best team in sometime this year in San Francisco. Other key contributors like Tanner Krebs & Tommy Kuhse are also back providing the depth and experience to make this team a serious contender in the WCC. If they can replace Hunter this team should find a way to contend for the WCC and grab another NCAA Tournament bid.
3. BYU
Mark Pope is in his first season in Provo after having a great run at Utah Valley. Pope not only returns one of the Cougars best players from a season ago in forward Y0eli Childs but also brings in Utah Valley transfer in guard Jake Toolson who averaged just shy of 16 PPG with Utah Valley. Toolson aside veteran guard TJ Haws should make for a great backcourt in Provo. The Cougars also get a backup guard transfer from Gonzaga in Jesse Wade. Pope walks into a nice situation and he's proved he could coach well at Utah Valley, we'll see how he lines up against the bigger schools like Gonzaga, San Francisco & Saint Mary's.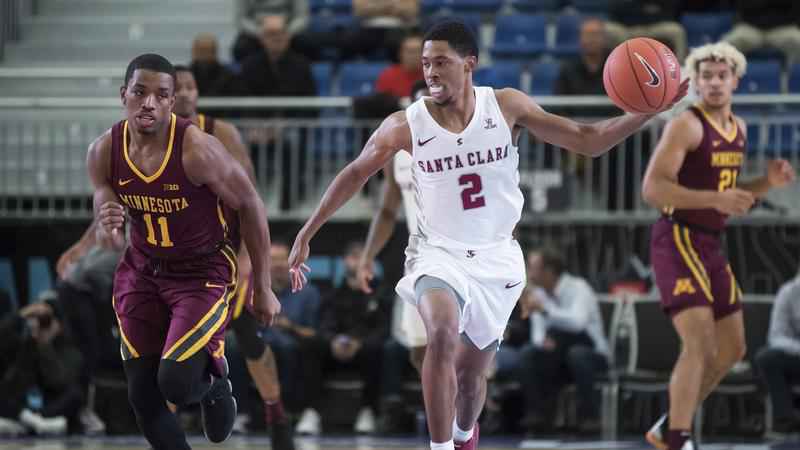 4. Santa Clara
The Broncos return a ton from a team that was much better the 2nd half of the season under from NC State head coach Herb Sendek. Tahj Eaddy, Trey Wertz & Keshawn Justice all return at the guard position. Forwards Josip Vrankic and Guglielmo Caruso are back as well. Sure they lost Josh Martin but the fact the team welcomes back this many experienced players means the Broncos could do some damage in the WCC. The Broncos also welcome in Wake Forest transfer in DJ Mitchell who should contribute. The real improvement from this team needs to come on the defensive side of the ball. They also must work on consistency, there's no excuses for losing to Prairie View A&M at home.
5. San Francisco
The Dons were a favorite team of mine to watch last year. The past couple years San Francisco was a very good mid major. So good in fact that head coach Kyle Smith had to take the money and run to Washington State. San Francisco decided to keep it in the family and hire an assistant coach from last years team in new head coach 34 year old Todd Golden. The Dons lose a lot of fire power from last years team though and only return one double digit scorer in guard Charles Minlend. They bring in somenew talent in D2 transfer Khalil Shabazz and Jamaree Bouyea but the Dons don't have the experience they had in previous years.
6. Pepperdine
Eric Cooper and Darnell Dunn are gone but the Waves do bring back star forward Kameron Edwards (15 points and nearly 7 boards a game last year) and guard Colbey Ross (19 points per game) . Former Washington head coach Lorenzo Romar is building something in Malibu. Romar isn't stressing the losses with those two returning. Romar also added a couple nice pieces in Oregon transfer Keith Smith and Skylar Chavez from the juco ranks. Mix in those new faces with Edwards and Ross and add in veteran Jade Smith and you have a team that could really be a tough out.
7. Loyola Marymount
Mike Dunlap enters year 6 at Loyola and the Lions lose a lot of players from last years roster. Their top returning players are guard Joe Quintana and guard/forward Dameane Douglas who both averaged just under double digits in points per game last year. Dunlap has 8 new players on this years roster so I expect the Lions to take a bit of step back. The new faces on the roster pretty much come from all across the planet with two new freshman from Serbia and a Australian. This is the San Antonio Spurs of College Basketball teams with players from all over.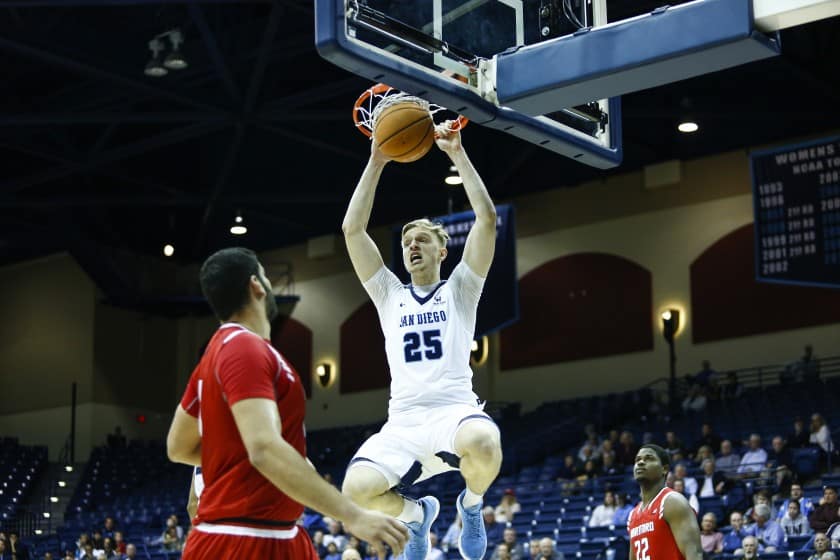 8. San Diego
The Toreros lose basically almost all their firepower from a year ago minus 6'10 forward Yauhen Massalski. They are need Senior forward Alex Floresca to step up for head coach Sam Scholl. Scholl has his work cut out for him but he did bring in a nice transfer in Braun Hartfield in from Youngstown State. Hartfield averaged about 14 points per game last year and should have the green light in San Diego. This team is due for a big step back.
9. Pacific
The Tigers are another WCC team that's tough to predict when it comes to the upcoming season. Pacific losses a ton of experience from a year ago. Players Roberto Gallinet, Ajare Sanni, Anthony Townes, & Lafayette Dorsey are all gone and the only real experienced start returning from a year ago is guard Jahlil Tripp. For that reason alone I'm sure head coach Damon Stoudamire went the transfer route adding in a slew of talent with Justin Moore coming over from Georgia Tech, Austin Vareen from VMI & Gary Chivichyah from Idaho State. It's tough to tell how this team will gel together but perhaps those additions could really bump my projection for the Pacific Tigers this year.
10. Portland
The Pilots were more than a wreck last year but somehow Terry Porter is back as head coach in Portland and perhaps there is slight room for optimism here. The Pilots bring back their best player in guard Jojo Walker and Terry Porter went the transfer route bringing in senior Isaiah White over from Maine as well as Lavar Harewood from South Carolina State. Mix those new faces in with new coming freshman guard Chase Adams and perhaps this team could exceed my expectations. Porter is coaching for his job so perhaps the Pilots can actually take off this year.