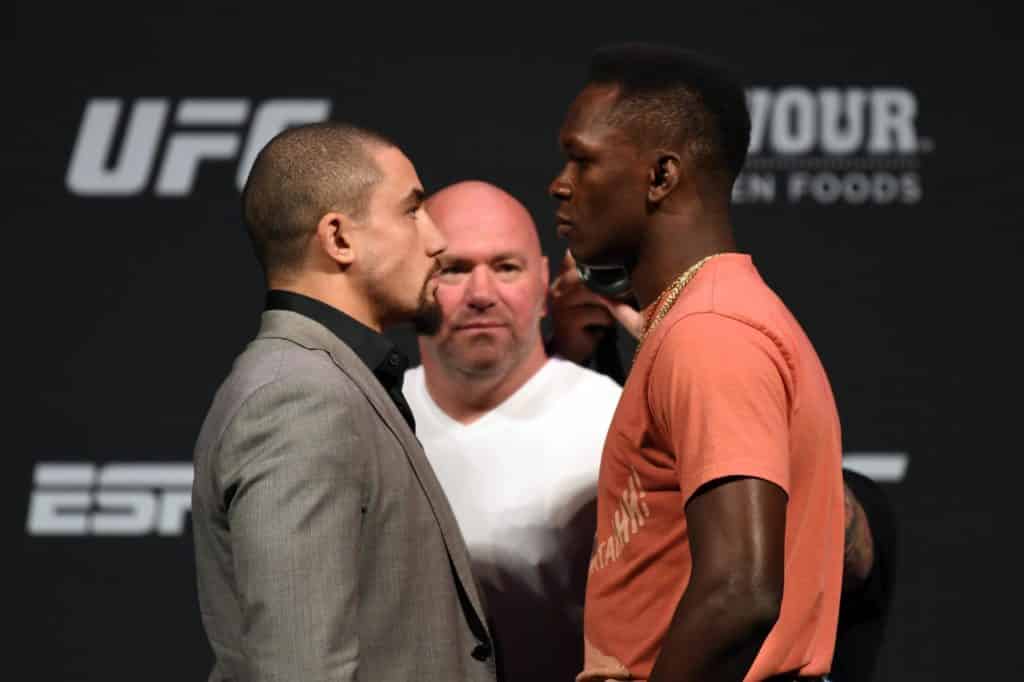 Chances are these words aren't even reaching your eyes. Instead, you have your butler reading them to you as you lounge in your infinity pool, sipping whatever rich people sip, outside your mansion on your compound on your private Caribbean island. That's because by now, after religiously following the betting advice of this column, you are filthy stinking rich. We, you and I, are in the midst of a 10-1 streak, putting our overall return on investment of our bets at almost 7%. Killing it.
Which brings us to this weekend's, blech, UFC 243 fight card. Emanating from Marvel Stadium in Melbourne, Australia on Saturday (Sunday morning for the people in the stadium), the UFC is hoping for close to 60,000 Aussie, Aussie, Aussie (Oi, Oi, Oi) fans in the stands cheering on their hometown heroes. And while, as previously mentioned, the whole fight card is blech, the main event (and co-main between Al Iaquinta and Dan Hooker) is stellar. The UFC would like you to believe it's a champ vs champ matchup, but we all know interim titles are butt, so we'll just say its for the UFC Middleweight Championship. Not only that, but it'll be contested between locals – New Zealand-born, Australian-living champ Robert Whittaker vs New Zealand's rising superstar (and interim champ) Israel Adesanya. If the bookies and punters are correct, this'll be a super close encounter – My Bookie has it as a pick 'em currently (-115 for both).
Perhaps this long, long intro has tipped my hand that I don't find too many lines too compelling to recommend for this event and I'm just trying to reach my word count for the article. But, since we're all degenerates we have to find something to bet on, so here you go.
Yorgan De Castro (-105) vs Justin Tafa
This one should be fireworks. Between them, Yorgan De Castro and Justin Tafa have eight (T)KOs out of their combined nine fights. Heavyweight bouts are always "don't blink" affairs, but this one should be even more so. I'm going with the 5-0 De Castro in this bout for several reasons. First off, despite having only five professional MMA fights, 'The Mad Titan' has fought most of those fights in high-level organizations – CES and Dana White's Contender Series – not to mention having extensive amateur experience. Plus he's a dangerous striker – with all his limbs, not just via punches. Look for his devastating leg kicks (which won him his DWCS fight) to be the difference here.
Maki Pitolo (-270) vs Callan Potter

I'm going with another Dana White Contender Series alum here in Maki Pitolo. Mostly because his nickname is 'Coconut Bombz'. Well, maybe not mostly because of that, but that's a fun reason. Pitolo won his DWCS fight via TKO, where he outstruck his opponent at a greater than 3:1 clip. His nemesis in his UFC debut this Saturday, Callan Potter, lost his UFC debut in less than a minute and was outstruck…wait for it… 3:1. Despite Potter being the hometown favorite here, and being dubbed 'The Rockstar', I think the numbers add up to a win for the Hawaiian bomber of coconuts.
Overall Results for This Column
Record: 22-14
Earnings (based on $100 bet per): $243.57
Return on Investment: 6.8%