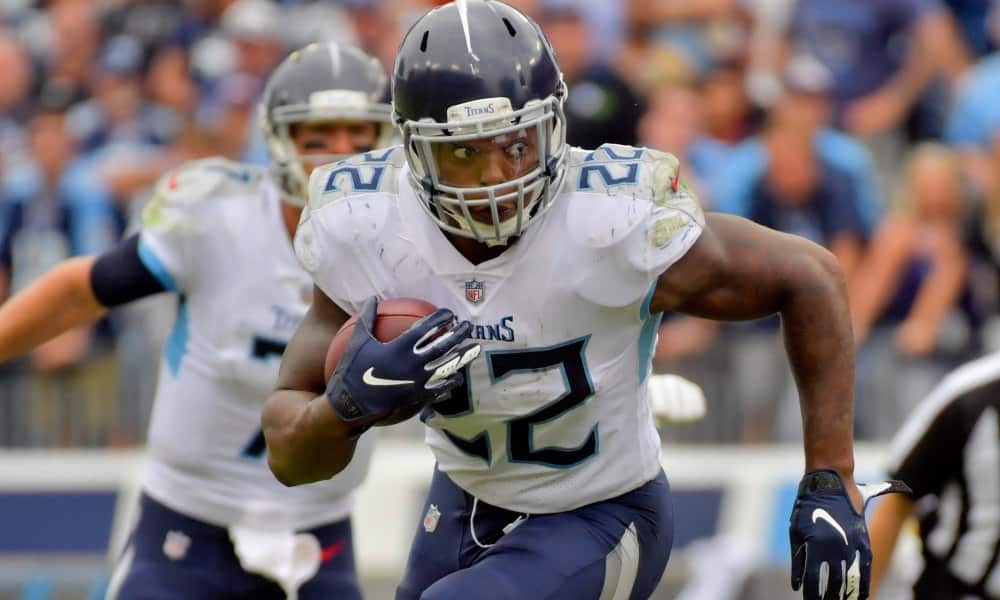 Last week's Thursday Night Football game didn't go according to script. The Carolina Panthers were big favorites over the visiting Tampa Bay Buccaneers. They were expected to win handily while Christian McCaffrey had himself a field day.
It didn't happen. The Buccaneers woke up after a dismal performance in Week 1 and shut McCaffrey down as they went on to pull out the upset. That result is in the rear view mirror as we prepare for another divisional showdown for this Thursday's affair.
Here are the props that are jumping out for the meeting between the Tennessee Titans and Jacksonville Jaguars.
To Score 2+ Touchdowns
Derrick Henry +341
Leonard Fournette +425
DJ Chark +1300
Delanie Walker +1300
Dede Westbrook +1600
Chris Conley +1600
Corey Davis +1600
Field +2000 to +5000
The Pick: Derrick Henry +341
As of this writing, the total for this contest is a snug 38.5 points with the Titans installed as 2-point favorites. Said another way, it doesn't look like there's going to be a fireworks show in Jacksonville on Thursday night.
Scoring will likely be at a premium for what could turn out to be a defensive-minded affair. However, that doesn't mean that players from either side won't break out and have themselves a day.
While the Jaguars will key in on stopping Henry after he broke off a 99-yard TD against them last year, that doesn't mean they'll be successful. Two touchdowns is far from a sure thing for the bruising back, but he's the favorite on the odds board for a reason.
Quarterback Passing Yards Head To Head
Gardner Minshew -162
Marcus Mariota +123
The Pick: Gardner Minshew -162
Through two games, the Jaguars have racked up 525 passing yards and found the end zone through the air four times. For the Titans, it's a total of 335 passing yards and four scores over the same span.
Minshew has been responsible for the bulk of the Jaguars production, as Nick Foles was lost early to injury in the Week 1 loss to the Kansas City Chiefs. He has performed well in a tough spot, completing 77.6 percent of his passes for 488 yards, three scores and a pick.
Mariota entered the year with the franchise signal caller question lingering over his head. It's still there. He's fine as a game manager, but the Titans offense isn't one to shoot the lights out. The legend of Minshew will continue to grow as he drops another solid performance on Thursday night.
Will There Be A Defensive Touchdown?
Yes +265
No -385
The Pick: +132
Both clubs enter this game with some questions to answer on offense. That's not the case for the respective defenses, which are expected to be strengths for the Titans and Jaguars in 2019.
It didn't look that way while the Jaguars were being pounded by the Chiefs in Week 1, but the unit looked much better in Sunday's loss to the Houston Texans. The Titans defense was excellent in a Week 1 road pounding of the Cleveland Browns, and it remained pretty solid for last week's home defeat to the Indianapolis Colts.
The defenses should be coming to play on Thursday night. A defensive TD would be far from stunning, especially when you consider the uncertainty at signal caller on both sides.
Race To 20 Points
Jacksonville Jaguars +130
Tennessee Titans +119
Neither +225
The Pick: Tennessee Titans +119
For a game which is expected to be tight and low-scoring, 20 points makes for a fair benchmark to reach for. Through two games, the Titans are averaging 30.0 points per game while allowing 16.0. For the Jaguars, it's an average of 19.0 points per contest while giving up 26.5.
Both sets of numbers are skewed by the results of Week 1. Tennessee exploded for a boatload of points in Cleveland, while Jacksonville was on its heels versus Patrick Mahomes and the Chiefs all day.
For the season as a whole, neither team projects to evolve into an offensive juggernaut. However, the defenses on both sides could be Top 10 units when all is said and done. The first team to 20 could very well win this contest. The Titans are the safer choice to make that happen.
A Take On The Game Itself
Oddsmakers have this game projected as a low-scoring affair with the Titans installed as slight favorites. There's nothing to suggest they're wrong in either case. Titans win and cover in what should be a tight game.