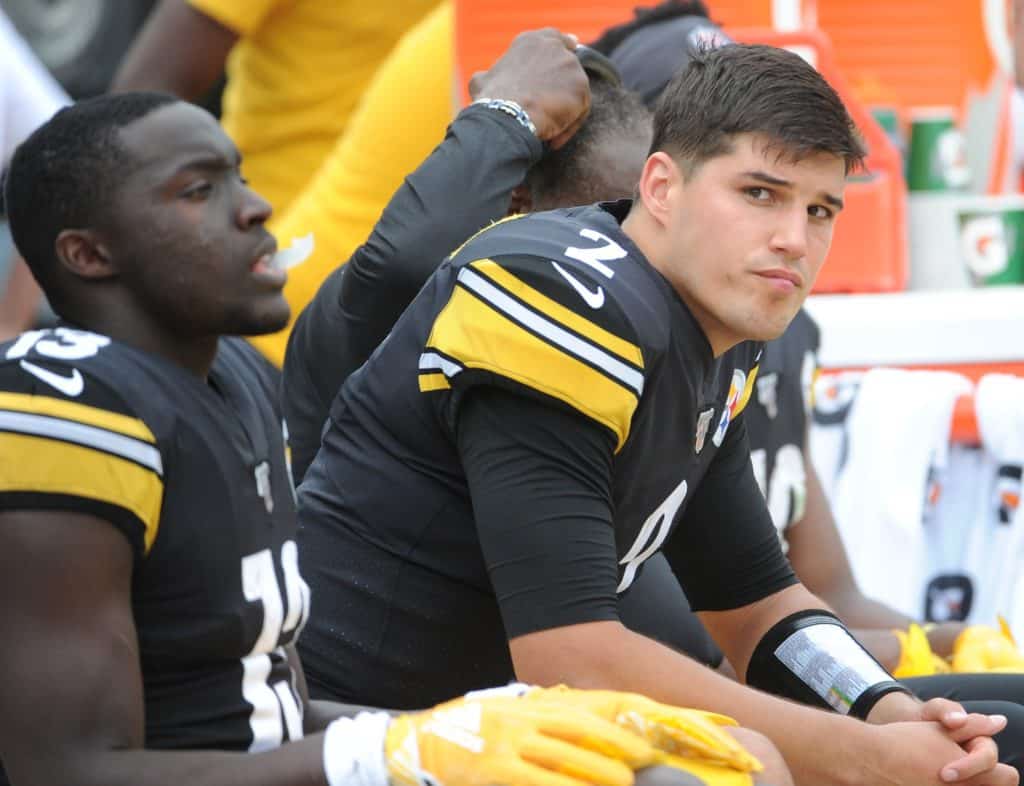 1. The Patriots Are Breaking Gambling Rules Again
Antonio Brown made his return to the field on Sunday in Miami and made an immediate impact hauling in four passes for 56 yards and a touchdown. The Patriots has no trouble rolling to a 43-0 victory Sunday afternoon as they squished the fish and covered. New England's defense added two pick sixes of 50+ yards, piling up four total interceptions and seven sacks. 
Another week in the books and another impressive performance by New England. The 16-0 props odds continue to drop as the Dolphins winless season odds continue to get more expensive. Two ships passing in the night are these teams as New England seems bound for another deep playoff run. The Patriots odds to win the AFC are as low as +150. Certainly looks like the dynasty is not showing any signs of weakening anytime soon.
.@TomBrady finds @AB84 for a 20-yard touchdown. #GoPats #NEvsMIA

📺: CBS
📱: NFL app // Yahoo Sports app
Watch on mobile: https://t.co/y8YLGKmeTf pic.twitter.com/nAUsiFKHLP

— NFL (@NFL) September 15, 2019
2. Dallas Impresses Again Despite 85% Of Tickets
Another impressive performance from Dak Prescott and this Dallas team against divisional rival Washington yesterday. Home divisional underdog traditionally do very well against the spread but Dallas had no trouble covering against their divisional foe. 
Dak Prescott moved the ball efficiently through the air and on the ground Sunday, he completed 26 of 30 passes for 269 yards and also carried the ball five times for 69 yards. Ezekiel Elliot rushed for another 111 yards on 23 carries. The Dallas defense impressed as well holding Washington to just 47 rushing yards and just 268 total yards. 
The Cowboys will host Miami on Sunday as roughly a three touchdown favorite. Likely to start the season 3-0 Dallas will have a strong grip on the NFC East after the first three weeks.   
Cowboys QB Dak Prescott's 42-yard keeper vs. Redskinspic.twitter.com/N3r3QVpbmg

— Jori Epstein (@JoriEpstein) September 16, 2019
3. Chicago Escapes
In what ended up being one of the best endings of the day Sunday the Chicago Bears were able to sneak out of Denver with a hard fought victory despite their quarterback throwing for just 120 yards. It took a 53 yard Eddy Pineiro field goal with a single second remaining to give the Bears the nod over the Broncos 16-14 in Denver Sunday afternoon. 
Vic Fangio decided to go for two after scoring a touchdown with 31 seconds remaining, they were able to convert and went up 14-13. Chicago drove down the field and Mitchell Trubisky and connected for a 25 yard pass to Allen Robinson getting the Bears down to the Broncos 35. The clock read zeros and the Broncos players rejoiced and began to walk off the field. Ultimately a single second was added on the clock, giving Pineiro a chance to be the hero. 
Crazy ending to a crazy game! 🤪🤪🤪 #NFL100 @ChicagoBears @Broncos #CHIvsDEN

(via @thecheckdown)

— NFLAustralia (@NFLAustralia) September 16, 2019
4. Starting QBs Are Dropping
Quite the tough week for quarterbacks, for anyone that watched the Panthers and Bucs play Thursday night something clearly is not right with Cam Newton, and the league's QB injury concerns do not stop there. Sunday threw a death blow to the Pittsburgh Steelers as it was announced today that Big Roethlisberger will miss the rest of the regular season after requiring elbow surgery and turn to Mason Rudolph.
The Saints lost Drew Brees very early in yesterday's contest at the Rams, and it was announced today that he will miss several weeks while he deals with a hand injury. In an awkward play, a Rams defender made contact with Bree's throwing hand as he was coming through with his delivery resulting in the hand injury which removed the veteran signal caller from the game. 
This are hard injuries for these teams to deal with, Pittsburgh will hand the reins to Mason Rudolph who looked more than serviceable in his relief role against Seattle yesterday. The Saints will turn to Teddy Bridgewater who was okay on Sunday but really limits the explosive of this offense when compared to having Drew Brees at the helm.
Here's a video of the Ben Roethlisberger injury.pic.twitter.com/PsP1Z1Rhxy

— Dov Kleiman (@NFL_DovKleiman) September 15, 2019
Hard to watch Brees try to grip the football after his hand injury

(via @NFLonFOX)pic.twitter.com/nYe8yT9q4z

— B/R Gridiron (@brgridiron) September 15, 2019
5. The Giants Drop The Ball
The Giants fell to the Bills Sunday 28-14, allowing 155 rushing yards and 253 yards by Josh Allen through the air. Eli Manning went just 26 of 45 for 250 yards with two interceptions, and the Giants had to turn to  Saquon Barkley to carry this Giants offense rushing for 107 yards on just 18 carries. 
There may be changes at quarterback sooner rather than later if things continue down this trend. The Giants have now started 0-2 in five of their last six seasons and history tells us, its very difficult to overcome the 0-2 start and still make the playoffs. Not that the Giants were ever playoff contenders, but even splitting these games to start the season gives you incentive to keep Eli starting. 
What incentive do they have to keep Eli starting now if they really are not going to contend? That will be the question asked amongst fans and sports talk shows a like. When will we see the return of Danny Dimes who shined throughout the preseason? Does not feel like so much of an if but when at this point and many Giants fans are leaning towards sooner rather than later.