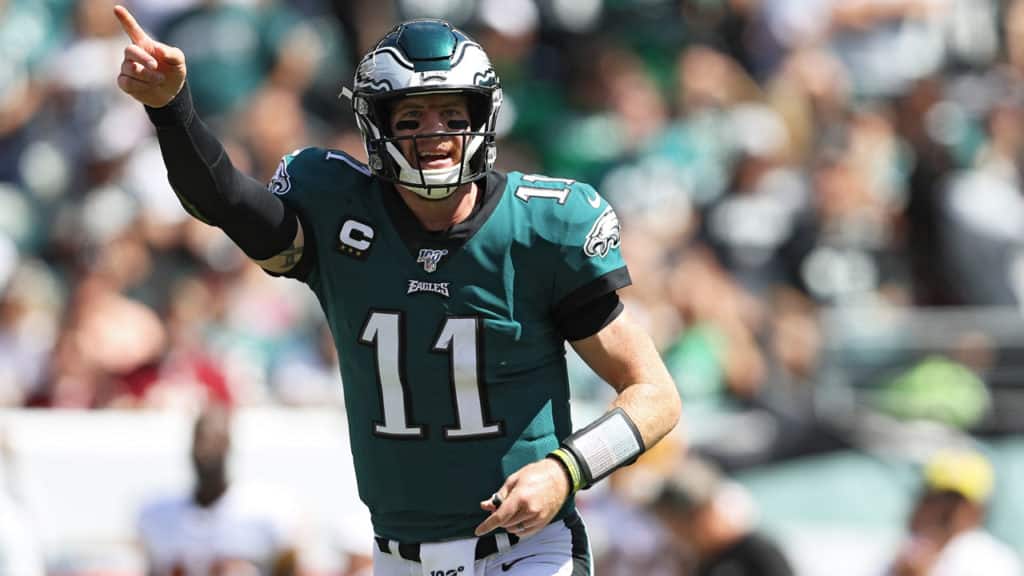 I expect a high scoring game between these two teams especially in a controlled environment inside Atlanta's Mercedes-Benz Stadium. Both teams have elite quarterbacks with great talent around them. Below are a few of my favorite prop bets for Sunday Night Football.
Matt Ryan – Over 284.5 Passing Yards (-115)
I expect Ryan and the Falcons offense to play much better after getting steamrolled against Minnesota. Ryan was efficient completing 71 percent of his passes and threw for over 300 yards in the loss. The Falcons offense must be licking their chops after seeing Case Keenum shred the Eagles secondary last week.
Carson Wentz – Over 274.5 Passing Yards (-115)
The Eagles offense struggled in the first half against Washington and that includes Wentz. The offense finally broke through when Wentz threw a perfect 51 yard touchdown to DeSean Jackson to cut the Washington lead to 10 points. Wentz was 11 of 12 on third down with 197 yards and three touchdown passes. Philly scored 25 points in the second half and cruised to the win.
Devonta Freeman – Under 53.5 yards rushing (-115)
Devonta Freeman struggled last week and finished with just 19 yards on the ground. Part of his struggles were due to the fact the Falcons fell behind quickly and only ran the ball 17 times as a team. Last season, Philly finished 7th against the run and only gave up 28 yards on the ground against Washington last week.
Julio Jones – Over 89.5 yards receiving (-115)
Jones was shut down last week in Minnesota. He finished with six catches and only 31 yards receiving with one touchdown. He was targeted 11 times, which was the most on the team. I anticipate a much more active game from Jones considering how much the Eagles secondary struggled against Case Keenum.
DeSean Jackson – Under 59.5 yards receiving (-115)
DeSean Jackson had an explosive return to Philadelphia with 8 catches for 154 yards and two touchdowns. Dan Quinn and the Falcons staff clearly saw how Jackson energized the Eagles offense. Look for the Falcons to try and limit Jackson down the field and keep everything in front of them.
Go here for more NFL predictions!