Liverpool 4-0 Newcastle
Brighton 1–1 Burnley
Manchester United 2-1 Leicester
Tottenham 3-1 Crystal Palace
Sheffield United 1-2 Southampton
Wolves 2-2 Chelsea
Norwich 1-3 Manchester City
Bournemouth 2-2 Everton
Watford 1-2 Arsenal
Aston Villa 1-1 West Ham
Summary
I am doing these picks on route to Barcelona vs Valencia with my son sitting next to me. My son happened to glance over at my original predictions and insisted on some changes, therefore, you are reading an 8 year old child's first foray into the world of sports gambling. Hell, I started my gambling life at 12, filling out betting slips for my Dad's friends to bet for me- with money I stole from my Dad's bedroom. By 14 years of age, they were asking me for tips and copying my bets. So I guess it was inevitable that I would end up in this role working for a gambling podcast. With that said, it's probably not too surprising my son couldn't resist giving his input on this week's games, but as I said at the top- back these scores with a caution, as following sports betting advice from those who are yet to start puberty, is probably a fairly risky venture.
I myself have endured a mixed start to the season, managing to land every dog on podcast, whilst struggling with my locks- which are currently sitting at 2-3- after last year's unbeatable 47-11. This week gives us a difficult slate of games to go through. While City and Liverpool will win, they are becoming un-backable as single plays at around -400 to -600. Spurs desperately need to win and look good against Crystal Palace, after a sub-par start to their campaign- despite taking a point at City- while Arsenal travel to Watford, who have re-hired Quique Sánchez Flores (the housewives will be so pleased).
Game of the Week: Manchester United vs Leicester
This weekend's game of the week focuses on the Saturday afternoon clash between Manchester United and Leicester at Old Trafford, which surprisingly will not be a televised game in the UK.
Leicester's great Premier League form isn't a short-lived run, it actually extends to the back-end of last season. Only Man City (37) and Liverpool (40) have taken more points in the league than Leicester (25), since Brendan Rodgers was appointed on March 3rd. Leicester's form makes them fantastic value in the double chance market this weekend against an inconsistent Man Utd team, that are coping with both poor form and injury crisis. Luke Shaw has already been ruled out, while Anthony Martial, Paul Pogba and Aaron Wan-Bissaka could also miss Saturday's game.
United have lost three of their last five Premier League matches at Old Trafford, and they have won only four of their last ten home league matches since January. With so many factors and circumstances falling in Leicester's favour, I have to pick against my own team this week- at least I'm double chance market.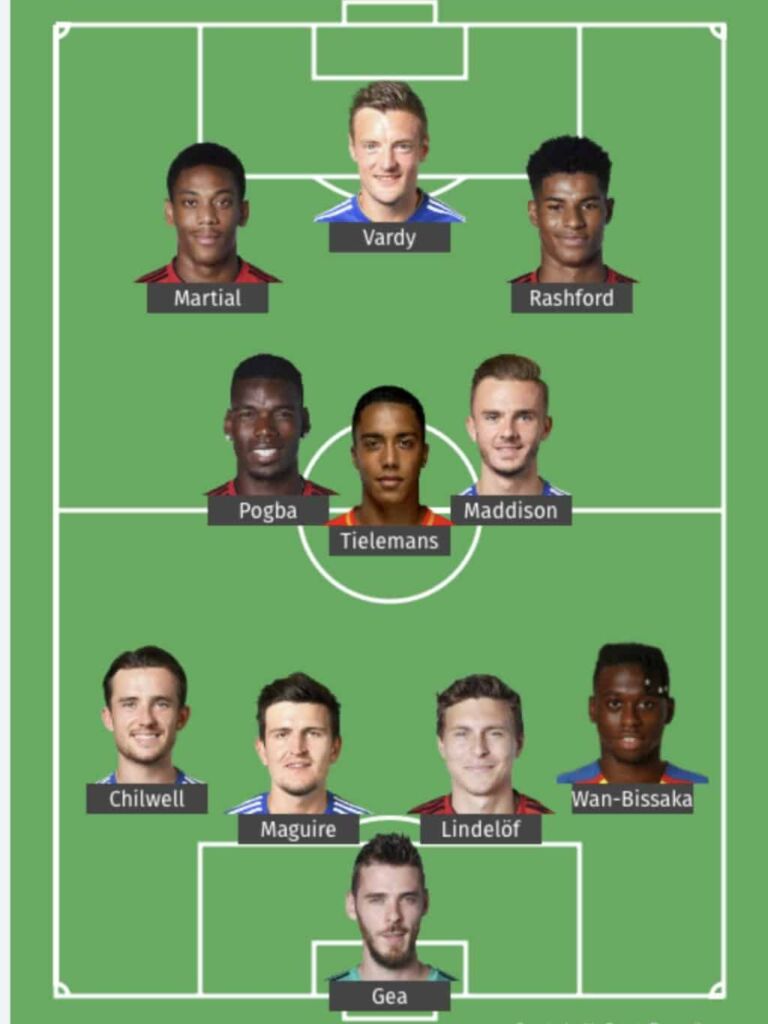 Prediction 
In relation to Manchester United, I had to put my foot down and gone against my son's wishes, as Leicester have made an impressive start to this campaign and have several players in the combined XI for this week's game of the week. I simply can't see a United win on Saturday, and I am expecting goals at both ends.
Manchester United 2 Leicester City 2