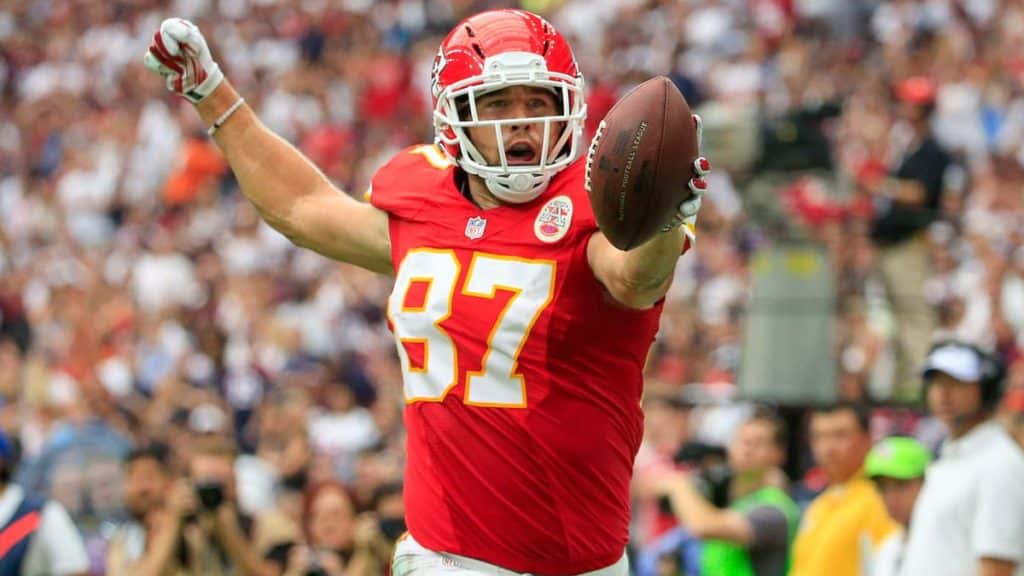 As excited as I was for Week 1 to arrive, it was also a paramount example as to [one of many reasons] why we love Daily Fantasy: you don't have to keep an injury from last week going into this week (unlike in my three Tyreek leagues). But we do have a glimpse of who's legit, and who may need further assistance, along with plenty of question marks waiting to be answered. And hopefully you were able to cash in on some of that Lamar Jackson/DeSean Jackson/Sammy Watkins money.
We won't ever get to see how the Derek Carr-Antonio Brown project would've transpired on the field, or on a fantasy scoreboard for that matter. All of a sudden, Brown is a member of the Tom Brady Bunch in New England and the rich get richer. Or so we thought…
…and just as I was about to get into how we can forge rosters around a potential AB breakout game against Miami this weekend, Brown is now under Federal scrutiny for a number of serious charges. Therefore I won't even get into the possibility of him playing, and if he makes it through Friday without a pending suspension for the weekend, I will include it in the weekend update here. I digress.
We move onto Week 2, where the matchups in DFS this given week are a tad tricky, with some interesting instances that don't come without the supposed "obvious" plays. It's the question marks I spoke of which promote the lingering notion of pushing the contrarian envelope. Todd Gurley left much to be desired around the goal line, and draws a home matchup against the Saints this week that would otherwise be a no-brainer. Much to deliberate, but we've thankfully got a few days to play around with some of the strategy we get into.
Let's dig into the plays on both sides of the DFS landscape for Week 2 (Cash Games and GPP's), and don't forget to jump into our FREE SGP Slack Channel to talk shop on betting and daily fantasy strategy with many of the staff and fans alike. The more the merrier!
The Gameplan
Last week, we focused around Lamar Jackson being in a very favorable spot against a lackluster Dolphins defense and it thankfully paid off for anyone who played it, or especially went heavy on it (my shares were unfortunately much lighter than anticipated). But it doesn't appear to stand out quite as easily for us this outing.
This week we're proposed a number of more-than-decent options at quarterback, and some inspiring mid-tier options at running back and wide receiver as well. But it's the tight end position I'm most intrigued by (have fun with that one), and am progressively inclined to start my rosters with building around stellar matchups for both Travis Kelce and George Kittle.
The mid-tier options at wide receiver are what will afford you either (or both) of the top dollar tight ends, as well as a spend-up option at running back like Saquon Barkley. The puzzle pieces will fit, trust me. With some pricing that is a bit too low in certain areas (Jared Goff, Derek Carr), it makes for an easier approach than it may first appear when building around the costly focal points at tight end.
I can strongly suspect that Saquon will be among the higher owned players given his matchup with the Buffalo Bills in the Giants home opener, along with Travis Kelce, given the circumstances of Tyreek Hill's absence and Kelce's solid track record against the Raiders. But I want to be on the side of good chalk when it's available, because sometimes a spot is too good to ignore.
UPDATE (Saturday 9/14, 1:11 AM)
Aaaaaaannnnd…just when we thought Thursday Night Football had hit an atrocious low. Right back at it. This isn't an update; just a reminder.
It appears that Antonio Brown is not being suspended by the league (yet) and will be playing Sunday. I will be rostering him in probably upward of 20% of my lineups and would consider him an excellent play in both Cash Games and GPP's. If his status changes, obviously this statement becomes null and void.
Hunter Henry is injured [again] and removed from this week's picks. On that note, I love me some Austin Ekeler and Virgil Green becomes an extremely intriguing play at nearly the bare minimum salary. I would consider Ekeler for Cash Games and GPP's, where Green would strictly be GPP's (mid-sized and above).
The Patriots running back situation is a bit unclear due to the potential absence of James White for the birth of his child. If White is deemed out, I will be getting to shares of Rex Burkhead, along with the obvious play in Sony Michel (not in the same lineups of course).
Joe Mixon was suddenly a limited participant in Bengals practice on Friday and is deemed questionable. Should he start, he would make for a very sneaky GPP play, though I would not play him in Cash Games considering the lingering vulture in Giovani Bernard still looming in the background…
…and speaking of the Bengals offense, Andy Dalton actually had a hell of a game against the Seahawks secondary (in Seattle, mind you), launching for 418 passing yards and two touchdowns, with no interceptions. Against this Niners defense with a Richard Sherman (who is begging for an interference call), I think John Ross is still a great play…but I think Damion Willis is an even sneakier one.
Delanie Walker is probably going to be vastly overshowed in ownership by the focal point tight ends of this article, Travis Kelce and George Kittle. He should be considered another excellent option at the position (Cash Games & GPP's), and somehow missed the article on my initial write-up. He and Darren Waller will most likely wind up being my third and fourth-highest owned tight ends following behind Kelce and Kittle.
Best of luck this weekend, with all of your DFS and sports betting endeavors. Feel free to get at me on Twitter, along with in our SGP Slack channel.
Quarterback
Derek Carr ($5,100 DK/$6,600 FD)
Consideration: Cash Games, GPP (All Entry Sizes)
Sometimes they fall asleep at the wheel with the pricing here or there, and this is a beautiful instance of such. While Derek Carr didn't quite put up Mahomes-caliber numbers in the Raiders 24-16 victory over the Broncos on Monday night, they were certainly nothing to scoff at whatsoever.
Delivering on 22 completions of 26 attempts (84.6%), Carr racked up 259 passing yards along with throwing for one touchdown and no interceptions. The Oakland offensive line looked concrete against Von Miller and the Broncos pass rush, surrendering no sacks and [finally] giving Carr plenty of time to thread the ball to seven different receivers (including Josh Jacobs).
And no offense to the guy, but if Gardner Minshew and the Jaguars receivers can complete 10 of 10 passes (before an interception of course) on this Chiefs secondary, I've got faith that Carr can produce a high enough floor while having some considerable upside given that the Raiders will likely be playing from behind at some point and have to throw the ball downfield. While Carr doesn't have Antonio Brown's talent to take advantage of, Tyrell Williams and Darren Waller proved to be the real deal as they combined for more receptions (15) than the rest of the team combined (11).
I think despite the cheaper price tag that Carr will go under the radar compared to the ownership of Jared Goff, and he should act as a beyond serviceable quarterback given his cheap tag, along with a promising floor and upside.
Matthew Stafford ($5,200 DK/$7,000 FD)
Consideration: Cash Games, GPP (All Entry Sizes)
I know, it looks like I'm doing some dumpster diving this week. Don't let the cheap price tag fool you though, because this DraftKings salary is egregious. Given the matchup on defense (the Chargers without Derwin James), Matthew Stafford should be able to take advantage of his new weapons on his home field. When you factor in his recent performance along with the potential of getting into another shoot out, this cost for Stafford is a significant sort of low given his major upside.
Detroit was not shy in letting Stafford air the ball against the Cardinals, tossing for 27 completions on 45 attempts, 385 yards and three touchdowns, and zero interceptions to boot. Jacoby Brissett was able to manage a touchdown and 190 yards without an interception against this Chargers defense on the road. You see where I'm going with this.
Understandably, it is Matt Stafford. Being aware of his volatility is important when designating him to any number of your rosters, but I simply can't get away from how cheap he is. I will be getting to plenty of Mahomes (that's a must), along with Brady, and some other promising options as well. The flexibility and upside Stafford provides is really difficult to not entertain, and I will at least be matching the field in ownership.
Other Cash Game Considerations
Tom Brady ($6,400 DK/$7,800 FD)
Patrick Mahomes ($7,500 DK/$9,000 FD)
Jared Goff ($5,900 DK/$7,600 FD)
Philip Rivers ($6,100 DK/$7,700 FD)
Dak Prescott ($6,300 DK/$7,700 FD)
Other GPP Considerations
Drew Brees ($6,200 DK/$7,000 FD)
Lamar Jackson ($6,700 DK/$8,200 FD)
Ben Roethlisberger ($5,800 DK/$7,600 FD)
GPP LONGSHOT
Josh Allen ($5,300 DK/$7,500 FD)
Marcus Mariota ($5,000 DK/$7,400 FD)
Running Back
Derrick Henry ($6,000 DK/$7,500 FD)
Consideration: Cash Games, GPP (All Entry Sizes)
Without left tackle Taylor Lewan the first four games of the season due to suspension, the Titans and Derrick Henry were considered to be in for a difficult test to find success in running the ball. Apparently that concern was a bit pre-emptive, because last Sunday's demolishing of the Browns in Cleveland was namely in part to this beast's multi-talented effort.
Amassing 159 all-purpose yards in a lopsided 43-13 beatdown of the Browns, Derrick Henry shed a number of doubters (and whiffed tackles) featuring 84 rushing yards on 19 carries, along with 75 receiving yards on one reception for a touchdown. His matchup this week with the Indianapolis Colts is a tasty one to say the least, as they are the same defense who just surrendered 225 total yards to Chargers running backs (rushing and receiving).
I'm going to assume Henry will draw a decent share of ownership, and rightfully so, but I'm also thinking there are plenty of other cheaper options that should keep him from becoming ridiculous levels of chalky.
Matt Breida ($5,200 DK/$5,600 FD)
Consideration: GPP (Mid-Large Field)
I hate to see anyone get injured, and Tevin Coleman simply seems like a prime candidate for it every time an opportunity arises for him. This is a somewhat familiar story from his recent years in Atlanta alongside Devonta Freeman, and while Coleman's trip to the Injured Reserve remains in question, Matt Breida is looking to take over a majority share of carries for the 49ers (with the lingering Raheem Mostert vulturing in the background).
While I can't stand firmly by the stat line he posted against the Buccaneers (15 carries for 37 yards), the Bengals defense wouldn't happen to be the most difficult matchups despite holding the Seattle rushing game to 72 yards. But a silver lining is that Chris Carson did compile 35 yards and a touchdown in the receiving game, to add to his 46 yards on the ground with another touchdown.
Mostert would be my biggest concern here more so than the matchup itself, as Shanahan may tend to favor the hot hand in this bout if things are going in the Niners' favor. I would strictly consider Breida (and Mostert especially) a GPP play, as the potential of volatile outcomes remains high, while the upside is every bit a promising.
Other Cash Game Considerations
Saquon Barkley ($9,200 DK/$9,200 FD)
Alvin Kamara ($8,200 DK/$8,700 FD)
Chris Carson ($6,400 DK/$7,400 FD)
Austin Ekeler ($6,100 DK/$7,500 FD)
Marlon Mack ($5,900 DK/$7,400 FD)
Mark Ingram II ($6,000 DK/$7,500 FD)
Other GPP Considerations
Todd Gurley ($7,000 DK/$7,000 FD)
Patriots Running Backs (Michel/White/Burkhead)
Chiefs Running Backs (Williams/McCoy)
Kerryon Johnson ($5,700 DK/$6,600 FD)
Josh Jacobs ($4,700?! DK/$6,500 FD)
Tarik Cohen ($4,500 DK/$6,100 FD)
GPP LONGSHOT
David Montgomery ($4,900 DK/$5,800 FD)
Devin Singletary ($4,200 DK/$5,700 FD)
Wide Receivers
Demarcus Robinson ($3,500 DK/$5,200 FD)
Consideration: GPP (Mid-Large Field)
With so many weapons on the Kansas City Chiefs, even without Tyreek Hill, it's difficult to pencil Demarcus Robinson in as a Cash Game play since it could easily be the Travis Kelce/Sammy Watkins Show for all we know about the ball distribution on offense. But when it comes to GPP play, Robinson is a fantastic option given his salary cost on both sites combined with his extremely potential upside in this matchup with the Oakland Raiders.
As the direct backup to Tyreek Hill, Mecole Hardman is also equally valuable in filling the void of their top deep threat. However, it's Robinson who has been in the Andy Reid system for three years with the Chiefs, and in the final three games of the 2018 season he scored three touchdowns (one in each game).
When it comes to GPP ownership, I would bet Hardman gets the majority share between the two…and I always lean with the lesser-owned guy, especially when the numbers favor him aside from that. Granted, it's a toss-up but I stand by the ownership game. I will get to a 60/40 split share of both Robinson and Hardman (when it comes to the specific lineups I am incorporating one of the two in).
Julian Edelman ($6,900 DK/$7,100 FD)
Consideration: Cash Games, GPP (All Entry Sizes)
An "old" reliable when it comes to the PPR game in particular, Julian Edelman stands as a major beneficiary in a matchup with the downtrodden Miami Dolphins. Whether the walking tabloid in Antonio Brown is suspended or is cleared to play Sunday, it's certain that Brady's Number One target is primed to feast against this Dolphins secondary that was just decimated by the Baltimore Ravens.
This is the same Dolphins group who allowed four members of the Baltimore offense to score in the top 33 players in all of Week 1 across all positions combined (Jackson, Brown, Andrews, Ingram), which was 25.7 DraftKings Fantasy Points or higher for each player.
Naturally, we know that there are too many elements here that will likely prevent such a blowout again. Flores was the Patriots defensive coordinator a year ago; the Pats play God awful in Miami; Dolphins will play like it's their Super Bowl…take your pick on the reason of oddball, outlier outcome. But I won't be the one to bet against it, and will be way over the field on Edelman (despite the homer-ism on my part), especially if Brown winds up absent as I suspect.
Other Cash Game Considerations
Amari Cooper ($7,400 DK/$7,800 FD)
Robert Woods ($6,400 DK/$7,300 FD)
Cooper Kupp ($6,000 DK/$6,800 FD)
Kenny Golladay ($6,600 DK/$6,600 FD)
Adam Thielen ($7,100 DK/$7,300 FD)
Keenan Allen ($7,600 DK/$7,700 FD)
Other GPP Considerations
DeAndre Hopkins ($8,100 DK/$9,000 FD)
Josh Gordon ($5,800 DK/$6,300 FD)
John Ross III ($4,600 DK/$6,400 FD)
Mecole Hardman ($4,800 DK/$4,700 FD)
Marquise Brown ($5,000 DK/$5,700 FD)
GPP LONGSHOT
A.J. Brown ($4,000 DK/$5,400 FD)
Kenny Stills ($4,100 DK/$5,300 FD)
Phillip Dorsett II ($3,000 DK/$4,700 FD)
Tight End
Travis Kelce ($7,300 DK/$8,000 FD)
Consideration: Cash Games, GPP (All Entry Sizes)
One of the cornerstones of my lineup construction this week, Travis Kelce is in a spot all too familiar for him. With a history of smashing on the Oakland Raiders, Kelce is going to be the chalk-of-all-chalk come Sunday morning, and it's another sure-fire instance of "Good" chalk as well (a phrase that utterly bothers me to get behind, but it does exist and is often worth playing).
Per Football Outsiders: Defense vs. Receivers for the 2018 season, the Raiders ranked dead last against the tight end position, and I don't believe Noah Fant and Jeff Heuerman were really the benchmarks for such a comparable test this past Monday night against Denver. Kelce should see a considerable increase in an already-large target share, and Mahomes is well-aware of the mismatch Kelce has posed to the Raiders in recent history.
With all of that said, I will be getting to a crazy amount of Kelce…probably a landslide amount. But I'll gladly stand by that approach over fading him in this opportunity.
George Kittle ($6,800 DK/$7,100 FD)
Consideration: Cash Games, GPP (All Entry Sizes)
Leading the Niners by over 3-to-1 in target share over any other receiving option against the Buccaneers with eight receptions on ten targets, George Kittle has a perfect opportunity to do it all over again in Cincinnati much as he did last week…except with a more favorable likelihood to score.
Having a touchdown called back last week in Tampa, Kittle will be looking to mash against a Bengals team who (I've mentioned this of before) gave up the most scores to tight ends in 2018. Much like the Raiders subpar opposition at tight end in Week 1, the Bengals didn't face exactly the most targeted or talented group of them in Seattle last Sunday (four total targets on three receptions combined for Nick Vannett and Will Dissly).
I expect this to be a hard-fought match that will rely heavily on Kittle's productivity if the Niners plan to stay in the game, and Jimmy G's top target should be getting peppered with targets early and often. I don't expect you to tandem Kelce and Kittle how I will be doing in several lineups, but I would highly recommend getting to at least one of the two matchups that look to bode well for both players.
Other Cash Game Considerations
Evan Engram ($5,200 DK/$6,400 FD)
T.J. Hockenson ($3,000 DK/$6,000 FD)
Darren Waller ($3,300 DK/$5,400 FD)
Other GPP Considerations
Mark Andrews ($3,800 DK/$6,100 FD)
Jimmy Graham ($3,700 DK/$5,400 FD)
Vance McDonald ($3,900 DK/$5,600 FD)
GPP LONGSHOT
Jack Doyle ($3,100 DK/$5,400 FD)
Vernon Davis ($3,200 DK/$5,100 FD)
Defense/Special Teams
Cash Considerations
Patriots ($3,700 DK/$4,900 FD)
Texans ($2,800 DK/$4,800 FD)
Ravens ($3,800 DK/$5,000 FD)
GPP Considerations
Bears ($3,900 DK/$4,500 FD)
Cowboys ($3,300 DK/$4,700 FD)
Titans ($3,100 DK/$4,600 FD)
LONGSHOT GPP
Niners ($2,800 DK/$3,700 FD)
Buffalo Bills ($3,400 DK/$4,600 FD)
God bless America!