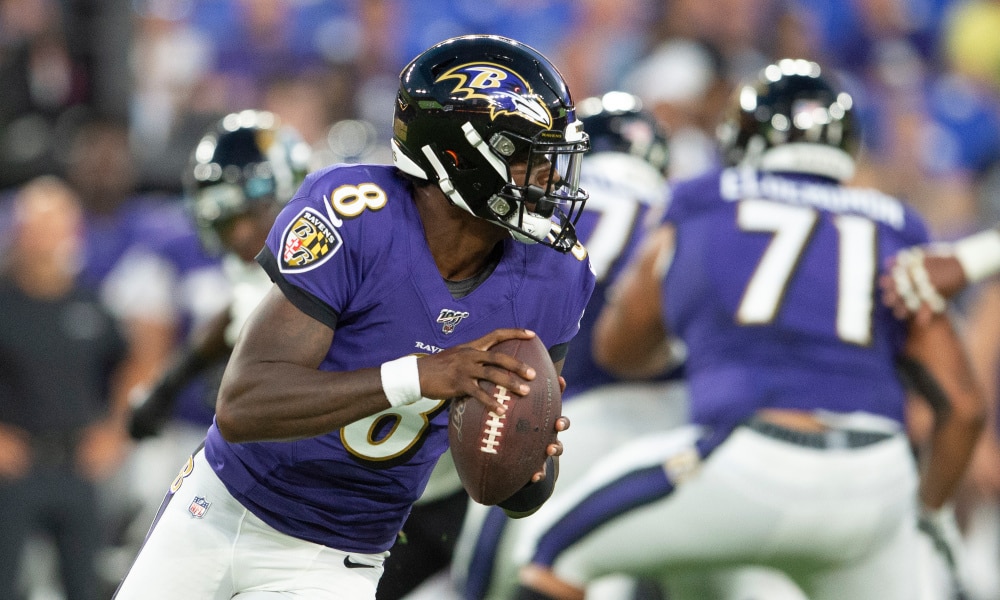 In a period of time that annually feels like forever (but is in actuality seven months or so), the purgatorious wait for regular season NFL action is OVER! And a grand welcome to the 2019-20 NFL season: one that is fresh for us all (Andrew Luck Best Ball lineups aside), fantasy ceilings are still intact and miles high for countless players, while the playing field is even sharper and savvier than ever before.
With everything we already know about the differentiation in Cash Game lineups versus mid-large field tournaments (GPP's), I find it rather linear and limiting to simply give a player the broad-brush approach by deeming them worthy of strictly one category or the other. That being said, as a reminder:
Cash Game plays by default are your more "stable" plays that tend to project a sturdier floor with the possibility of having a lesser exciting ceiling, or carrying a significant amount of field ownership in particular. GPP (Guaranteed Prize Pool) plays are notorious for being the high-risk/high-reward, and/or lesser owned players by the field in lieu of this. Then there are the long-shot plays that are the extreme outliers intended for very large-field tournaments ONLY.
While I feel that many players can be considered for both Cash Games and GPP's, the extreme outliers should be stated separately in consideration only for the GPP's that are pushing the envelope with number of total entries (over 700,000 is absolutely insane). In all honesty, those outlier plays are strictly for these specific considerations due to the likelihood of being virtually unowned with a possibility of making or breaking a lineup's chances to crack higher payouts because of the differential this brings to your lineup versus the hundreds of thousands of others you'll be against. But that aside, there often won't be a need to get that cute with your Cash Game and smaller-sized GPP lineups.
What I'd like to do with this article throughout the season is address players on each of those branches of play (Cash Games, mid/large-field GPP's) that stand-out during the mid-week, and then update the article for the weekend on Fridays with additional information gathered from throughout the rest of the week to debrief on prior to the real lineup preparation starting Friday nights (not that placeholder shit) all the way through until Sunday mornings when the Main slate locks at 10 am.
Finally, without further ado…
The Gameplan
Entering Week 1 is exciting for an obvious number of reasons, but for the Daily Fantasy player I'd have to say one of the biggest elements of excitement revolves around the scattered ownership and public misconceptions that can [hopefully] be capitalized upon.
I would recommend aiming lower on the quarterback costs to free up your salary for the spend-up receivers and backs. Clearly there are a number of ways you can go about doing this, and the statement is meant to be arbitrary for that reason. I can tell you that I would bet Lamar Jackson will be rather on the higher side of ownership for the sake of being able to gain plenty of rushing yards along with being an affordable cost on both sites, and has a very tasty matchup as well.
I plan on targeting Lamar Jackson in Cash Games and small-field tournaments first and foremost, then building around that particularly due to the high floor he provides you at the position, along with some rather conceivably high upside. Mind you, this is an obvious well-rounded play that will be heavily targeted by the field, and rightfully so.
Whether you want to spend up to get a Baker or Mahomes in order to be different is up to you, but I still feel I won't hesitate to get to Jackson even in large-field tournaments since there are a number of other ways to be different with your roster construction if your lineup warrants the need to do so. One way would be to stack him with other Ravens players along with a potential long shot in large-scale GPP's.
Yes, about that roster construction: let's get to some picks per position, per tournament/opponent field size…
UPDATE (Sat 9/7):
Even leading up to the very first Sunday of NFL action we're not without our fair share of storylines, so let's get down to hashing this out so we can continue setting lineups until the wee hours of the morning:
Even with Aaron Rodgers and an NFC North rivalry to aid in promotion, the Thursday Night product refuses to quit sucking. Just for the record.
Since posting the first edition of this, Tyreek Hill and Julio Jones have both gotten paid…while Antonio Brown finds himself asking for a RELEASE from the Raiders roster (and getting it) just over an hour ago. This means you can feel free to roster Julio now, and I feel no different toward Calvin Ridley either. On the note of AB however…
Darren Waller and Josh Jacobs look to be focal points of the Raiders offense for the foreseeable future with Brown out of the picture, and I would consider Waller in Cash Games while Jacobs you could roll dice on in GPP formats.
Lamar Jackson is looking somewhat chalky based on what I'm seeing in terms of public discussions, but I think the ownership will end up being widely distributed with all 16 games on this slate (no byes obviously) and would still consider him as both a Cash Game and GPP play. My rosters will still be starting there in many cases, but I have begun to gravitate more by the day to spend-up option Russell Wilson (first discussed here earlier this week).
Stefon Diggs is listed as questionable and I would continue to monitor his status leading up until game-time. He would be a stellar play against the Falcons if he's not limited on Sunday.
Derrius Guice has been jumping  out at me as a far too cheaply priced play ($4,400) considering his recently confirmed starting back role with the Redskins. He draws a rather difficult matchup with the Philadelphia Eagles but at his price tag I will certainly be getting to him in at least a couple of my GPP entries.
GPP Longshot addition with a mildly intriguing "Revenge Game" narrative…Chris Conley (WR, JAC). It just feels Foles-y, and at $3,100, he helps fit in plenty of other talent on your DFS rosters. And I'm highly doubting he'll receive much ownership, so don't hesitate to pull the trigger on this wild card.
Get A Free Entry To DraftKings Millionaire Maker Promo Code SGP
Quarterback
Lamar Jackson (BAL, $6,000)
Consideration: Cash Games, GPP (All Entry Levels)
As I was alluding to, it doesn't really get much better than this…besides the ownership factor. Facing a Miami Dolphins team who's already fielding questions about tanking before the season has even begun (as they traded away their talented linebacker Kiko Alonso), Lamar Jackson is getting a bow-wrapped matchup with a Dolphins defense that endured the second-highest number of rushing attempts against in 2018 as well as rushing yards against, which plays right into the hand of this Baltimore offensive scheme to pound the rock under the guidance of Offensive Coordinator Greg Roman.
Once Jackson started at quarterback for Baltimore in Week 10 of last season, he averaged nearly 80 rushing yards per game along with four rushing touchdowns in a whopping 119 rushing attempts during that span (plus one rushing TD in a game he didn't start in Week 7). And get this…that's a staggering 23 more attempts than Christian McCaffrey during that frame of time (Weeks 10 through 16, 2018).
I don't give a damn how high his public ownership he is; I'll be over the field somehow.
Russell Wilson (SEA, $6,300)
Consideration: GPP (All Entry Levels)
Featuring many of the same benefits on this slate as the previous quarterback discussed, Russell Wilson can be viewed as the spend-up option that should stave off some of the would-be ownership from Wilson to Jackson.
While the rushing attempts may not quite be of the same volume as that of Jackson, Russell Wilson gets to feast on a Bengals secondary who gave up 4,414 yards through the air in 2018, which was the most passing yards allowed in the league. Playing in front of the Twelfth Man crowd in CenturyLink Field will be a major added benefit on this home opener.
I think the decision to either spend further up on Mahomes or save some bankroll on Wilson will be up to the construction of the rest of your roster, but based on Mahomes' likely high ownership at a high cost makes me want to back down to the middling characters like Wilson when it comes to the ownership game. We'll have to wait to see how the public leans on media outlets throughout the week and heading into the weekend, but I don't see him dragging any additional ownership in comparison to the other two quarterbacks (Mahomes/Jackson) bookending him in the cost category.
Other Cash Game Considerations
• Carson Wentz (PHI, $5,700)
• Dak Prescott (DAL, $5,900)
• Jameis Winston (TB, $6,600)
Other GPP Considerations
• Nick Foles (JAC, $5,300)
• Matthew Stafford (DET, $5,400)
• Kirk Cousins (MIN, $5,500)
LONG-SHOT GPP
• Kyler Murray (ARI, $5,600)
• Jacoby Brissett (IND, $4,400)
Running Back
Leonard Fournette (JAC, $6,100)
Consideration: Cash Games, GPP (Small-Medium Field)
Despite still having plenty of skeptics when it comes to his season-long health, the fact of the matter is that Leonard Fournette is healthy now and has a matchup with a Kansas City defense who gave up the 6th most yards on the ground (2,114) and the second-most yards per rushing attempt (5.0) last season. Finally having a quarterback who can guide the offense, and with no more T.J. Yeldon to threaten his workload, Fournette has an opportunity to thrive so long as he stays on the field.
While the Kansas City defense has been improved up front and at linebacker since last season, the Jacksonville offense will, for a change, be in a position to be setting up the run for Fournette by airing the ball out with Foles and not necessarily stacking up the box on every down. The Chiefs defense last year also surrendered the second-most passing yards in the league (4,374), and while adding Tyrann Mathieu will make it a bit harder on Foles, they should get a steady mix of passing in to let the offense run through Fournette.
At his price point, it's a fairly stable play with a considerably decent floor, along with some potential upside.
Marlon Mack (IND, $5,600)
Consideration: GPP (All Entry Levels)
Alright, I know, Andrew Luck retired. I've heard. But this Colts offense still has Frank Reich at the helm, which means plenty of offense will be in mind. And it's going to go through this guy primarily, as Marlon Mack not only smashes the ball (averaged 4.7 yards per carry on 908 rushing), but he was catching the ball toward the end of last season as well and phased Nyheim Hines out in a vast majority of snaps.
While the matchup may not be the greatest for the Colts as a whole, I can't help but think that Marlon Mack is going to be the go-to guy for this offense for the foreseeable future, and starting with this game. This is a gutsy call on my behalf but you have to be different in GPP's, and I feel like the upside here is huge for a guy likely going to see over 20 touches here.
The price tag won't require much to pay off, there's significant upside, and the ownership is almost assured to be low.
Other Cash Game Considerations
• Nick Chubb (CLE, $6,400)
• Le'Veon Bell (NYJ, $7,100)
• Saquon Barkley (NYG, $9,000)
• Ezekiel Elliott ($DAL, $9,200) *
• Dalvin Cook (MIN, $6,000)
• Chris Carson (SEA, $5,700)
Other GPP Considerations
• Derrick Henry (TEN, $5,900)
• Kerryon Johnson (DET, $5,800)
• Todd Gurley (LAR, $7,900)
• Austin Ekeler (LAC, $5,500)
LONG-SHOT GPP
• Justin Jackson (LAC, $4,000)
• Matt Breida (SF, $4,000)
• Peyton Barber (TB, $4,000)
*If Available To Play
Get A Free Entry To DraftKings Millionaire Maker Promo Code SGP
Wide Receiver
Stefon Diggs (MIN, $6,700)
Consideration: Cash Games, GPP (All Entry Levels)
With just over a full year under his belt in leading the Vikings offense, Kirk Cousins should be looking to get his other favorite receiver involved early and often. While many believe Adam Thielen to be the sure thing when it comes to the target share between the Minnesota receiving corps, Stefon Diggs actually averaged slightly more targets than Thielen when he was on the field. Diggs' 149 targets in 2018 came in 15 games, and Thielen absorbed 153 targets in 16 games, which in fact averages to 9.93 targets per game for Diggs and 9.56 for Thielen, respectively.
As much as it's splitting hairs, the point is I will always play the ownership game when it comes to a push, and I'm almost certain that Thielen will be getting a majority share of the ownership out of the notoriety alone. I wouldn't mind playing either of them, or especially stacking both of them with Cousins. And against a Falcons secondary that gave up 4,153 passing yards on defense in 2018 (6th most in the league), this Vikings receiving tandem should be eating on Sunday at home in the dome.
Robert Woods (LAR, $6,400)
Consideration: Cash Games, GPP (All Entry Levels)
Leading the Rams in targets in 2018 with 130, Robert Woods averaged 17.2 DraftKings Fantasy Points and comprised 14.8% of the Los Angeles offensive attempts over the course of the regular season. I don't see this trend shifting elsewhere as Woods' has proven to be a reliable target for Jared Goff against a Panthers defense that ranked right in the middle of the pack in passing yards allowed (3,847).
With a price tag that doesn't break the bank, will probably have lower ownership, a moderate upside and high floor, Woods is a rather subtle anchor to both Cash Game and GPP lineups alike. I also can't imagine the Rams abusing the legs of Gurley this early on either, which would mean some potentially more ball distribution to the number one target on the entire offense.
This one is somewhat of an easy place given the circumstances just mentioned. I plan to be over the field on this modest gem, and I doubt it will be difficult to do so.
Other Cash Considerations
• Mike Evans (TB, $7,900)
• Tyler Lockett (SEA, $6,000)
• Alshon Jeffery (PHI, $5,900)
• Sterling Shepard (NYG, $5,000)
Other GPP Considerations
• Calvin Ridley (ATL, $5,100)
• DeSean Jackson (PHI, $4,500)
• Chris Godwin (TB, $6,200)
• Dede Westbrook (JAC, $4,800)
LONG-SHOT GPP
• Curtis Samuel (CAR, $4,200)
• Albert Wilson (MIA, $3,900)
• Michael Gallup (DAL, $4,300)
Tight End
Hunter Henry (LAC, $3,900)
Consideration: GPP (All Entry Levels)
With much promise behind this kid entering this season after missing all of 2018, Hunter Henry can finally shine now that Antonio Gates has parted ways with Philip Rivers, who he used to throw a large share to over the course of his career even long past the prime days.
Hunter Henry has plenty to prove about his health going forward following his ACL injury at the end of 2018. But with a very minimal number of trustworthy ball-handlers and targets for Philip Rivers to distribute the offense with, along with Rivers' being notorious for favoring the tight end, I would consider Henry to be a high-upside play here.
I only list this for GPP as it is still somewhat of a risky play considering we don't know how shaky Henry is in coming back from such an injury. But when the promise is high, and ownership low, I'm typically too curious to stay away.
Evan Engram (NYG, $4,800)
Consideration: Cash Games
With Odell Beckham now in Cleveland, the targets have to go somewhere and Evan Engram has proven to be a safety net for Eli in the past and should see an increased target share this season.
Until Golden Tate returns from suspension, Engram should factor as factor into one of the three top targets alongside Saquon Barkley and Sterling Shepard. In a divisional grind with the Dallas Cowboys on the road, I believe Engram should be able to comfortably pay off his salary tag and potentially a decent amount more.
I consider Engram a Cash Game only play because I'm not so sure of his ceiling here, but have no hesitation in believing he'll end up easily being able to afford the tag with DKFP production.
Other Cash Considerations
• Delanie Walker (TEN, $3,500)
• Austin Hooper (ATL, $3,200)
• Zach Ertz (PHI, $6,100)
Other GPP Considerations
• Jack Doyle (IND, $3,400)
• Mark Andrews (BAL, $3,000)
LONG-SHOT GPP
• Dallas Goedert (PHI, $2,900)
• T.J. Hockenson (DET, $3,100)
Get A Free Entry To DraftKings Millionaire Maker Promo Code SGP
Defense/Special Teams
Cash Consideration
• Ravens (BAL, $3,800)
• Eagles (PHI, $3,600)
GPP Consideration
• Browns (CLE, $3,400)
• Cardinals (ARI, $2,700)
LONG-SHOT GPP
• Buccaneers (TB, $2,200)