After a rare week off last week, the UFC is about to embark on 11-straight weeks of shows, spread over five continents and 10 different countries. It kicks off this Saturday in Shenzhen, China, where the bloody warrior pictured above, Jessica Andrade, will make her first defense of the UFC Women's Strawweight Championship. Yes, a UFC title fight that doesn't require you to fork out dough for a pay-per-view. Life is good.
The big story for this event isn't so much the champ Andrade, but rather her opponent, the rather unheralded Weili Zhang. "Magnum" has run off 19-straight wins (three in the UFC) since dropping her pro debut six years ago, but that isn't the big story here either. Rather, it's the fact that Zhang will be competing in her native China, and will be looking to become the first UFC champion from Asia. Considering the UFC is pushing hard in their expansion into the country, you have to think they are secretly rooting for the challenger to be successful.
The bookies gives her a pretty good shot at it, too, listing Zhang at around +170 (Andrade is at -160). Many think she could actually pull it off – as mentioned, she's fighting at home, so way less travel stress than the Brazilian champ. Plus she's got a size advantage on the Andrade, who was actually getting pieced up in her last fight against former champ Rose Namajunas before she hit a title winning KO slam.
The rest of the card is pretty so-so – you can check out all the info for it right here. As is often the case with Asian UFC cards that start in the middle of the night in North America (this one starts at 3:00 am Eastern on Saturday), it is mostly filled with debuting fighters and/or fighters with not much name recognition. So it makes it difficult to find too many matchups worth betting on.
With that being said, here's a couple we feel pretty good about.
Derrick Krantz (+104) vs Kenan Song
It took him 11 years and 33 fights, but Derrick Krantz finally made it to the UFC. Unfortunately, Krantz was given killer Vicente Luque in his octagon debut, which he lost. But the good news is it makes Krantz a live underdog heading into this fight with Kenan Song. Look for the former Legacy FC and LFC Welterweight Champion to take Song down and pound out a win.
Damir Ismagulov (-181) vs Thiago Moises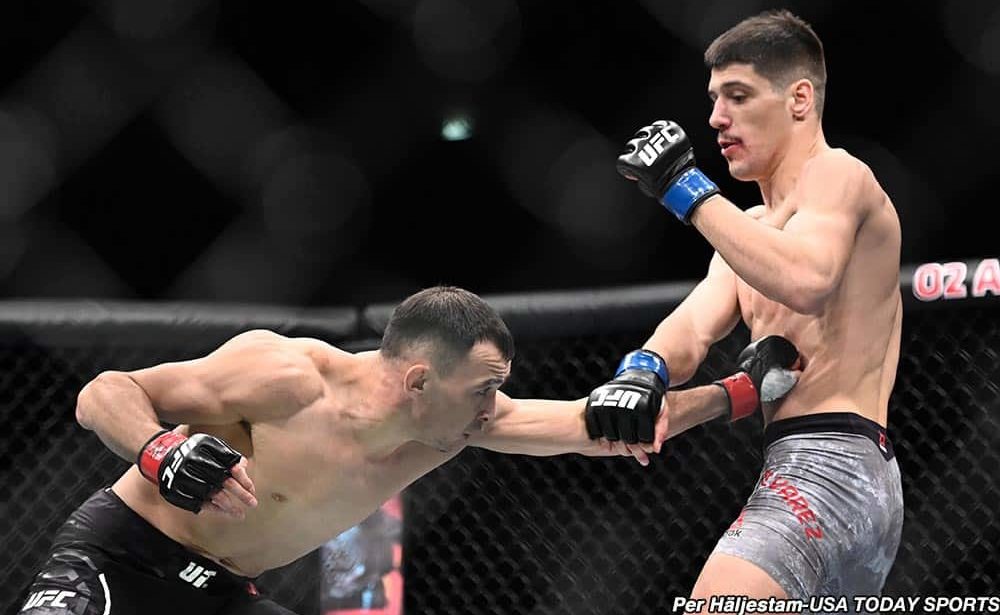 Lots to like here in Damir Ismagulov's matchup with Thiago Moises. Racking up 13-straight wins (2-0 in the UFC) is a good place to start, as is his four-inch reach advantage over Moises. The Russian should be able to take his Brazilian opponent down at will, fight off any submission attempts, and make it 14 straight Ws.
Overall Results for This Column
Record: 11-12
Earnings (based on $100 bet per): ($200.33)
Return on Investment: N/A