Gameweek 1 Predictions
Liverpool 3-0 Norwich
West Ham 1-2 Manchester City
Bournemouth 3-1 Sheffield.Utd
Burnley 1-1 Southampton
Crystal Palace 1-2 Everton
Watford 2-0 Brighton
Tottenham 2-0 Aston Villa
Newcastle 1-2 Arsenal
Leicester 2-1 Wolves
Manchester United 1-1 Chelsea
Summary
Tough starts for all the newly promoted sides, who all begin their campaigns on the road. Unlike Norwich and Villa, Sheffield United avoid a top 6 club. However, Bournemouth are an established Premiership team who should have more than enough to get past a Sheffield United team, who have done very little business in the transfer window. I fully expect them to go straight back down.
Arsenal begin their season at Newcastle, a team who's supporters are more fed up of their owner than ever, and tipped by many experts to go down. Meanwhile, Arsenal's main-man, Aubameyang, has been on fire during pre-season. I like him as fantasy pick, who is being largely ignored by most, with most preferring to opt for Kane or Aguero as their main striker.
Leicester, Wolves and Everton are all considered as equal challengers for 7th spot. However, I think Wolves' lack of signings – coupled with their Europa League commitments – will see them regress this season. Wolves are playing a Europa League qualifier as I compile this piece, therefore, I give Leicester a significant edge on Sunday. The likes of Schmeichel, Chilwell, Pereira, Maddison, Tielemans and Vardy, would all see significant game time playing for most of the clubs challenging for the Champions League spots.
Game of the Week: Manchester United vs Chelsea
Despite spending over £150m and selling Romelu Lukaku, United fans won't be overly pleased with a transfer window that promised much more.
While the defence looks far better, United will need much more from their current attacking players, if they want to return to the top 4. The likes of Rashford, Martial, Pogba and Lingard have all delivered in patches, but remain largely inconsistent, while Alexis Sanchez- the highest paid player at the club- has delivered nothing at all. Ole Solskjaer can't afford to start with a defeat after only winning 1 of his last 9 games in charge.
In contrast to the United Manager, Frank Lampard is under very little pressure, with many considering this season to be somewhat of a free-hit for the new Chelsea Manager and legend. With no transfers in, due to a transfer-ban, Lampard has to work with what he has. However, what he has, consists of a bunch of experienced winners, mixed in with a bunch of talented youngsters- dying for their chance.
With Eden Hazard sold to Real Madrid, Chelsea will be reliant on Christian Pulisic to hit the ground running, while English talents such as, Barkley, Abraham, Mount, Hudson-Odoi and Loftus-Cheek are likely to see far more minutes than they would have, had Chelsea been active in the window. A look at the combined XI shows you that Chelsea are unquestionably still going to be solid top 6 contenders this season: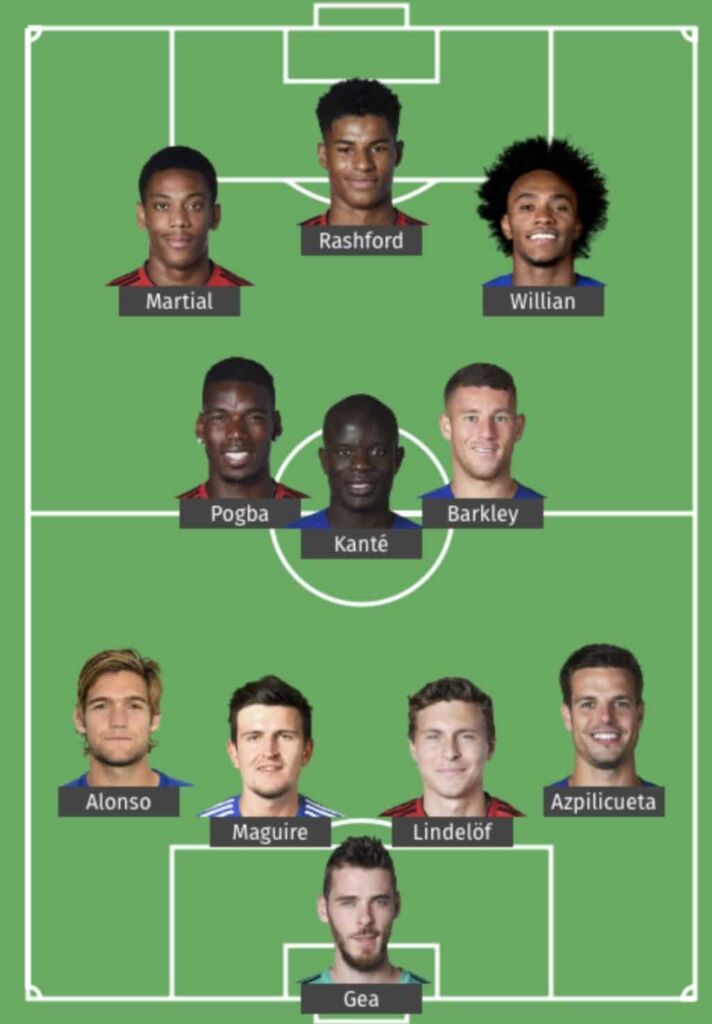 Prediction 
While the combined XI gives United a slight edge- coupled with the edge of playing at home- I think they will run into a highly motivated Chelsea team, who will be more than happy to go to Old Trafford and take a point. While Manchester United remained unbeaten in pre-season, their last two matches gave me more concerns than positives. They needed a 90th minute winner to beat Kristiansund- a team they should've beaten by 5 or 6- despite having their stars on the pitch for a large part of the game. Meanwhile, their 2-2 draw with Milan, saw Milan dominate the ball- despite being two weeks behind United in terms of pre-season training. Whilst I don't think United will lose here, I'm reluctant to bet on them, until I see a vast improvement in form- mainly from their front 4.
Manchester United 1 Chelsea 1