When filling out a DraftKings lineup (use promo code SGP), picking among the favorites is a fairly safe proposition. It's when you have to choose between a pool of golfers down the line is where you make or break your chance to win big.
Here's the critical decisions you'll face as you fill out your lineup for the 2019 Open Championship (values courtesy of DraftKings).
READ ALSO
2019 Open Championship Preview, Betting Strategies, and Overview of Royal Portrush
Predicting The Open Contenders By Analyzing Last 5 Winners & Leaderboards
The Weather Report
Of any tournament, the Open Championship is by far the most important one to consult a weather forecast before one fills out a DraftKings lineup. With the major contested on seaside venues, the weather can be quite severe and unpredictable at any given moment. Many times half the field can be wiped out before a shot has even been hit because poor wind conditions create a disadvantage for those unfortunate enough to be caught in it. This played a big role at the 2014 Open Championship, as players with Thursday AM/Friday PM tee times had much worse weather conditions than those who played in a Thursday PM/Friday AM slot.
Yesterday I took a first glimpse at the weather forecast with a disclaimer that it could change in an instant, and boy was I right on that one…
Thursday Daily Forecast (per the MET)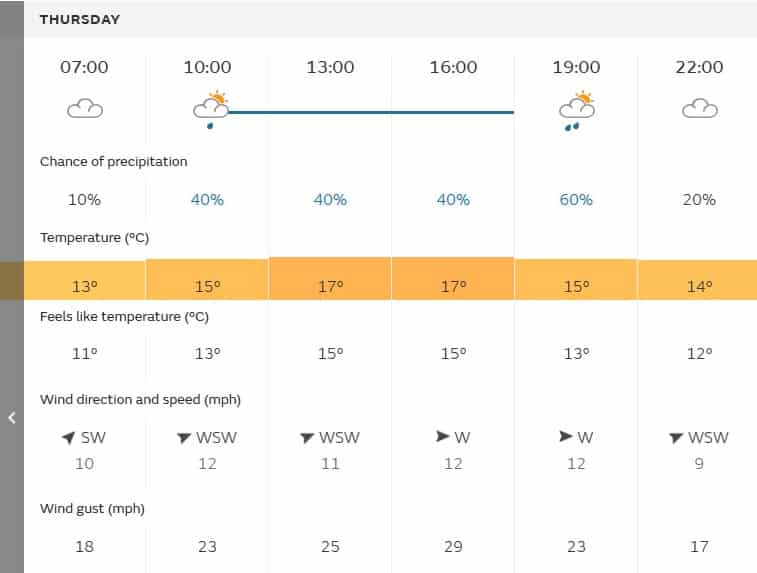 Friday Daily Forecast
The Friday forecast hasn't changed all that much from yesterday, with relatively consistent sustained winds for anyone holding a morning and afternoon tee time, with gusts gradually increasing throughout the day and coinflip's chance of showers. There's a slight advantage for anyone going off in the morning, but it's not all that significant.
Thursday, however, is now a completely different story. The Thursday forecast from yesterday looked like it could produce the best scoring conditions of the tournament, but now it might have the toughest. Sustained winds are expected to creep into the double digits with gusts up to 30 MPH by the mid afternoon.
If this forecast holds, anyone who has an afternoon tee time is pretty much screwed. While some of the better players who tee off around 3:30 local time may see winds lay down a bit by the time they reach the closing holes of the Back Nine, those players are going to really be behind the eight ball to begin their tournament.
This is probably going to make a lot of experts advise readers to roster as many golfers holding Thursday AM/Friday PM tee times as possible. But here's the problem with this strategy – almost every single golfer with a DraftKings value above $8,000 doesn't tee off until after 9:30 AM. If you look at the hourly forecast above, by 9 or 10 AM the wind gusts are already well above 20 MPH. At that point there really isn't a whole lot of difference between a wind gust of 23 MPH (gusts at 10 AM) and one at 29 MPH (gusts at 4 PM). It's going to be an inconvenience nuisance for everyone.
The guys who are going to benefit the most are those who go off first thing on Thursday. Their rounds will wrap up around 11:30 or noon local time, and while the winds will still be gusty throughout the round for them they'll enjoy more holes in "better" conditions than the rest of the field.
As to how to apply this to the "studs" in DFS this week, as long as this forecast remains in tact I would only slightly lean towards those going off in the morning in hopes that the winds don't come up until later on in the AM. However, it's still more important to roster "studs" based on recent form, course fits, etc. Once the players with AM tee times get more than a few holes on their scorecards, conditions will play the same for everyone. I wouldn't go so far as to pick a "stud" I don't like over someone I do just because of an earlier tee time. The tournament is still four rounds, and if a player can simply survive Thursday there are plenty of opportunities to rise up the leaderboard.
Where a contestant can gain an edge is to make sure they load up the back end of their roster with players with favorable tee times between 7:00 AM and 9:00 AM. There are plenty of golfers in these slots that are very appealing in DFS this week, so finding suitable candidates won't be too difficult of a task.
Here's who I like this week down the card, with Thursday/Friday tee times in parenthesis:
Golfers Valued $8,000-$8,900
Jordan Spieth – $8,900 (1:26 PM/8:25 AM)
Adam Scott – $8,800 (9:58 AM/2:59 PM)
Matt Kuchar – $8,700 (3:21 PM/10:20 AM)
Jason Day – $8,600 (2:59 PM/9:58 AM)
Hideki Matsuyama – $8,500 (10:20 AM/3:21 PM)
Henrik Stenson – $8,400 (9:14 AM/2:15 PM)
Paul Casey – $8,300 (10:09 AM/3:10 PM)
Gary Woodland – $8,200 (10:09 AM/3:10 PM)
Matt Wallace – $8,100 (3:10 PM/10:09 AM)
Louis Oosthuizen – $8,000 (1:04 PM/8:03 AM)
Everyone in this tier should be facing 20+ MPH wind gusts by the time they tee off, so as long as that forecast holds contestants are better off picking based on form and course fits.
There are four players in this group that I could write the same paragraph about, and that's Adam Scott, Hideki Matsuyama, Henrik Stenson and Paul Casey. All of them come into the tournament in great form with both results on the leaderboard and with their ball-striking, particularly with their iron play and their scrambling. These players are also don't get too loose off the tee and should do a good job avoiding all the trouble off fairways that awaits errant drives. What their hopes will come down to is how they roll the rock on the smooth but undulating greens at Royal Portrush. All of them have putted a little better of late and each have decent histories putting on slower bentgrass/fescue surfaces seen on links courses. If someone wanted to build an entire DFS lineup around all of these players, I certainly wouldn't knock them for it.
Matt Kuchar has the unfortunate situation of the worst possible tee time one can have this week at the Open Championship, but his consistency and small ball style could still fare well in tough scoring conditions. Kuchar does a good job avoiding big numbers on the golf course, where he's 2nd in Bogey Avoidance on the PGA Tour this year. It'll be difficult to hit greens at a high rate on Thursday afternoon, but Kuchar can overcome that with how good of a scrambler and putter he is to keep things afloat on the scorecard. If he can manage to survive on Thursday, then he could be a player who rises up the leaderboard all the way through Sunday.
Golfers Valued $7,500-$7,900
Graeme McDowell – $7,900 (9:14 AM/2:15 PM)
Shane Lowry – $7,900 (7:52 AM/12:53 PM)
Sergio Garcia – $7,800 (8:14 AM/1:15 PM)
Tony Finau – $7,800 (2:48 PM/9:47 AM)
Marc Leishman – $7,700 (1:26 PM/8:25 AM)
Ian Poulter – $7,700 (9:03 AM/2:04 PM)
Matthew Fitzpatrick – $7,600 (7:30 AM/12:31 PM)
Eddie Pepperell – $7,600 (7:41 AM/12:42 PM)
Webb Simpson – $7,600 (8:14 AM/1:15 PM)
Phil Mickelson – $7,500 (7:52 AM/12:53 PM)
Rafa Cabrera Bello – $7,500 (7:41 AM/12:42 PM)
Danny Willett – $7,500 (1:26 PM/8:25 AM)
While he's cooled off a touch over his last few tournaments, Shane Lowry has played some of his best golf over the last few months. His ball striking performances both on the PGA Tour and the European Tour has been strong, and his putter has been pretty hot going all the way back to the RBC Heritage at Harbour Town. Lowry holds an early enough tee time to help him avoid the big winds on Thursday for a significant portion of his round. He could get off to a fast start and has the chops to hang around the top of the leaderboard deep into Sunday.
Save for a bad ball-striking performance at the Andalucia Masters in Spain, Matthew Fitzpatrick has hit the rock great both on the PGA Tour and the European Tour this year. What held him back from truly breaking through on the PGA Tour was his putting, which was uncharacteristically sub-par during the early portion of the year. But since coming back over to Europe he's putted a little better, and that's shown on the leaderboard with a 2nd place finish at the BMW Championship and a T14 at last week's Scottish Open. If that's working for him at Royal Portrush, it should pair well with an early Thursday tee-time and how straight and consistent he hits it tee-to-green.
I love Webb Simpson this week, and he checks pretty much every box of a contender I'm looking for at Royal Portrush this week. Straight and consistent hitter tee-to-green – check. Good scrambler and putter – check. Great form coming into Royal Portrush – check. Early Thursday AM tee time to avoid the biggest winds of the day – check. I suspect I won't be alone in my admiration of him in DFS this week, but I won't shy away from him just because of a popular ownership.
There's not many golfers hotter in the field than Rafa Cabrera Bello is at the moment. Bello was really struggling on the PGA Tour with his ball-striking, but ever since returning to Europe he's had three straight Top 10 finishes. Everything is clicking for him right now – he's hitting a lot of fairways, he's hitting greens in regulations at a high rate and his putter is on fire right now. I'm a little concerned with some of the buzz he's receiving as a sleeper, as the 125/1 price I grabbed on him a few weeks ago to win The Open has been cut in half by the books. I'm also not sure if his recent good play around the greens is sustainable, as historically he's struggled in that department. Still, his form right now is tremendous and he holds an early tee-time on Thursday. Here's hoping the ride doesn't come to a screeching halt at Royal Portrush.
Bottom of the Barrel (Golfers <$7,500)
Russell Knox – $7,100 (9:25 AM/2:26 PM): Knox has a favorable tee time for his opening round and has been proficient both tee-to-green and on the greens over the last few months. On the PGA Tour he's gained over 0.7 strokes per round tee-to-green on the field over his last five ShotLink measured tournaments. In his last two European Tour events leading up to the Open he's had a little trouble off the tee, but his ball-striking with his approach shots remained good and suggests he's still in good form.
Jim Furyk – $7,100 (10:31 AM/3:32 PM): Furyk doesn't hold the best tee time on Thursday, but his consistency and his short game is good enough to overcome adverse conditions throughout his round. Like Kuchar, he does a great job limiting big numbers on the scorecard with how accurate he flights the ball, and both his putting and his ability around the greens are firing on all cylinders over his last few tournaments. He's a relatively safe cheap option for one of the final spots on a DFS lineup.
Mike Lorenzo-Vera – $7,000 (8:03 AM/1:04 PM): Lorenzo-Vera is a largely unknown commodity to United States golf fans, but he's on quite a heater over his last few months. Lorenzo-Vera hasn't missed a cut since the Omega Dubai Classic in January, and over that stretch he's amassed four Top 10 finishes and another four Top 30 finishes in 10. He's not doing these in poorly fielded European Tour events either, as he has great finishes at the PGA Championship, the Irish Open and the Saudi Open (two star studded European Tour fields). Vera's ball-striking and putting is on a roll right now, and with a favorable tee time he could join Jean Van de Velde and Victor Dubuisson as the next great Frenchman at the Open.
Andy Sullivan – $7,000 (6:57 AM/11:58 AM): It wasn't too long ago that Andy Sullivan was considered the next top young Englishman, and he was a member of the 2016 Ryder Cup team. Since then, his career has been derailed a bit thanks in part to a very messy and public breakup with his childhood sweetheart and a big slump in his play. In 2019, he seems to have recaptured a lot of the magic, as he hasn't missed a cut since the British Masters in May and has four Top 30 finishes in his last five starts. With a favorable tee time, he could once again make noise this week at Royal Portrush.
Brian Harman – $6,700 (2:37 PM/9:36 AM): Brian Harman likely won't pop on anyone's model this week due to his very poor play for the majority of 2019. But I'm including him here because he's a late add to the field due to the withdrawal of Charles Howell III, and it seems like he's turned a corner with his play and comes into the Open hot. Over his last six tournaments Harman has gained over a stroke on the field per round tee-to-green, and slowly but surely he's been able to put it all together for some very solid finishes on the leaderboard. At his best, Harman is a consistent player who won't make many mistakes on the golf course, and he could be a very under the radar contrarian play in a DFS lineup.
Others to Consider – Chez Reavie ($7,100, 1:48 PM/8:47 AM), Adam Hadwin ($6,900 1:37 PM/8:36 AM), Joaquin Niemann ($6,900 11:36 AM/6:35 AM), Joost Luiten ($6,800, 2:15 PM/9:14 AM), Kyle Stanley ($6,700, 8:36 AM/1:37 PM), Justin Harding ($6,400, 1:48 PM/8:47 AM)
READ ALSO
2019 Open Championship Preview, Betting Strategies, and Overview of Royal Portrush
Predicting The Open Contenders By Analyzing Last 5 Winners & Leaderboards