Risers
Emilio Pagan, TB, RP
With the Rays not committed to using only one guy as the closer, it's tough to know who will get the save opportunity on any given night.
Pagan is the closest thing the Rays have to a closer. He has five saves and has been easily been their most effective pitcher: posting a 1.75 ERA, 0.83 WHIP, and 47 punchouts in 36 innings.
He remains owned in less than 50% across all the three big leagues (42% in CBS leagues, 40% in Yahoo leagues, and 11% in CBS leagues).
Pagan has elite closer stuff, striking out 36.4% of batters faced while walking only 6.6%. His Hard% is also low, checking at 32.5%.
With the Rays continuing to win games and stick around in the playoff race, there will be lots of opportunities to close out wins.
Jose Alvarez, who leads the team with seven saves, will be sidelined for at least a few weeks with an oblique strain. Grab Pagan now and plug him in. If nothing else he will help your ratios and chip in a save or two every week.
READ ALSO
Top MLB Value Plays To Win World Series For The Second Half of Season
Jesus Aguilar, 1B, MIL
Aguilar has had a rough season in 2019. After exploding on to the scene by blasting 35 home runs with a .274 batting average, Aguilar has disappointed greatly with only eight home runs and a .233 average.
He has lost playing time as the contending Brewers can't afford to trot out players that don't produce. But there are signs that Aguilar is putting it together.
Aguilar is walking more (12.9 BB% from 10.2% last year) and striking out less than last year (K% down to 22.7% from 25.3%). His BABIP is on the low-end of his expected range out of outcomes, considering he has a 39% Hard%. He is due for a few more balls to bounce in for hits going forward. Aguilar has also hit three of his eight home runs in July.
He may not be the player he was last year, but I am predicting he bats around .270 with 15 bombs in the second half. In deeper leagues he is worth a flyer. Catch him now while his value is almost non-existent.
Fallers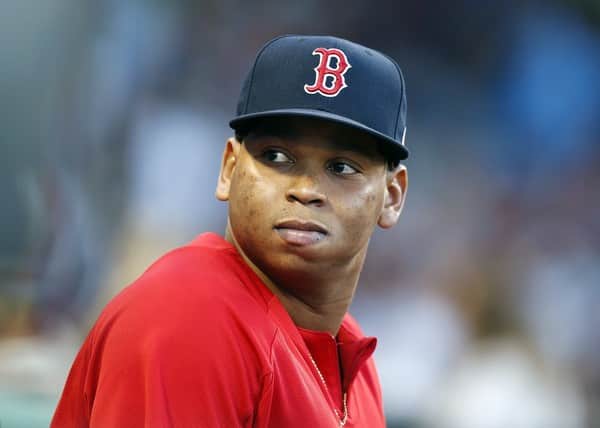 Rafael Devers, 3B, BOS
Devers has had a monster first half: batting .357, blasting 17 home runs and stealing eight bags. The 22-year-old has always had a bit of a power but the stolen bases have come out of nowhere.
I personally love Devers as a player, but in fantasy baseball you have to set aside your emotions. The fact is that what Devers is doing is not sustainable and the underlying stats say to sell high.
Devers has a Batting Average on Balls in Play (BABIP) of .357, an extremely lucky number especially considering his Hard% is only 36.7%. The Hard% is not especially low but suggests a BABIP more in the neighborhood of .315. This would put his batting average a lot closer to his career norm of .279
As for the stolen bases, I'm not buying the sudden change. He has eight stolen bases in 13 attempts. Last season he had five in seven attempts. Devers is by most evaluations a slow runner. This is nothing more than a fluke.
Looking at the unusual combination of power, speed, and average he has shown at third base, it may be tough to sell. But right now is exactly the moment to do so. The average will fall and the stolen bases will be few and far in between in the second half.