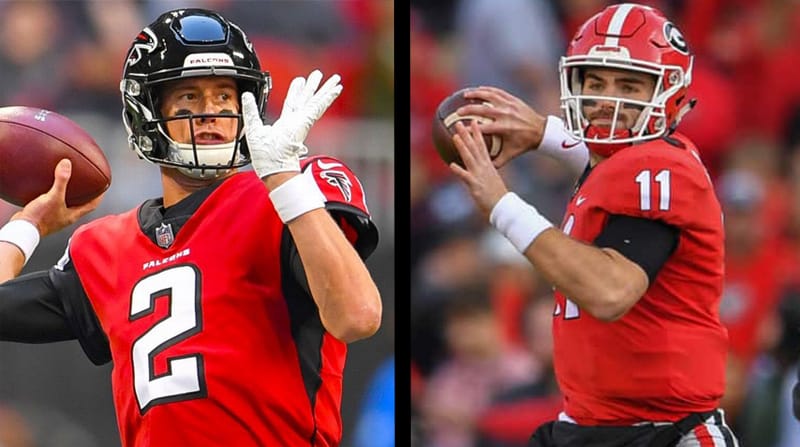 CG Technology recently rolled out odds on Cross- Football Win totals. The idea is to matchup college football teams with NFL teams and bet which team will have more wins in the regular season.
Another unique offering for football season at CG books.

Season wins NCAA vs NFL.

Which one do you think is the best play?@Covers_Vegas @DavidPurdum @MeltzVegas @AlexKoIodziej @TheTomCasale @BertlOsbornejr2 @MicahRoberts7 @GamingTodayNews pic.twitter.com/08pBH6Z7Fq

— Sportsbook Consigliere (@SportsbkConsig) June 27, 2019
In most cases, the NFL team would have a huge advantage because they play more games, but I found a few matchups I would lean the other way. Below are the win totals that peaked my interest.
1. Atlanta Falcons +2 wins over Georgia Bulldogs
The Falcons were wrecked with injuries early and often last season. Running back Devonta Freeman missed 14 games and is one of the better backs in football when healthy.
On defense, Deon Jones played in only six games and safety Keanu Neal missed 15 games. With Freeman back in the lineup, and Julio Jones and Calvin Ridley on the perimeter, Atlanta is a potential playoff team.
The Bulldogs have the talent to play for a National Championship. Quarterback Jake Fromm is back for his junior year and will soon be a first-round draft pick. At tailback, the Bulldogs have D'Andre Swift who may be the best running back in the country.
Georgia should have a great season, but may have to go undefeated in the SEC to finish with two or more wins than the Falcons.
Best Bet: Falcons +2
2. Oakland Raiders -1.5 wins over UNLV Running Rebels
I like the additions that Jon Gruden made this year trading for Antonio Brown and signing receiver Tyrell Williams in free agency. Derek Carr should feel more comfortable in the offense and has a talented back in Josh Jacobs who should improve the running game.
The Raiders roster overall is much improved from last season.
UNLV should be improved, but their schedule is brutal with non-conference games against Northwestern and Vanderbilt. Quarterback Armani Rodgers is a great athlete who is deadly in the open field but struggles throwing the football. The Rebel defense can't get much worse after giving up 39 points per game last year.
Looking at the schedule, it will be a challenge for the Rebels to get to 5 wins.
Best Bet: Raiders -1.5
3. San Francisco 49ers -.5 wins over USC Trojans
Kyle Shanahan will have his franchise quarterback Jimmy Garoppolo back under center after an ACL injury last season. The Niners are 6-2 in games that he has started over the past two seasons.
San Francisco improved themselves at the skill positions with the signing of free agent running back Tevin Coleman from Atlanta and drafting wide receiver Deebo Samuel from South Carolina. They both will be quality additions to an offense that lacked explosive plays last season.
USC head coach Clay Helton is firmly on the hot seat heading into the 2019 season. The Trojans finished 5-7 a year ago and things need to change in a hurry for Helton to survive.
Helton brought in Graham Harrell as offensive coordinator, who specializes in the Air Raid attack. It will be interesting to see how quickly sophomore JT Daniels grasps the new offensive system. However, I'm still not sold on the idea that Clay Helton is the answer at USC.
Best Bet: 49ers -.5
4. Ohio State Buckeyes -.5 wins over Cleveland Browns
Ryan Day begins his first season as the head coach at Ohio State with ton of talent on his roster. Justin Fields takes over at quarterback for Dwayne Haskins. Fields transferred from Georgia and seems to be the perfect fit in Ryan Day's offense. J.K. Dobbins is back after rushing for over 1,000 yards and 10 touchdowns.
A lot of things have changed in Cleveland over the past year. The franchise has gone from a laughing stock to the favorites to win the AFC North and a possible Super Bowl contender.
The Browns signed Kareem Hunt and traded for star wide receiver Odell Beckham Jr. Baker Mayfield has all the pieces are in place to have a MVP type season. If there's one concern, it's Freddie Kitchens. The first-year head coach has a lot of different personalities to manage.
I think Ohio State gets to at least 11 wins, but I'm not as confident that the Browns can reach double digit wins in Kitchens first season.
Best Bet: Buckeyes -.5
5. Florida Gators -1 wins over Jacksonville Jaguars
Dan Mullen's first season at Florida was a success with 10 wins and a bowl win over Michigan. Expectations are high again in Gainesville and Gator Nation is hoping for even more success in year two.
Florida has weapons at receiver, but the key will be if Felipe Franks can continue to grow into an elite quarterback. He shows flashes but needs to be much more consistent. The defense should again be near the top in the SEC with future pro's at cornerback in Marco Wilson and CJ Henderson.
The Blake Bortles era in Jacksonville ended with a thud last season. The front offense had no choice but to upgrade at the position by bringing in Super Bowl MVP Nick Foles.
There are questions at WR and someone will need to step up to help Leonard Fournette in the running game. The defense will again be a dominant unit, but they will miss the leadership and playmaking ability of linebacker Telvin Smith, who will miss the upcoming season.
The AFC South will be the most competitive division in football which will prevent the Jags from matching Florida's win total.
Best Bet: Gators -1