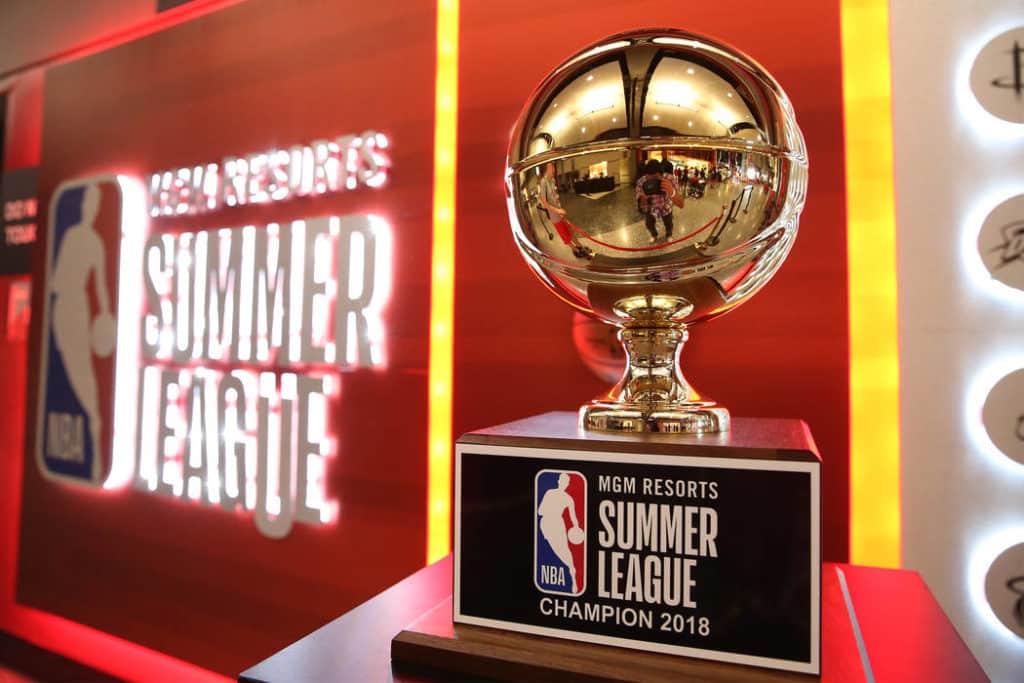 Welcome to the NBA Summer League, fellow Degens! While the wagering on the actual games themselves is as good a guess as anyone's considering the dynamic range of talent coming out of different directions, the Daily Fantasy side of things makes for a very interesting and entertaining product (only on DraftKings so far).
The angle of play that Daily Fantasy for NBA Summer League requires to be successful doesn't involve chasing the next player in line on the depth chart like you may in Preseason NFL DFS, and not necessarily spending your entire salary either.
NBA Summer League play features more than a fair share of its recency biases in that players are given opportunities to see if their style transitions as a fit to the NBA…or doesn't. If players squander opportunity, it's often without hesitation that another potential diamond-in-the-rough steps up to take his place.
READ ALSO
Pros and Cons of Gambling on NBA Summer League Games
Making a Name, Or Already Having One
There are the stud players like Zion Williamson who are essentially guaranteed starting roles and will go out to do their own thing, demonstrating reminders of their talents without trying to hurt themselves in the process. Why? Because there's no point in killing your chance at seasonal playing time from getting injured in the Summer League.
A perfect example of this, two years ago Lonzo Ball injured his calf and missed the Summer League Finals, giving scare for his health for the regular season. On the flipside, Kyle Kuzma made a name for himself during this same Summer League and has been a Lakers household name since.
The point being we pretty much knew that Lonzo Ball would be a starter while Kyle Kuzma was certainly not a sure thing heading into Summer League. You'll want to see talent that's efficient on the floor, demanding usage, and in turn gaining trust from most coaches. As mentioned, recency bias becomes relevant here and you may be surprised to find who winds up garnering the majority of minutes down the stretch toward the Summer League title.
Riding The Hot Hands
Upon breaking down the depth chart of each Summer League roster, you'll notice that while there is a vast majority of up-and-coming players who have no greater than two years of professional experience in the league, there are a handful who are veterans that are either trying to prove themselves elsewhere or vying for minutes on their current roster against new-bloods chomping at the bit.
With that said, I would start by rostering around some of the second-year talent recognized by their minutes from last year's Summer League, along with any garbage-time minutes played toward the end of the NBA regular season during blowout run featuring bench reserves. In most case scenarios the Jimmer Fredettes out there have already been picked up and cut, with very little trust to be sought from most coaches remaining in the league.
You're going to find the minutes in players like Romeo Langford and Tremont Waters over the washed up vets (just as an example). Without having much knowledge of the coaches' considerations for minute distribution in these opening games, seeking to build lineups around those starting points should bode with a better chance than simply trying to go after old name recognition.
READ ALSO
Pros and Cons of Gambling on NBA Summer League Games