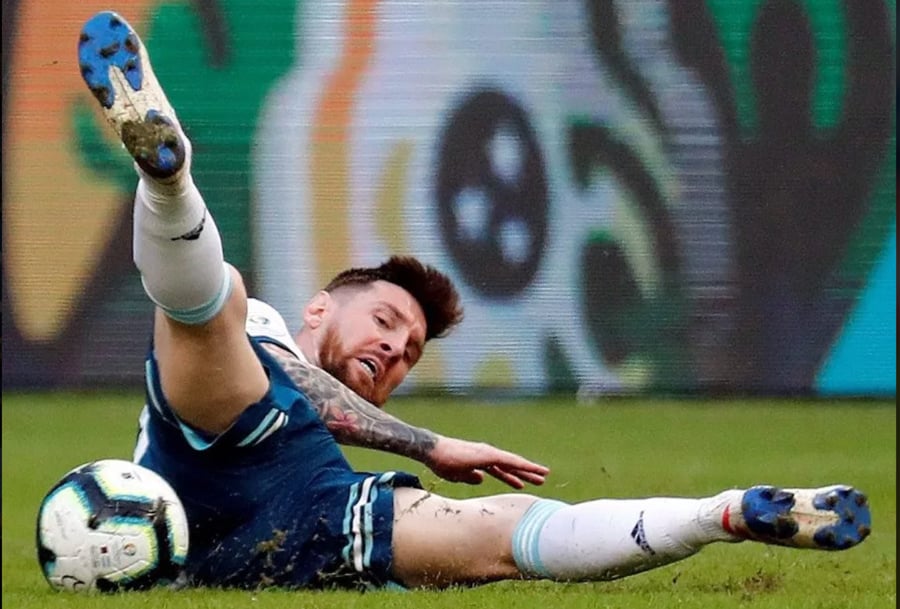 The Copa America group stages, in its 46th edition, have come to a finish. We started with 12, and I can't say too much has been learned in the lead-up to the final 8.
The two invited teams, Japan and Qatar, were eliminated as I expected. The two CONMEBOL teams getting knocked-0out didn't come as a surprise either with Bolivia and an undetermined-and-uninterested Ecuadorian side seeing elimination in the group stages.
We have some mouthwatering fixtures ahead of us kicking back off on Thursday, June 27th.
Brazil vs. Paraguay
The host finally broke out as expected in their final group stage match vs. Peru. When you look at the eight goals scored in three matches, you would think Brazil has been running like the well-oiled machine they are accustomed to being. But the first match against Bolivia saw a somewhat confused and uncomfortable Brazilian team who needed the first 45 minutes to settle in before opening things up in the 2nd half.
In the second group match, the host was able to dominate possession( 71%) while bolstering 17 shots, but none we able to beat Venezuela's keeper earning them a 0-0 draw. The Breakout game vs. an unorganized Peruvian team who waved the white flag in the 2nd half is precisely what the Samba Boys needed before the knockout stages. The changes in tactics and the inclusion of Everton proved to see them play more fluidly, and I expect them to use a similar starting 11 as they did in the 5-0 dismantling of Peru.
Paraguay crawls into the QF stage with a -1 goal differential in their first three matches but was able to pull off two draws sneaking in with 2 points. The side lacks speed and talent in many areas and heavily rely on Miguel Almiron's individual ability to create offense. The problem with that is he is the only one on the squad with true breakaway speed, and at times you see his teammates trail the play leaving him to create on his own or having to wait for them to get in position.
For Paraguay to have a chance in this match, they'll have to minimize the space for Brazil while capitalizing on the few opportunities they have while giving up the majority of possession. One thing working in their favor is recent history H2H, where they have four draws in their last five encounters eliminating Brazil twice in this exact stage of the tournament in two of the previous three Copa Americas.

Venezuela vs. Argentina 
One big question coming into CA 2019: Is Argentina, the giant they've always been?
The one thing I see is they aren't the feared side they were of the past. A team that heavily relies upon Lionel Messi for everything, we see them play better with #10 rather than playing for him.
A change of formation against Qatar saw the Argentine team have more threat going forward, but it was the early mistake by Qatar that opened the scoreline for the South Americans, leaving me to question why the second goal didn't come until the 82nd minute. The 2019 AFC Asian Cup champions had many chances to score as well but came up blank which alarms me with Argentina going forward.
These two faced off in a friendly back in March where Venezuela was able to win 3-1. Yes, a friendly, but the tactical approach is something to keep an eye on. In Venezuela's 2nd group stage match, we mentioned Brazil dominated the ball seeing over 70% possession but still left with a draw. In the match vs. Argentina, they gave up 66% possession while allowing 11 shots to their 7, yet they won the game 3-1.
A 4-5-1 formation is what they used back in March, packing the midfield with talent allowing them to stay back and absorb pressure but still allowing them to counter out of the back with possession. We know Venezuela likes to use the long ball to get the offense in the final third but against a team like Argentina holding the ball in moments will be critical. The Albicelestes looked vulnerable while getting back at times vs. Qatar, which could lead to problems vs. a talented CONMEBOL opponent.

Colombia vs. Chile
Arguably the most impressive team in the group stages, the Colombian national team comes in with confidence at an all-time high. Their first match saw them stifle Argentina keeping a clean sheet, something they've done in six of their overall last seven games. Against Qatar the 1-0 victory was a let down as they could easily have netted 3-4 throughout that match but came up empty on many occasions. Already qualified as group winners going in the last group stage match, the Cafeteros made some tactical changes to the starting 11, but still looked the dominant side before finally pulling ahead in a 1-0 victory.
The 28-year-old Duvan Zapata has quickly become a fan favorite and expects to see him more going forward. Radamel Falcao has been a long time staple in the Colombian attack, but the Atalanta striker has earned his keep and fans are eager to get him in the starting 11. He has now scored in four of Colombia's last six matches.
Chile comes into the quarterfinals after accumulating 6 points in the group stages qualifying second out of group C behind Uruguay. They were impressive in their opening match, thrashing Japan 4-0, followed by a 2-1 win over Ecuador. The game that was a true test was the final group stage match where it could have gone either way before seeing Uruguay's Edinson Cavani breakthrough in the 82nd minute pushing Chile into Friday night's crucial encounter.
The back to back champions have to feel good about their chances after dominating Colombia as of late where they've only tasted defeat once in their last six matches scoring nine times.
Uruguay vs. Peru
15-time Copa America winner Uruguay had a successful group stage and were able to beat Chile to win the group and avoid Colombia in the quarters. We know how serious Óscar Tabárez and his crew take this tournament and they look primed to win this year's Copa. After a slip up vs. Japan, where they still pulled out the draw, Uruguay showed their star power and experience with players like Diego Godin and goal scorer Cavani coming up big when needed.
Many will look at Uruguay's performances in the last year as a whole, but I genuinely believe that this team is in a better moment than when going into the 2018 World Cup. The combination of youth and experience with talent at every position leads me to believe that Uruguay at +450 holds some value.
Peru, on the other hand, looks much worse now than when going into that same World Cup 2018 we referenced. A team full of talent that shows at moments they can play with anyone have failed to show consistency when playing international tournaments. In their first group game, they controlled the match but were unable to put one in the net. They showed up as predicted against a horrible Bolivia, before being destroyed vs. Brazil. Now you have to ask yourself where the mentality of Peru is, do they bounce back here or will the thrashing carry over to a defensive back line and midfield who looked confused in an embarrassing performance? One thing they will have to do is get on the scoreline vs. Uruguay, something they've done in five of the last six head to head matches.
All odds provided by MyBookie.AG
---
UPDATE  555 CST
Gold Cup Haiti Vs Canada FH over 1 5U
Game over 2 5U
Copa America 6.27
Brazil HT/FT 3U
UPDATE 6.29 1121 CST
Parlay 2U
Germany women's ML
Uruguay ML
Mexico ML
LIVE UPDATE 1240 CST
UPDATE 1235
Copa America
Uruguay ML 5U MAX
Uruguay TT over 1.5 5U MAX
UPDATE 132 CST