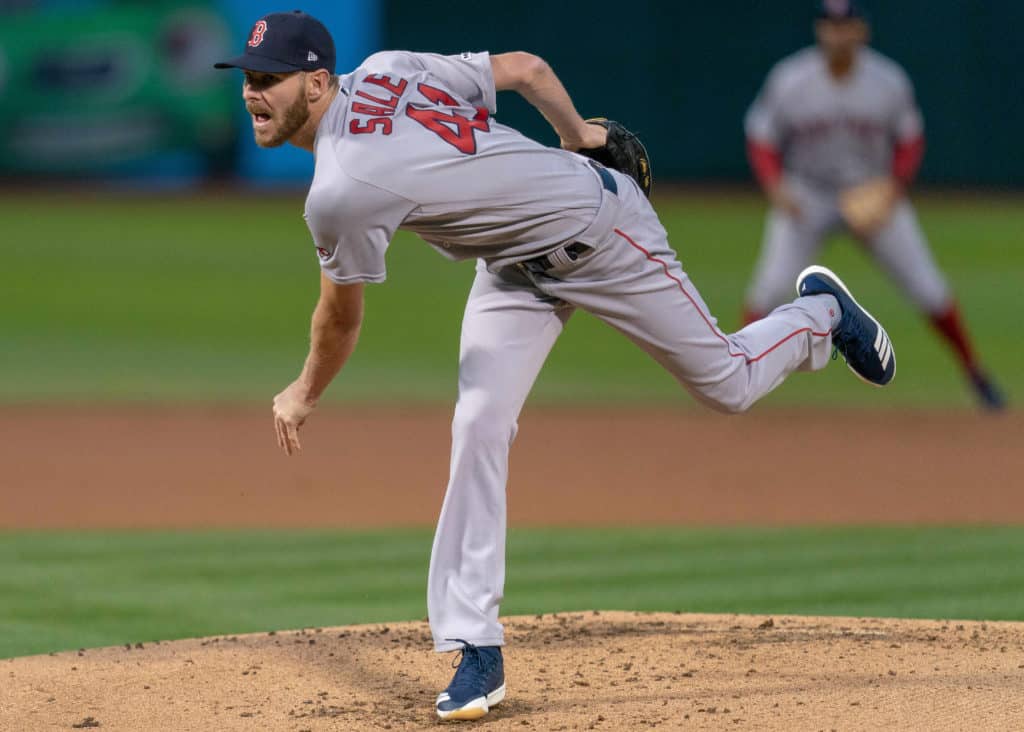 It's finally here! The weekend that is, and there couldn't be a brighter red carpet rolled out for a nerd such as myself like a fifteen-game slate to kickoff the weekend of degeneracy with.
Loaded with excellent pitching to roster and target from top to bottom on this pre- Father's Day Friday, we're then treated to a light early slate on Saturday preceding an eight-game main slate Saturday evening, and an eleven or twelve-game slate as a gift to all the dads out there on Sunday morning (twelve depending on if they choose to include the noontime Padres/Rockies game on Sunday morning).
However, the only thing I enjoy more than rostering stud pitching is targeting it, except the difficult question is always a matter of which of them to target. From Max Scherzer and Robbie Ray in a duel, over to Blake Snell and Giolito each defending season pitching records headed in separate directions at home, there's probably nobody who will be focused on more than Gerrit Cole at home against the Blue Jays.
This type of supposedly no-brainer pitching decision always tends to beg the question: to hedge or not to hedge [stack]? I think with so many good ones today that it will come down to more of an ownership target, so looking toward some bats in great spots would prove to be even more efficient to stack with your favorite of the mid-tier pitching.
Then there's  another chalky guy on Saturday in Chris Sale visiting the Orioles at a home-run-happy Camden Yards. Ah, the great debate between Good Chalk vs. Bad Chalk…
S
eeing Reds
It's a beautiful sight when I'm looking for a pitcher to target and get a sea of red standing out at me in terms of sheer numbers of some talented bats and their opposing pitchers who are glaringly bad overall. Sometimes, just how bad they can be on paper is magnificent to look at and imagine the possibilities stacking against.
On Friday, the Texas Rangers are rolling out Jesse Chavez as an opener and then supposedly left-handed pitcher Drew Smily **crossing fingers** in their series opener with the Cincinnati Reds. And considering this group of Reds bats, the righties in particular against Smily, the stacking possibilities are rather flexible with their multi-position eligibility as well.
Oh yeah, about the numbers!
Smily is posting an obnoxiously bad 8.4 ERA, 7.66 FIP, and a 5.68 SIERA in 45 innings pitched and faces a Reds team who doesn't strike out much at 19.9% (ranked 24th in MLB) and a 9.3% Swinging Strike rate (ranked 27th). Combine that with the fact that Smily has an putridly low 20% strikeout rate and I can only imagine the forecast of runs that could be scored.
I will find myself getting to plenty of three-man and five-man stacks of Cincinnati on all sites here, including Eugenio Suarez, Yasiel Puig, and Jose Peraza, along with a share of power lefties for when relief comes in like Josh VanMeter, Derek Dietrich, and Joey Votto. Whether they'll fly under the public radar is yet to be seen but I'm assuming that with every team to choose from today, it shouldn't be a problem getting leverage if the Reds go off.
Depending on if you play on multiple sites or not, their pricing fluctuates quite a bit between DraftKings and FanDuel, with the steeper of the two being DK. The angle of approach here in regards to leverage could actually be even easier on DraftKings due to the fact that more people will be avoiding their costlier price tags in lieu of one of the other 29 teams to stack on Friday.
Chris Sale: To Chalk Or Not To Chalk?
In most case scenarios, I'll be among the first to advocate to fade all chalk that's especially in spots that are way too good to be true. It's been a theme of the entire MLB 2019 fantasy season to this point, and with so many great options in the mid-tier so often, it's made fading chalk expensive pitching much easier than it had been in the past.
But despite a portion of some rocky spots through his year, Chris Sale has also posted some remarkable outings as well this season, including a 51.5 DraftKings fantasy point night only a couple of games ago against Kansas City on the road. And squaring off against an Orioles team who ranks 27th with a 92 wRC+, 26th in wOBA (.307), and 27th in BABIP (.289), the sky's the limit in terms of fantasy production if he's able to go into later innings against Baltimore who has the third-highest Swinging Strike rate in the league (12.3%). Another combination that goes perfectly in the favor of rostering Sale, who in 2019 is posting a massive 12.81 strikeouts per nine innings as well as a phenomenal 35.4% Strikeout rate. This could only surmount to staggering fantasy totals.
While we don't have pricing for Saturday at this point and time, I can assume that with the other featured pitching in Shane Bieber and Charlie Morton on this slate, it will be more than achievable to exceed public ownership on Sale should you choose to go that route (as I very well will be). And considering some likely-to-be cheap stacking options such as the Blue Jays in Houston against Framber Valdez, or the Giants at home against the Brewers' rookie pitcher Jimmy Nelson, you could even find another spend-up option at pitcher to platoon with Sale.
On the other hand, don't forget what I mentioned earlier about my passion for hedge stacking, and I would still get my share of some Orioles as well just in case your majority investment goes awry for some inopportune reason. This is something I preach for insurance alongside never hitting the lock button with players. Call it weak, but it works differently in DFS compared to standard sports line betting. If your hedge stack hits, you're not capped at breaking even. In fact, you're setup for very much the opposite (in your favor).
Happy Father's Day to all the dads out there, and happy stacking to everyone.
(and happy birthday, Mom.)
If you're looking for more picks and tips check out omegatipsters.com.