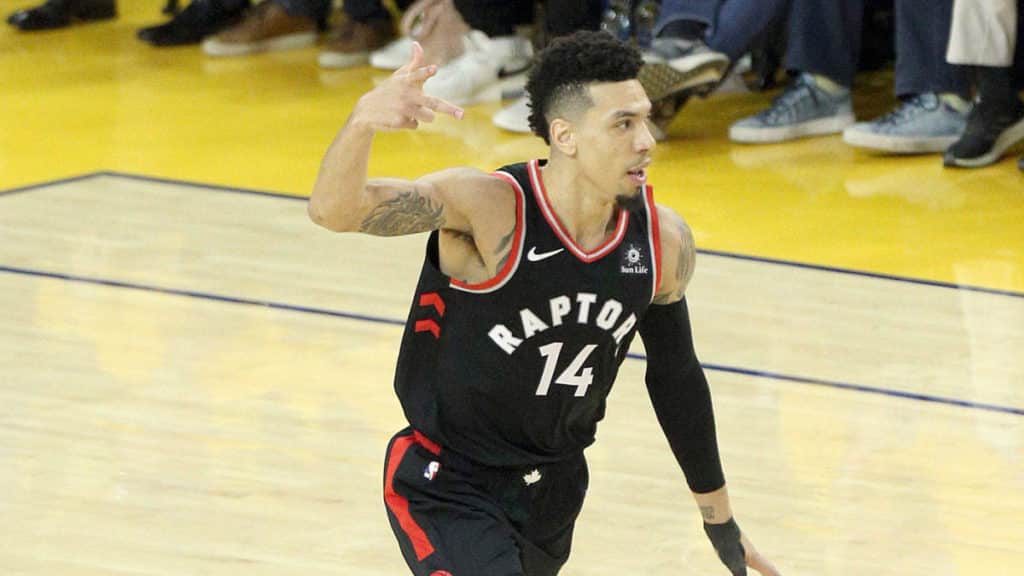 Even regardless of an awe-inducing NBA Finals performance for the ages by Stephen Curry, his 47 points, eight rebounds, seven assists, and two steals (and *cough* three turnovers) were simply not enough with a faltering supporting cast outside of  decent performances from Draymond Green and Andre Iguodala. Call it janky, call it makeshift…call it quits for the Warriors if they don't get Klay Thompson and/or Kevin Durant back as soon as humanly possible.
The ranks of Alfonzo McKinnie, Quinn Cook & Co. will quite evidently come nowhere near supplementing the offensive production consistently on a big stage to defend and achieve a fourth NBA Championship. The writing is slathered on the wall, and all of Golden State's faithful can see it. Curry needs help, and he needs it now. But will he find it in time for Game 4?
On the other side of the coin, the Toronto Raptors came out swinging on Wednesday night at Oracle, thrashing the Warriors from start to finish as they never relinquished their lead from the moment they first snared it right out of the gates. Led by the ever-so-silent assassin Kawhi Leonard, the Raptors's starters all posted double-digits raw point figures en route to a convincing 123-109 road win. But these cohorts of Kawhi are boom-or-bust each night for fantasy production, so which wave will they ride for Game 4 is anyone's guess.
Enter The Millionaire Showdown Using Promo Code SGP
Go to DraftKings.com or download the app NOW! Use code SGP and enter the all new Single-Game Showdown contest to compete for the ONE MILLION DOLLAR top prize!
Top Shelf
Kawhi Leonard ($11,600/$17,400 Capt.)
A man on a mission, Kawhi Leonard did not disappoint his fellow Raptors or fantasy investors on Wednesday, as he posted a 29.2% usage rate (33.3% in the 2nd half) along with what really counts: 30 PTS, 7 REB, 6 AST, 2 STL (but 4 TO). For fantasy owners, the totals could've been higher but were definitely beyond serviceable. The question lies in how much do you want to wager on him as your Captain on DraftKings, because the cost of such is astronomical and significantly hinders the depth in your fantasy roster by limiting what you can do at roughly two of your positions (realistically that is; unless you're really digging the thought of rostering Jordan Bell with Jonas Jerebko).
I will be getting to plenty of Kawhi based on his shear usage and consistency, but I'll likely come in under the field on Captain designation due to how difficult it is to get to other pivotal pieces doing so.
Mid Grade
Klay Thompson ($8,600/$12,900 Capt.)
Before exiting Game 2 in the fourth quarter following an excruciating hamstring injury, Klay Thompson was on absolute fire and only brief foul trouble in the first quarter was all that could stop him as he still posted 7 points in those first 7 minutes as well (and a 70% effective field goal rating as well).
The question of Klay's return is apparently answered as he's listed for Game 4, but still remains lingering as to what the effect his injury will have on his game. During last year's Finals he played through pain and proved to be every bit as effective as usual, so I should expect no different here coming off five days rest and having what appears to be an elimination game on the line.
Nothing will be limiting my roster exposure in terms of Thompson, and in fact will be a prime candidate for a very willing majority of my Captain designation, as his price point is an absolute steal considering his ceiling and expected participation. Far too cheap.
Lower Tier
Andre Iguodala ($5,800/$8,700 Capt.)
Is it me or are they giving the wrong players away here? Proving to be nothing short of the pinnacle of consistency, especially for fantasy production regardless of duress and/or during losses, Iguodala put up a very noteworthy 26 DraftKings Fantasy Points at a discount ($4,600 last game). And given the circumstances of how much the Warriors will have to rely on his consistency while being extremely short-handed as well, I don't see how his price didn't see a bigger jump going into Game 4.
Much like Klay in consideration to the Captain position, I will be getting a large share of Iggy at the Captain position considering the consistency he provides at a low price, and further allowing a slew of roster depth to allow you costly studs. In general, I insist that no player is EVER a lock button at 100% roster exposure in any sport, but I will come damn close with Iguodala for Game 4.
Danny Green ($4,800/$7,200 Capt.)
"Finally!" is a statement we can mutually rejoice in as tepidly hesitant daily fantasy players when getting an NBA Finals performance we remember Danny Green of old for. Following an astounding 90% effective field goal rating with an extremely impressive 18 PTS, 5 REB, 1 AST, 1 STL, 1 BLK, 1 TO (32.25 DKFP), we're now left wondering if we can ride this wave to the end or if Danny will remain the productive player we've known him to be through much of the Playoffs (while proving consistnently inconsistent during the regular season).
I find it hard to believe that an experienced player of his caliber has an off switch during a Finals push that's now nosing toward the home stretch. At such a valuable price point and high ceiling in reach at all times, I'll be hitting a sizeable number when it comes to ownership on Green, as well as my shares at Captain. When a player provides such promise at low cost, the roster flexibility provided is near limitless.
Enter The Millionaire Showdown Using Promo Code SGP
Go to DraftKings.com or download the app NOW! Use code SGP and enter the all new Single-Game Showdown contest to compete for the ONE MILLION DOLLAR top prize!
Dart Throw (?)
Andrew Bogut ($4,000/$6,000 Capt.)
Depsite that I'm not sure how much of a dart throw this is now given his thorough involvement in Game 3 during a lackluster performance from a heavily-touted DeMarcus Cousins throughout the DFS community, his mention must be made in this category given the idea that it may have been a fluke outing.
Posting a 22.75 DKFP for his steal of a previous price at $2,200, his price point remains at a huge value if this proves to be consistent. Getting 21 minutes in run (versus 19:54 for Cousins), Bogut's well-rounded performance (6 PTS, 7 REB, 3 AST, 1 STL, 1 BLK) can't be ignored and his involvement going forward must be in full consideration. Should Cousins come out ineffective once again, I see no hesitation from Kerr to pull the trigger on the shift to Bogut once again.
With mindfulness of ceiling and price point at bargain bin level, stashing Bogut at Captain may be the headiest play of them all since you'll be getting extremely high value, massively low ownership at Captain, and highest elasticity of roster construction while keeping realism in reach for productivity of such a cheap Captain designation. It may be wise to at least get one share of this lineup maneuver.