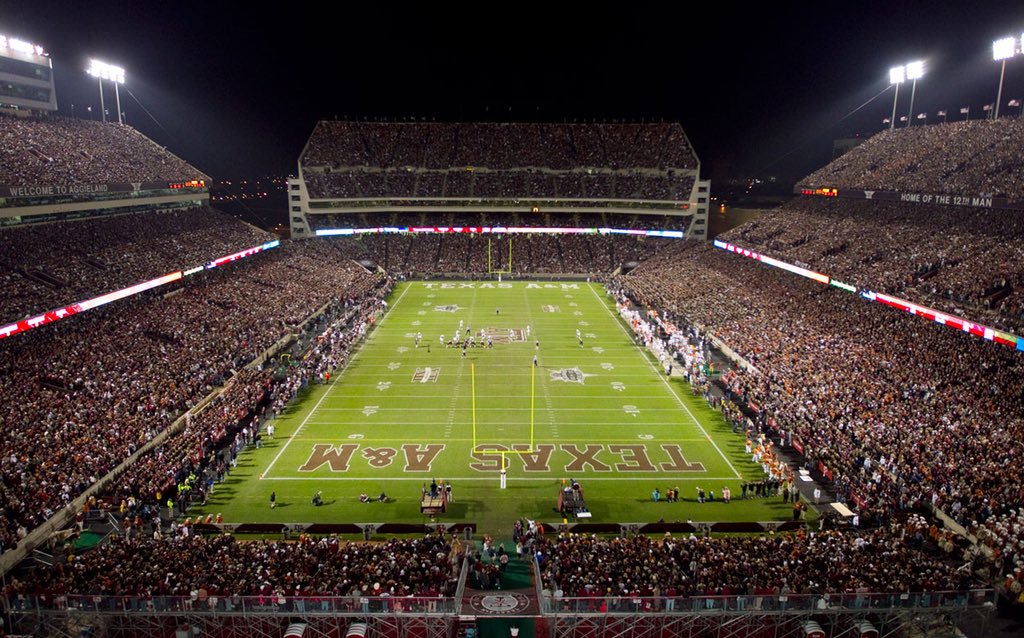 There's nothing like a Saturday afternoon in autumn, when college campuses all across the country light up and become battle zones for opposing fans and teams.
Below is a list of the most intimidating home field advantages in each conference. This list is comprised of my personal experience at stadiums, opinions from friends and colleagues in the game, and historical home win/loss records.
When wagering on football, it's important to remember that the majority of sports books automatically give the home team a three point advantage. To put that in context for gambling novices, if the line is -3 in favor of the home team, the bookmaker feels on a neutral field this would be an even matchup.
When I'm looking at matchups, I'm searching for small home favorites or small home dogs. I've seen it during my football career that it's very difficult to win an away game at any level of football. Stay humble and hungry and let's press on!
READ ALSO
2020 NCAA College Football National Championship Odds and Best Bets
College Football's 10 Toughest 2019 Schedules
American Athletic Conference: UCF
Nicknamed the "Bounce House," Spectrum Stadium has been a house of horrors for visiting teams. The on-campus stadium only has a capacity of 45,000 seats but is deafening when the Knights get rolling. UCF has not lost a home game in over two seasons.
Atlantic Coast Conference: Clemson
Besides the unlimited amount of talent the Tigers roll out each Saturday, you also have to contend with over 80,000 rocking fans. "Death Valley" is as loud a stadium as you will find in the country.
When the Tiger players rub Howard's Rock and sprint down the "Hill" towards the field, it's an epic experience. Since Dabo Swinney took over at Clemson in 2009, the Tigers are 64-6 at home.
Big 12 Conference: West Virginia
This was a tough decision when you consider you have major programs such as Oklahoma and Texas in the conference.
The state of West Virginia loves their Mountaineers and their support is unwavering. The crowd is intense and rowdy especially for night games. Since 2003, West Virginia is 81-24 in Morgantown.
The university made an underrated hire with Neal Brown once Dana Holgorsen left for Houston after last season. Brown is a solid coach who did a great job at Troy.
Big 10 Conference: Penn State
100,000 fans in Beaver Stadium at night with a white out is what college football is all about!
My first memory of the white out was in the 2005 season, which coincided with the resurgence of the Penn State Football program under the legendary Joe Paterno. Freshman Derrick Williams and quarterback Michael Robinson led the Lions to an upset victory over Ohio State.
It has become one of the iconic atmospheres in college football and in all of sports.
Conference USA: Marshall
The Herd have always had great support from their fan base and have a very solid football program.  Joan C. Edwards Stadium has over 38,000 seats and has been a challenging place for visiting teams.
Marshall is 29-9 at home since the 2013 season. Interesting fact: since 2013, Marshall is 12-3 in games played in the state of Florida and/or against Florida schools.
Mid-American Conference: Toledo
The Rockets are 35-8 at home since 2012 and traditionally have been a great home team. They play  in the Glass Bowl, which is one of the most unique and storied stadiums in the Midwest.
Toledo has one of the rising coaches in the profession, Jason Candle, and has an administration that somehow was able to finagle the University of Miami to travel to Toledo for a game last season.
Mountain West Conference: Boise State
Boise is known for their "Smurf Turf" and their tremendous home field advantage.
In 1986, the university installed the blue turf — the first of its kind. The Broncos are the premier non-Power 5 conference school and have won 92% of their home games since 2003.
Last season, Boise lost two games at home which includes the Mountain West Championship game to Fresno State. Head coach Bryan Harsin and the Broncos will look to bounce back this fall.
Pac-12 Conference: Oregon
This was a tough choice between Oregon and Washington, but I went with the Ducks due to how great they've been over the past decade. Autzen Stadium only has a little over 50,000 seats, but you wouldn't know by the deafening noise from the Oregon faithful.
Since the 2005 season, the Ducks have won almost 80 home games and are a dark horse national title contender this year under second year head coach Mario Cristobal.
Southeastern Conference: Texas A&M
The SEC has a ton of great home field advantages with Florida, Georgia, Tennessee, LSU, Auburn, and Alabama. In my opinion, Kyle Field is as challenging a place to win as any.
In 2010 when I was on staff at FIU, we were up 20-6 heading into the fourth quarterback before the Aggies made an incredible comeback and won 27-20. The A&M defense, lead by future All-Pro Von Miller, completely took over. The stadium shook for the entire fourth quarter and you couldn't hear the person next to you.
It was a devastating loss, but Kyle Field lived up to my expectations.
Sun Belt Conference: Arkansas State
At FIU, we lost both away games to Arkansas State by double digits and neither game was very close.
Arkansas State is located in Jonesboro, Arkansas, a small town that lives and dies with their Red Wolves. The fans are close to the field and they research the rosters of visiting teams and dig into players from pre-game to the final whistle.
The Red Wolves have had a who's who of coaches since 2009, with Hugh Freeze, Guz Malzahn, Bryan Harsin and Blake Anderson. It shouldn't come as a surprise that they are 45-12 at home during this time.
READ ALSO
Top 25 College Head Coaches in Power 5 Conferences
Top 25 College Head Coaches in Group of Five Conferences