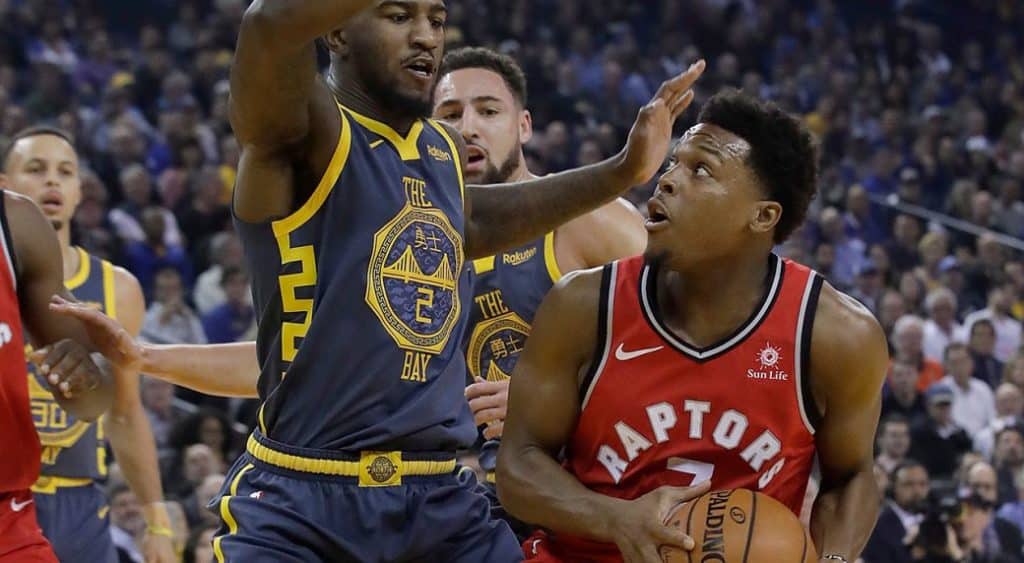 We've finally arrived. Welcome to the NBA Finals, where the landscape in daily fantasy shifts to a different lens within a familiar kaleidoscope of our playing field.
While many of us may be well acclimated with the DraftKings Single Game Showdown Mode (Use Promo Code SGP) during NBA regular season play, the Playoffs (and Finals in particular) are even more stringent in their roster construction necessities for standing a chance at cashing beyond the Mendoza mark (so to speak).
The difference in having an entry finish in the top 10 of a GPP and hovering in min cash territory can literally be one choice decision in your roster, and especially in designation to the coveted Captain position (the player you determine to receive 1.5x the points, paying 1.5x the price for them).
Enter The Millionaire Showdown Using Promo Code SGP
Go to DraftKings.com or download the app NOW! Use code SGP and enter the all new Single-Game Showdown contest THIS THURSDAY to compete for the ONE MILLION DOLLAR top prize!
Remember The Basics…On A Smaller Scale
Everything we've learned to this point about roster construction and value points for NBA DFS is very much in play, and in fact I would suggest that it's actually magnified. This doesn't merely apply to one specific lesson or suggestion, but a culmination of all the working facets to success during the regular season (particularly the smallest of slate sizes in context to number of games).
Do NOT feel obligated to spend every dollar of your allotted salary, as there are players at the dirt cheapest minimums who wind up in a starting position come tip-off, so that is where you have to do exactly like you would during the regular season and remain constantly checking starting roster updates via one of many trusted available sources out there (Twitter being another). It's at that time you will often discover a gem priced all the way down under $3,000 who gets thrown into a starting roster in the last hour before tipoff due to coaches trying to get an edge at a certain position they feel is weak, or that they believe they can exploit.
Also, leaving money on the table will give you a higher probability of a unique roster construction, which is a key to catapulting yourself up a vast number of tournament place positions when you have a large sum of entries that all look identical. I'm not saying to sacrifice a stud for a bench bum, but use your creativity within the confines of who's obviously in play (we'll get to that).
However, remember that value plays don't always come in the form of a salary discount but can actually come disguised in the form of under-owned talents. Forecasting this based on gauging the field's interests leading all the way up until slate lock would be highly recommended. YouTube channels, Twitter discussions, articles just like this one. All of those are elements that you should be pulse-checking as often as possible and, in turn, making alternative roster maneuvers with said elements in mind.
Dollars From Difference
Any moron with a semblance of a clue as to who's playing in the NBA Finals could tell you that Steph Curry and Kawhi Leonard are must-plays. No shit. And while a generic devil's advocacy would suggest to fade them, you'll likely be hindering your chances rather helping them by doing so.
Of course if you're playing multiple lineups, that's obviously one [dangerous] way of being different your roster construction but is also very much an unlikely scenario that both of them are lackluster.
With that being said, it's to be anticipated that both of these guys will be the two highest owned players aggregate (standard and Captain positions combined). They're also certain to have the most ownership at the Captain position specifically, which based on their astronomical costs will significantly minimize the feasibility in the remainder of your roster makeup.
I'm not saying not to get your entry exposure to such a comprisal involving one of those two star players at your Captain slot across any of your multiple entries, but I will tell you that avoiding this chalk pitfall in a majority of them will not only open up more money to use at your standard roster positions, but also carry a significantly greater chance at being uniquely constructed. It's that specifically that can set yourself apart from the field, giving hopes to winning a prize position outright rather having to share it with several other entrants.
Enter The Millionaire Showdown Using Promo Code SGP
Go to DraftKings.com or download the app NOW! Use code SGP and enter the all new Single-Game Showdown contest THIS THURSDAY to compete for the ONE MILLION DOLLAR top prize!
Cashing In On Cousins
As it stands now, DeMarcus Cousins entering the equation is still up in the air and will be the focal point of the day leading up until lock. I feel like this will be one of those tidbits we'll be waiting on until the last hour or so before tip-off. Given the circumstances of the injury, and especially his minutes more than certain to be limited, Cousins could remain surprisingly un-owned at game time, and this means you need to be prepared for this construction in advance.
I would pre-determine the amount of exposure you intend to allow yourself for Cousins' return to action, roster that number of placeholder entries beforehand, and be ready to jump ship if we find out that he isn't playing. In the case that this news indeed breaks late, there will be a very large number of lineups that are in the "set and forget" category for the public, and most of them won't be chancing Cousins return. Immediately you have an ownership leverage position before the game has even started. But ONLY DO THIS IF YOU ARE ABLE TO ADJUST YOUR LINEUPS LEADING UP TO LOCK.
Now, an even crazier thought in regards to getting different comes under the assumption that Cousins will be announced to start with plenty of time remaining before lock. This is where you can throw the book out the window and slot Cousins in at your Captain spot. Let me tell you why.
Cousins throughout his career, all the way into this current season with the Warriors, has been known for one of the highest dynamic spectrums with regards to fantasy production in recent memory. This dude has 100+ fantasy point evenings on his résumé. By no means am I saying he'll put up anywhere close to that number if he plays, but if he gets even a third of that in a standard roster slot then he'll be setting you drastically apart from the field as your Captain under 1% ownership and with 1.5x the points. He's also coming in at an extremely reasonable $7,000, meaning his Captain cost is only $10,500. This strategy makes for a massive ceiling at an affordable price, alongside insanely low ownership, which is a combination for binking a GPP.
Best of luck in Game 1 and don't be afraid to be different!