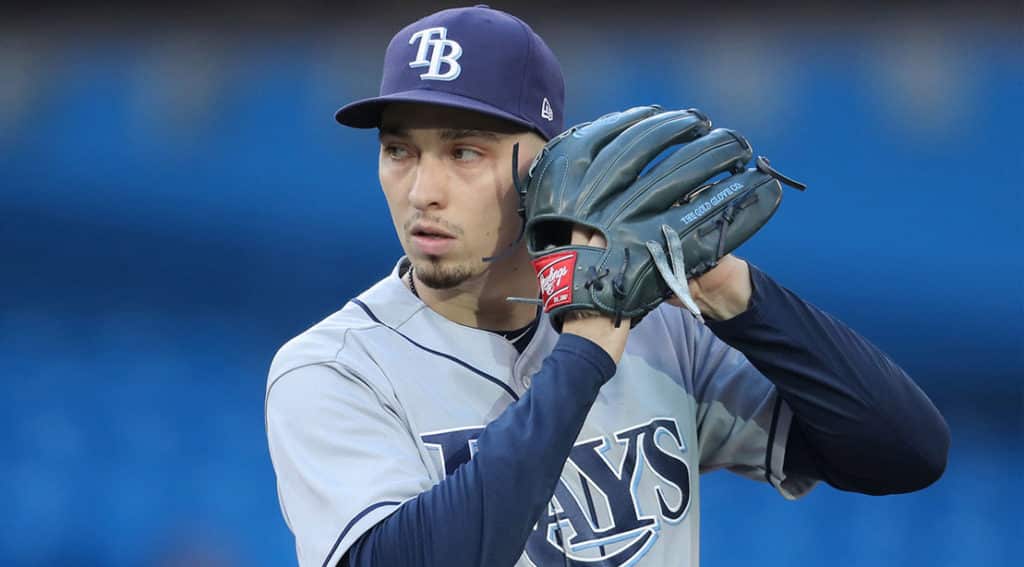 Is it me, or does it feel like we've been here before? No, not in corny reference to my previous article in this series but just the actual feel of this upcoming weekend. A bit of a Groundhog Day moment but hopefully this time I don't run ass backwards into the wrong side of a forecasted rain postponement, as I did last Sunday by adhering to every trusted DFS weather source by fading the Red Sox along with their slate-high eleven runs scored, but I digress.
This lingering mood of déjà vu is apparently spread throughout the Major League Baseball slates this upcoming weekend as well, and it makes for some very intriguing storylines in relevance to daily fantasy.
Blake Snell will get his rematch from last Sunday's blowout of a 7-1 loss to the Yankees, except this time he'll have to mitigate the runs scored in hitter-friendly Yankee Stadium. We're also treated to Pablo Lopez battling to not get his ass handed to him to the tune of ten runs in three innings against the very same Mets who did it to him a week prior. You have to love a great narrative, especially when it comes to potential high scoring with DFS involved.
To Snell Or Not To Snell?
If you would've told me last Sunday when I was busy building lineups that Blake Snell was going to ham for twelve strikeouts and 5 2/3 innings, I would've guessed he got pulled to baby his recently injured toe. But while in fact giving up two runs and four hits, he still produced above his projected total scoring 29.15 DraftKings fantasy points. While this is all fine and dandy, you have to take into full consideration that he cost $10,700 and dragged 47.4% of the field ownership along with him.
Masahiro Tanaka will be awaiting to take the mound as Snell's opponent once again as well, chasing a 7 1/3 inning masterpiece manufacturing seven strikeouts while only allowing one run on an Austin Meadows home run (which to Tanaka's further credit, these happen quite often on behalf of this gentleman's bat). Grinding out 28.75 DKFP was definitely not the anticipated outcome here, particularly with how terrified the public is of rostering pitchers against them. Coming in at just under 10% ownership, you would've been way ahead of the field and been in a great position to cash had you done so. Lest we forget, the very Dylan Bundy I wrote up about in the "Interesting Hot Garbage" segment of last week's article went seven scoreless innings against the Rays recently.
I've noticed that for some reason people shy away from rostering Tanaka in general, and I find it somewhat puzzling considering the guy's stuff in the past. Upon scouting this weekend's slates, I definitely found this matchup to be among my most anticipated in terms of the different angles you could aim to roster both sides. But ultimately I foresee Snell getting a majority share of ownership over Tanaka once again. And in that case I will be going under the field on Snell, and over on Tanaka. I feel like there are too many factors that could influence an early exit with Snell and I do not like overspending on players who are risky and the most popular on a given slate. I will most certainly get my shares of Snell and likely won't be too far under the field considering I think that lofty 40+% from last week should come down just a bit given the circumstances I mentioned.
Blowup Alert:  Pablo Lopez vs. New York Mets
Last Friday, the Mets mashed on Pablo Lopez. It was a real thumping. Giving up three home runs and a total of ten total runs in just three innings pitched, it was a day Lopez would likely care to forget in a rapid fashion. However, I strongly believe from a human perspective that he wouldn't like to be reminded of the matchup only eight days later.
But as daily fantasy players, we most certainly want to be reminded and often go chasing after the high of busted over/unders and team totals with dollars hemorrhaging from our pockets. And this is especially the case when we have a favorable sample to pull from, or at least when recency bias takes command. Don't be so fast to overload that compulsion though.
As much of a hair-trigger emotion as we may have to roster the obvious in the Mets here, you have to always look at the surrounding circumstances. They'll be back in Miami at a pitcher friendly park, and Pablo Lopez has much better home splits than away. At home, he's give up no home runs and a 2.76 ERA in five earned runs over 16 1/3 innings.  It's on the road that he's been completely shellacked, coughing up five home runs and 22 earned runs total in 24 2/3 innings with an 8.03 ERA.  It's like he's been a whole other person.
Also, keep in mind that everyone else will be chasing the Mets and they should likely carry some of the most ownership on the slate (that is if they're included in the morning; who knows how the different sites will split it up). The Mets rank 6th overall for the season in batted Ground Ball percentage at 45.9% and Lopez's slider greatly promotes hitting into the ground ball, especially at home. I will definitely get my share of Mets, but their prices will determine how close to the field I am with my ownership. I anticipate that they'll be pricey given the previous circumstances and people will be willing to spend up here. In this case, I'll go under the field and roster elsewhere.
I certainly don't advocate a full fade on the Mets however, and my ownership caps will be contingent on how I gauge the public's value in their rostering them. I suggest you test the waters yourself first before doing so as well by keeping track on Twitter and following updates from popular sources because you know that's where people will be flocking.
Have a fantastic weekend and hope to see you on the greener side of things.