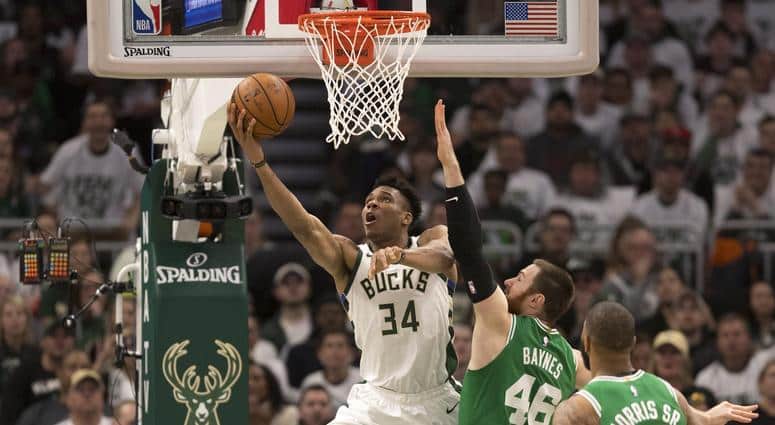 We've arrived!
Merely a couple of games away from baring witness to the illustrious Final Four of the NBA Playoffs, the pressure cookers have kicked in and the stakes are teeming from all angles. Considering we won't be seeing any two-a-days here, we'll be getting one game per day in regards to available DFS slates. And this means venturing into a different type of game play: this is known as Showdown Captain Mode on DraftKings, and Single Game on FanDuel respectively.
If you've previously avoided playing these slates in the past, let me assure you that the playability and achievable reward of this game type is remarkably surprising. You just need to understand the differences in scoring and roster formats between sites, plus how to build a more unique entry from the field.
Roster Position Scoring, Site Differences, and Strategy
On DraftKings, the format for Showdown Captain Mode consists of six total players: five Utility players (PG, SG, SF, PF, C) and one Captain, your designated player to score 1.5x their fantasy point production. However, this designation also carries a 1.5x application cost per player.
You'll naturally be trying to stuff the highest projected player and work your best angle around it. This isn't always the best necessary designation though. You need to find the best balance of cost-to-productivity value at the Captain position in order to afford an overall better roster as a whole as opposed to filling out a quarter of it with irrelevant players.
Over on FanDuel, their Single Game component features a variety of multiplier spots outside of just one specially designated player. Your MVP slot will award 2x points to that player, Star will garner 1.5x, and your Pro selection gets 1.2x their fantasy point production. In addition, you get two Utility players as well.
The other major difference from DK, multiplier spots do NOT carry a higher price tag per designation. Keep in mind the drastic scoring dynamic of these playoff games and don't feel concrete-shoed to selecting only one of two players worthy of designating your MVP spot to. Per usual in tournament play, being outside of ordinary can once again be the path to your victory.
Getting Different With Minimal Options
Even though the player pools are extremely thin, the ability to be different with your lineups while staying competitive is actually easier to do than you'd think … but just be prepared to share some of your winnings if you're playing in a large-field GPP.
Tournament selection is worth keeping in mind within this format, but just remember that player ownership will also be very sensitive due to that limited pool to pick from. You'll have players owned up toward 85%, and other stragglers down in the sub 30s.
You're essentially one Marcus Smart blowup performance from catapulting yourself ahead of the field. Or if you're going cost-heavy up top and get a minimum guy who suddenly guts out a handful of three-pointers (ie: Austin Rivers). These are some of the differences you can make to get ahead of the field.
Another way to think just outside of the box is to simply consider putting one of your second-tier studs atop the MVP slot. As I mentioned before, the tenacity and elastic nature of the scoring distribution per player in these playoff games is rather sizable and is not outside of the ordinary to have one outscore their higher priced teammates (see above).
The difference in CJ McCollum at MVP, and the majority having Damian Lillard in that spot, was what tipped my lineup into first place. A small example of the strategy in discussion but the evidence is there.
Pacing out game flow in any Single Game or Showdown format is my personal recommendation as well, especially within the confines of any sort of GPP action. Alas, this can sometimes also result in team stacking within this format if you're forecasting a blowout on behalf of either side. Feel encouraged to tell a story with your rosters once again, because at this rate the difference between your entries and the field could likely end up being just that.