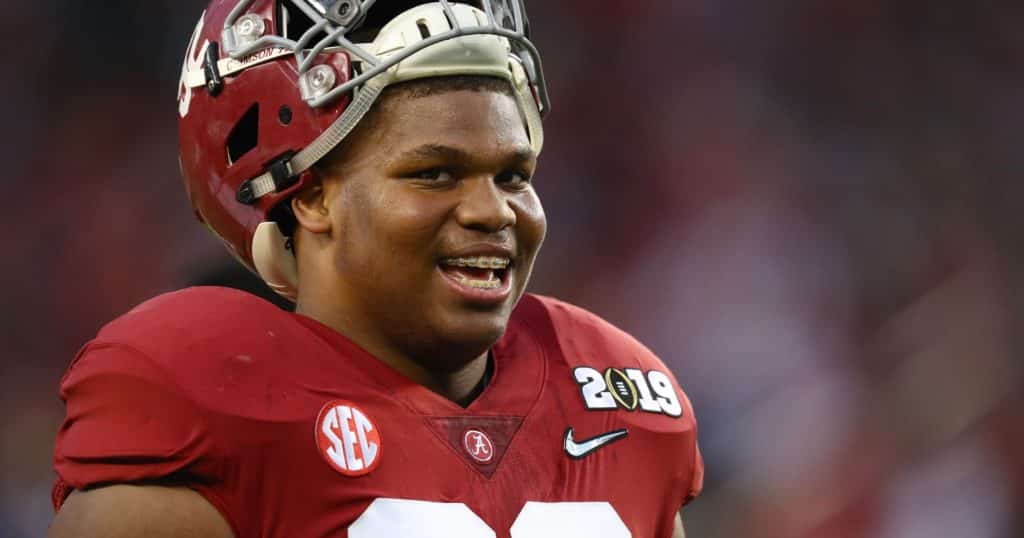 As a noted gut handicapper I still read a ton of Mock Drafts before coming up with my own completely correct NFL Mock Draft. I'm not sure how it will happen but I swear to God the Raiders are getting Kyler Murray.

Sean's NFL Mock Draft 1.0
#
Team
Pick
Pos
College
1


Cardinals

Quinnen Williams
DT
Alabama
Ultimately I think they trade to the Raiders, but if they pick at one they don't go QB.
2


49ers

Nick Bosa
DE
Ohio State
Nick Bosa is already deleteing his pro Trump Tweets so he doesn't piss off the citizens of San Francisco, this is a done deal.
3


Jets

Ed Oliver
DT
Houston
Reports are already leaking out of NY that the Jets are going with Oliver who will likely use some of his signing bonus to buy a jacket.
4


Raiders

Kyler Murray
QB / LF
Oklahoma
Gruden clearly hates Derek Carr and he's gonna do whatever it takes to draft Kyler Murray.
5


Buccaneers

Josh Allen
DE
Kentucky
The Bucs won't be able to pass up sack machine Josh Allen who set both season and career sack records at Kentucky.
6


Giants

Rashan Gary
DT
Michigan
The Giants continue their delusion that Eli Manning is a franchise QB and pickup a local kid who they'll talk themselves into as having a huge upside inspite of his career 9.5 sacks at Michigan.
7


Jaguars

Jonah Williams
OT
Alabama
The Jaguars need to protect Big Dick Nick and Jonah seems like a great addition to their OL.
8


Lions

Devin White
LB
LSU
LB is a big need for the Lions and Devin White seems like a guy that Matt Patricia would really enjoy coaching up.
9


Bills

T.J. Hockenson
TE
Iowa
A tight end can be a QB's best friend and Hockenson's mix of blocking and play making will be a welcome addition for Josh Allen.
10


Broncos

Drew Lock
QB
Missouri
A Midwest kid with a big arm Lock is exactly the kind of QB that appeals to Elway who has to realize Flacco isn't the long term solution.
11


Bengals

Dwayne Haskins
QB
Ohio State
New head coach Zac Taylor is going to want to bring in his QB and Haskins is the best available at the 11 spot.
12


Packers

Noah Fant
TE
Iowa
Fant could be a big upgrade from the aging Jimmy Graham and Rodgers needs more weapons.
13


Dolphins

Christian Wilkins
DT
Clemson
The Dolphins need a lot of help and any upgrade on the DL would be a great start for the Dolphins.
14


Falcons

Andre Dillard
OT
Washington St.
The Falcons gave up 42 sacks last season and need to bolster their OL.
15


Redskins

D.K. Metcalf
WR
Ole Miss
Metcalf is the workout warrior that generated a bunch of noise that the Redskins' Daniel Snyder can't resist drafting.
16


Panthers

Byron Murphy
CB
Washington
The Panthers could definitely use some DB help and getting the first CB off the board at 16 seems like the right move.
17


Giants
via CLE

Daniel Jones
QB
Duke
The Giants love Eli Manning so much they'll let him pick his successor which is apparently Daniel Jones?
18


Vikings

Garrett Bradbury
C
N.C. State
The Vikings have to convince themselves that Cousins sucks because he doesn't have enough time so they'll go OL here.
19


Titans

Jawaan Taylor
OT
Florida
The Titans have to figure out their QB situation and the only they can do that is with a better OL.
20


Steelers

Marquise Brown
WR
Oklahoma
Antonio Brown and Le'Veon Bell are gone and Pittsburgh needs some more skill players on the offensive side of the ball.
21


Seahawks

Nassir Adderley
S
Delaware
Seattle has big shoes to fill at the safety postion, is Adderley the guy? Seattle is gonna find out.
22


Ravens

Devin Bush
LB
Michigan
The Ravens have a lot of holes to fill on the defensive side and if Devin Bush is somehow still available here they'll definitely snag him.
23


Texans

Cody Ford
OT
Oklahoma
The Texans are definitely a candidate to trade up, but at 23 I think they have to go OL.
24


Raiders
via CHI

Josh Jacobs
RB
Alabama
Jon Gruden loves two things, chewing gum and drafting offensive players.
25


Eagles

Chris Lindstrom
G
Boston College
The Eagles have to keep Carson Wentz healthy with an aging offensive line, Brandon Brooks is coming off an injury and a day one starter like Lindstrom could be a huge addition.
26


Colts

Clelin Ferrell
DE
Clemson
The Colts defense is finally headed in the right direction and Ferrell could be a nice piece to roudn out that rebuild.
27


Raiders
via DAL

Montez Sweat
DE / OLB
Mississippi State
Montez Sweat is falling due to news that he has an enlarged heart. You know who else had a big heart? Rudy! Just the kind of guy Jon Gruden wants on his team.
28


Chargers

Greedy Williams
CB
LSU
The Chargers play in a division with Patrick Mahomes so the more DBs the better.
29


Seahawks
via KC

Paris Campbell
WR
Ohio State
Doug Baldwin has been plagued by injuries and the Seahawks can use as many weapons as they can get.
30


Packers
via NO

Brian Burns
DE
FSU
Burns this late would be a steal for the Packers who are looking to rework a struggling defense.
31


Rams

Dexter Lawrence
DT
Clemson
Doesn't look like Suh will be back with the Rams and Lawrence could be a nice replacement.
32


Patriots

Jerry Tillery
DT
Notre Dame
Tillery has fallen because of possible personality issues, but Belichick could get him to fall in line and prove to be a huge asset for the Pats.