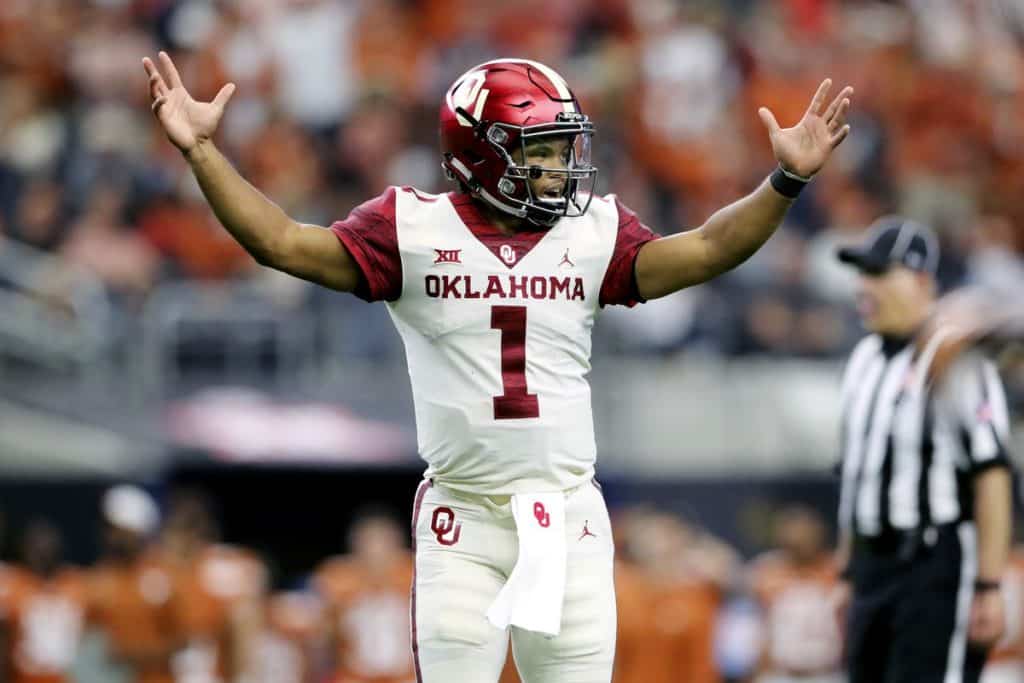 Colby "The Dantabase" Dant releases his first 2019 NFL Mock Draft.
#
Team
Pick
Pos
College
1


Cardinals

Kyler Murray
QB
Oklahoma
Kingsbury didn't get hired for Defense, Murray fits his offense perfectly.
2


49ers

Nick Bosa
DE
Ohio State
The Niners will be more than happy to get Bosa at the 2nd pick.
3


Jets

Josh Allen
DE
Kentucky
The Jets defense has lacked an edge pass rusher for sometime. Not anymore.
4


Raiders

Quinnen Williams
DL
Alabama
Some say Williams is the best actual player in the draft. Gruden can't miss this one can he?
5


Buccaneers

Devin White
LB
LSU
They aren't desperate for Linebacker help but this pick makes sense for an aging position.
6


Giants

Jawann Taylor
OT
Florida
If the Giants are reinvesting in Eli Manning he's going to need some help with O-line.
7


Jaguars

Montez Sweat
DE
Miss State
Jacksonville could go O-line here but I'm thinking with Taylor off the board they go with an Edge rusher.
8


Lions

TJ Hockenson
TE
Iowa
The Lions always draft offense when it makes no sense. Hockenson is good but a TE in the first 10?
9


Bills

Ed Oliver
DL
Houston
The Bills need help on both sides of the line. That's why this is a perfect pick for them.
10


Broncos

Drew Lock
QB
Missouri
I've read countless articles that say Elway is in love with Lock and his mechanics.
11


Bengals

Dwayne Haskins
QB
Ohio State
The Bengals have got to be thinking in with the new and out with the old. This will get fans excited.
12


Packers

Andre Dillard
OT
Washington State
The Packers paid Aaron Rodgers and now it's time to make sure you protect him.
13


Dolphins

Rashan Gary
DE
Michigan
Do the Dolphins go QB? Maybe but I think they strengthen a much needed position. DE
14


Falcons

Christian Wilkins
DL
Clemson
The Falcons are most certainly going to go defense and either LB or DL. This one makes perfect sense.
15


Redskins

DK Metcalf
WR
Ole Miss
Metcalf is a athletic freak of nature. Dan Snyder is known to ignore the signs and go after the big playmakers
16


Panthers

Jonah Williams
OT
Alabama
The Panthers glaring weakness is the offensive line. If he's not available maybe the go DL
17


Giants
via CLE

Daniel Jones
QB
Duke
Oh wait the Giants finally plan for the future and draft a QB. Jones makes perfect sense here.
18


Vikings

Cody Ford
OT
Oklahoma
Kirk Cousins sure cost a lot for the Vikings. Time to invest in your investment and protect him.
19


Titans

Brian Burns
DE
FSU
Titans have several positions that need some help but I'm thinking DE is their biggest weakness.
20


Steelers

Devin Bush
LB
Michigan
The next great Steelers LB? This pick is a perfect storm. Linebacker and DB is the main weakness of Pitt.
21


Seahawks

Chris Lindstrom
G
Boston College
They have to draft offensive line right? The O line was awful last year and they just paid Russell Wilson.
22


Ravens

Clelin Ferrell
DE
Clemson
This is one where they could go with a few different options. I'm betting they strengthen the DL.
23


Texans

Greedy Williams
CB
LSU
I feel pretty good with predicting the Texans will draft a DB. Williams would be a perfect fit in Hou.
24


Raiders
via CHI

Byron Murphy
CB
Washington
Raiders could go several different ways here because they pick 4 spots later. Time to improve the secondary.
25


Eagles

Dalton Risner
OT
Kansas State
Eagles biggest weakness is probably their aging offensive line which is why Risner could be a great pick here.
26


Colts

Dexter Lawrence
DT
Clemson
Colts are finally investing in their defense and it's beginning to pay off. With this pick they'll do it again.
27


Raiders
via DAL

Josh Jacobs
RB
Alabama
Raiders again? I'm guessing they go running back here but they could go defense again. Jacobs makes sense though.
28


Chargers

Jerry Tillery
DT
Notre Dame
The Chargers real weakness appears to be the O line & D Line. With the other players gone this one makes perfect sense.
29


Seahawksvia KC

Justin Lane
CB
Michigan State
The Seahawks certainly need help in the secondary and Justin Lane is the play. Lane is a former wide out with great ball skills.
30


Packers
via NO

Noah Fant
TE
Iowa
Jimmy Graham has fallen off. The Packers once again invest in Rodgers and get him a money TE.
31


Rams

Jeffery Simmons
DT
Miss State
The Rams have not signed Ndamukong Suh and this play will give them leverage in potentially letting him walk.
32


Patriots

Chauncey Gardner-Johnson
S
Florida
Many experts are predicting a wideout here but Belichek always values DB's more than WR's.