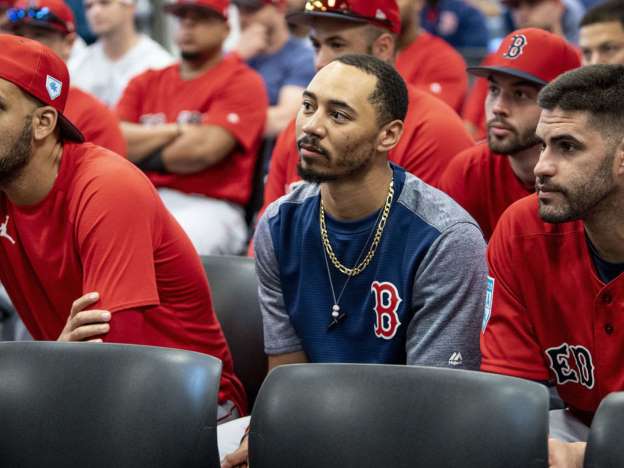 FIRST
Is It Too Soon To Panic In Bean Town?
Well, not according to David Price who told Alex Speier of The Boston Globe, "If we don't start playing better, J.D Martinez, Mookie, maybe myself, we could all get traded."  "We're what, 30th in minor league systems? we're dead last. We don't play better, Mookie will be traded, D.D. will be traded, it may get tough for a while here."
Umm, okay. I get that Price is probably just trying to rally the troops here, but this is an interesting way to do it. Red Sox GM Dave Dombrowski told WEEI's Dale & Keefe, "I didn't see David's comments. We're not in a position to blow things up at this point, but we do have to play better. There's no question about that."
I can agree with those quotes, but when you look deeper, Mookie Betts is set to be a free agent after 2020 and Martinez can opt out next season, so in theory, things could get interesting.
READ ALSO:
The Trade: How One Move Could Define Two MLB Franchises
TO
A New Ace In Oakland, Finally?
When one of my favorite pitchers, Sean Manaea, went on the disabled list and is projected to miss the entire season, there were thoughts by many, myself included, that Oakland's starting pitchers would be their downfall.
It's been better than expected, at times, but the one constant has been Frankie Montas. Montas, a former top prospect who never fully put it together but showed flashes, may be on that path finally. He owns a 3-1 record with a 2.70 ERA on the young season, allowing no more than three earned runs in any of his four starts and allowing less than two in three out of the four. Next time out, Montas will face the 10-7 Texas Rangers.
THIRD
Weekend Lookahead
We don't have any great pitching matchups lined up for the weekend on paper. The best is probably Jacob deGrom versus Miles Mikolas, as both look to regain form, and David Price versus Tyler Glasnow.
Boston heads into a series with Tampa that can turn around their season. Unfortunately for them, Tampa has been the hottest team in baseball. They seem to be writing the sequel to Moneyball, which is amazing on many different levels.
The Dodgers battle the Brewers with Kershaw slated to throw Saturday as well. Also, the Mets and Cardinals square off with identical records and should also prove to be a great test for both squads.
READ ALSO:
It Only Took Until 2019 For Baseball To Realize It Needs To Change, What Happened?