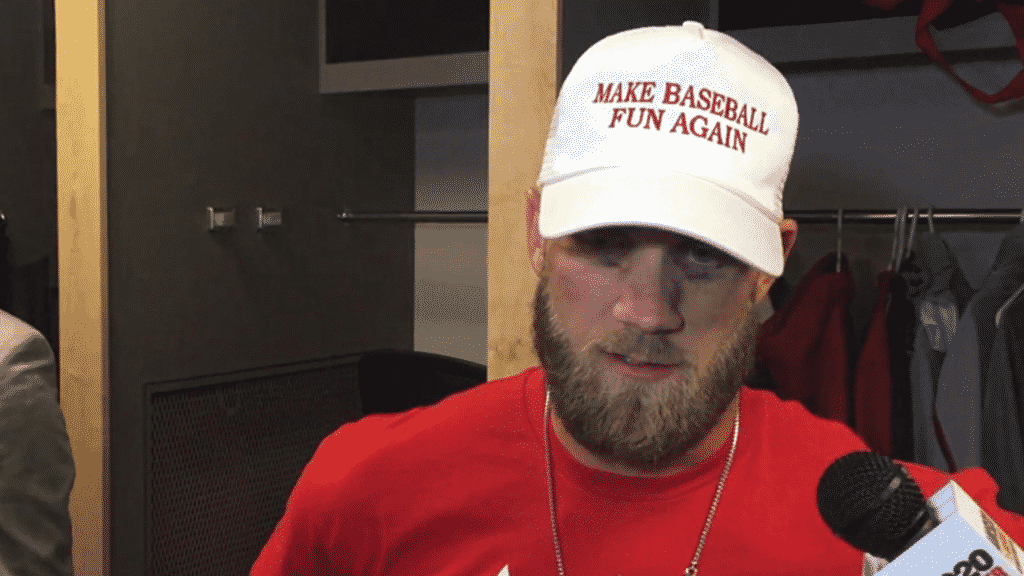 While I've taken some time to look back at the young 2019 MLB season, I can't help but notice one thing: baseball is changing, and for the better. No, I'm not talking about pace of play. I'm not talking about making younger stars more marketable (although they are trying, that's just more than a week job). I'm talking about philosophically via the biggest tool on the planet at the present, social media.
You see, the why has always been more impactful to me than the what, and I think that's a fascinating conversation to have right now.
I wanted to make this a fluff post about how Major League Baseball has finally seen the light and are finally breaking through the old guard of unwritten rules: bat flipping, guys pimping home runs, and pitchers showing batters up. I'm still going to get to that, but I want you to see what potentially lead us to this moment, and what it actually means.
That being said, it's always important to realize where you've been before you know where you're going, so let's see what impacted this change.
On March 10th, 2016, Tim Keown wrote a brilliant piece about the impact of Bryce Harper on the future of Major League Baseball, and more importantly, the impact he had on the term, "millennials." You can find that here.
People often forget about such outcomes until it's staring them in the face. Many people, maybe even Tim Koewn, didn't realize Bryce Harper and this article were the first domino in showing that Major League Baseball needed to change. Brilliantly, Tim Keown wrote:
When that article was written, Bryce Harper was quietly on a case to Make Baseball Fun Again. Now, words aside, because I can appreciate the political climate, Harper has quietly gone from defiant poster boy to quiet leader of the movement. He's not alone. Jose Fernandez deserves much of the praise post-mortem for his help in the cause, which should truly be the biggest legacy he leaves behind aside from his wife and children. Don't remember the legacy Jose Fernandez left behind on the baseball field? Let me remind you:
You see what happened 1:36 into that video? Brian McCann, an old school catcher by all accounts, took exception. Defending the honor of his pitcher, but more importantly, the state of baseball as he knew it in 2016. Seriously, watch that video and see in the background how many players quietly take exception to Jose Fernandez' "antics" during that time. It's astounding.
Let's not forget about the bat flips that were considered treason. In 2016, Mike Trout said he thought it was "disrespectful to a pitcher."
I'd also be remiss if I didn't mention the most famous critic of flair in Major League Baseball, Goose Gossage, when he spoke about Bryce Harper stating he, "has no respect for baseball."
Short version:

Let's fast forward to the first week of the 2019 Major League Baseball season to quickly show you how far the game has come since then, via a visual interpretation:
We're not expert lip readers but we're pretty sure we know what @outtadapakmark said. 😏 pic.twitter.com/yOILMpg7VE

— Cut4 (@Cut4) March 31, 2019
'It's Bat Flip Season, Baby.' – @outtadapakmark' " – Cut4

— Cut4 (@Cut4) March 31, 2019
Synchronized throwing. 🤣 pic.twitter.com/Ypz1bc7tYt

— MLB (@MLB) March 29, 2019
Mitchy bat flips. pic.twitter.com/Y9e473d9d8

— MLB GIFS (@MLBGIFs) March 30, 2019
Trust your gut, but trust your catcher more. pic.twitter.com/Y5JenI0Chv

— MLB (@MLB) April 1, 2019
Chris Archer REALLY wants to win the PitchingNinja K Strut of the Year Award. 🏆 😂 pic.twitter.com/wJO6N9dSwT

— Rob Friedman (@PitchingNinja) April 1, 2019
And the most telling sign of the 2019 season:
Bat flipping season is the best time of year. #LetTheKidsPlay pic.twitter.com/05LQ9WVauw

— MLB (@MLB) April 3, 2019
Best bat flip ever? 👀 #LetTheKidsPlay pic.twitter.com/csFYd2zA0v

— MLB (@MLB) April 3, 2019
Oh, so now MLB wants to #LetTheKidsPlay?
Don't get me wrong, I'm all for it, but let's at least adopt the Dominos model of admitting your product was brutal and you're fixing it before we just blindly tell everyone that this is now okay. Did we even update the official unwritten rule book of baseball before we did this? It was at last years All Star Break that Rob Manfred said, "Mike Trout has an MLB problem, not the other way around."
Three years ago, when I moved to Las Vegas with two dreams; one to be a professional sports handicapper and the other, a freelance journalist with my own website aiming to be the Wall Street Journal of sports gambling, I wrote the following about The Golden State Warriors and what they meant to the future of of the current generation. I included the guys like Bryce Harper and Jose Fernandez (Javy Baez wasn't here yet, give me a break), but anyone with a brain could see this coming.
So, how did we finally get to this point of Major League Baseball finally understanding they need to change to survive? Beside Bryce and company, enter Gary Vaynerchuk, Dan Katz (I'm sure you know him as Big Cat), and Alex Rodriguez.
Let's start here:
SI: In a sport like Baseball, there's not as much focus on the individual as there is in The NBA, you have someones personality who's not obviously outsized, it's a heavier lift. Has that been true in your experience?
Gary: I think you've just walked into the much much much bigger problem at hand with baseball. I don't believe that is a product of anything other than the way  Major League Baseball has handled themselves versus than The NBA. I mean, Reggie Jackson had a candy bar in 1977, let's not get confused with what's happening here, what's happening here is Major League Baseball a decade ago, decided to make short term economics by creating BAM, their media group, so they can control all the short term dollars at the detriment of being everywhere where people are and building up their individuals. They've suffocated the creativity the creativity in a digital environment in the last decade. There's plenty of personalities in baseball, the way that teams have to do their creative and social media, and the way you can't find any baseball content on the internet unless MLB is making a piece of that action through a piece of their accounts has created a culture of suppression of personal brands. I mean, literally, to the point of a fan of Kolten Wong, creating content on Instagram potentially is going to be taken down by Major League Baseball. Steph Curry was built not only by Steph Curry and the NBA, Steph Curry was built by the fans creating content of Steph Curry in the trenches where attention actually is. There was plenty of interest in Derek Jeter and A-Rod in real life. Bryce Harper is loaded with everything you'd be interested in, but it's surpassed out of him systematically"
SI: The thing is, I think about baseball fandom as it's passed down to father to sons and you root for a particular team, if that skipped a generation, is that salvageable?
Gary: It's not…they're going to take the short term loss…which is actually a thirty year window. It's salvageable if they start now with fathers and sons mothers and daughters interested in baseball having the ability to pass it on in a youtube, snapchat, app, you know. Baseball said you said you're going to consume us the way we want, not the way you want. The problem for them  is it was great for the short term, and it looked great, they made all this money, but what they did is fundamentally destroy the fifty year window of their sport in a real way. People are unbelievably naive how this is going to play out, it's an incredible sport to take the family out for the day, that's nice, so is soccer for the day. This is not going to work out for baseball in a fifty year window, and it starts with, "do you care?" and the answer is No. I couldn't be more down on baseball thirty five years from now based on what there doing now. Kids aren't growing up with baseball cards like they did. Their attention is in different places…guess what, I think people need a history lesson, boxing and horse racing  were the most popular along with baseball in this country in 1920 and 30 and they were radio sports, and thats why. Then, football and basketball came along and they were television sports and they benefited. Now we're in a digital world and that's who's going to benefit, and you know who's going to lose? baseball, because they make an extra  $100 million a year in pennies and nickels on their youtube channel in revenue share, yet no one goes there and it's not cultural.
Look, the full phone conversation is brilliant, and I could sit here transcribing it for you for hours. Listen to it, and get your own takeaways. I am by no means saying a series of tweets or media posts is going to save Major League Baseball from a business standpoint. What I am saying: Major League Baseball is finally embracing everything you, the fan, knows about it, and I think you now know why.
Enter session two, Big Cat and Alex Rodriguez asking Gary Vaynerchuk how to fix baseball, his answer? guys like Javy Baez.

Big Cat's not wrong, and not only that, he has the support of his The Corp business partner, Alex Rodriguez behind him, which at least shows the old prior generation of great players sees the advantage of teaming up with Big Cat and Barstool to reach the younger audience in a new digital era. Like it or not, BAM or no BAM, three guys in a room with a microphone may have given baseball the blueprint to save itself.
Let's not also forget about the partnership of MGM and Major League Baseball, which is without a doubt money driven, but at least it shows baseball is publicly going to be on the side of legalized sports wagering.
Again, I want to make one thing very clear. I am by no means saying a series of tweets is going to undo what baseball has created as their culture. The business side of those type of things eludes me, I'm a sports gambler by trade after all. Walt Disney put an additional $1.58Billion into it in 2017, it's not going away. The only thing I am saying, is maybe, just maybe, baseball took these words to heart.
As a fan, I for one am thrilled to see them at least getting away from meaningless unwritten rules that suffocate a fan base who wants to see just that while highlighting their top stars, and that's a start.