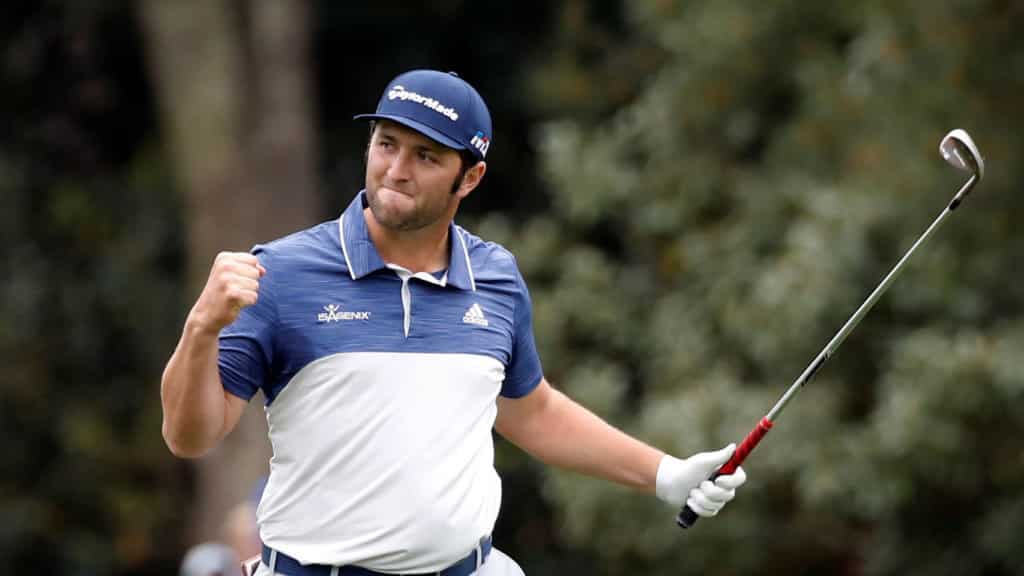 There are several ways to gamble on golf. Many choose to go the DFS route and compete against tens of thousands in a GPP in hopes their lineup climbs to the top of the leaderboard. Others prefer props to isolate specific situations with the tradeoff of a lower payout but a higher probability of success. And then there are betting on futures to try and win big by correctly picking the winner of an event. It's one of the hardest bets to make in golf, especially in major championships where it's tough to whittle down a list of four or five golfers from a pool of the best players in the world.
In order to bet smart on futures, one must develop a deep understanding not only of the form of every golfer coming in, but also how their skills translate to the golf course and how the golf course itself will play. In case you missed my analysis on Augusta National and what it should have in store for the field this week, click here.
Recent Winners
2018: Patrick Reed (-15)
2017: Sergio Garcia (-9)
2016: Danny Willett (-5)
2015: Jordan Spieth (-18)
2014: Bubba Watson (-8)
2013: Adam Scott (-9)
The list of recent winners of The Masters contains golfers of all walks of life. Players like Jordan Spieth and Danny Willett were deadly accurate and precise with their irons in the years they won. Patrick Reed caught fire with his short game and his unorthodox helicopter swing to be able to incorporate a fade into his arsenal. Bubba Watson overpowered Augusta National with his length and his creative shot shaping ability. And Adam Scott and Sergio Garcia are widely regarded as one of the finest ball-strikers tee-to-green in history.
In a vacuum, any type of golfer can use their greatest strengths to prevail at Augusta National. But often times it is Mother Nature that ultimately decides who will slip on the Green Jacket by the end of the weekend.
Leading up to the Masters, Augusta National has been soaked with almost three inches of rain, with more rain expected over the weekend. While the club still has the ability to firm up the greens with the sub-air systems, there's not a whole lot they can do to dry out the fairways and rough. The damp conditions should make the golf course play much longer than the scorecard says, and combining that with warmer temperatures throughout the weekend it'll give an edge to longer hitters off the tee who don't have to rely on additional rollout on their drives. It also should make the fairways artificially wider as drives stand a better chance of remaining in the fairways as softer conditions slow the ball's roll.
Here are five golfers I like to win the 2019 Masters (with odds courtesy of mybookie.ag):
Justin Rose – 12/1: With the attributes I described above, the winner should scream guys like Rory McIlroy and Dustin Johnson. However with such a deep and talented field their futures odds just don't have all that great of value.
The same goes for Justin Rose, who's 12/1 price tag is a little rich for my taste. But if somehow he were to drop more towards the 15/1 range by Thursday morning he's a golfer who I really like to finally win his first Green Jacket.
If you're reading this, you're already familiar with how good Justin Rose has been at Augusta, so there's no need to recount all his near misses. But I think the one skill Justin Rose has that not a lot of people realize how long he is off the tee. In 2011, Rose's carry distance off the tee was only about 270 yards, and he realized that if he wanted to get to the next level in his career he would have to figure out a way to increase his club head speed to hit the ball farther. He's added about 20 yards of carry distance to his driving since then, which is partially attributed to advancements in technology but also to the increase in club head speed he desired to have. He now can drive the golf ball with the big boys.
His combination of length and premier ball-striking with his irons should be a perfect one-two punch for this year's Masters. He's long overdue to win the tournament, and this year might finally find himself talking to Jim Nantz in Butler Cabin.
Jon Rahm – 14/1: Hopefully you were able to grab Jon Rahm last week when he was at 20/1, but if you're not as sensitive to these low odds as I am he's worthy of a bet to win the Masters. He has proven all he needs to with his talent to be a contender to win a major. He put himself in great position near the top of the leaderboard both in last year's Masters and at the PGA Championship (which had similar soggy, hot weather conditions that'll be seen this weekend) to start to understand what it takes to contend at a major. And with his ball-striking rounding into form heading into this weekend, he checks about 90% of the boxes for me.
The lingering question that myself and everyone else has asked for the last three years is if he has what it takes between the ears to harmonize with his raw talent to become a dominant force in professional golf.
The last time he took the mental fortitude test was at the Players Championship, and he failed in spectacular fashion.
An arrogant, stubborn, unnecessary and foolish decision here cost Jon Rahm the Players Championship. His inability to show patience and take his medicine in this situation was totally reckless, and it absolutely won't fly Augusta National (I shudder to think if he'll try this similar shot on 15 if he's caught behind the trees on the left side of the fairway).
But the glass half full side of me hopes that Jon Rahm discussed the situation with his caddie and while it likely was decided that ultimately Rahm is the boss, he had some self reflection on if he could have shown some restraint. With conditions ripe for a player of his caliber to win this weekend, I'm willing to take the chance he's grown from this error and when faced with a similar situation he'll make the right choice. And if he's able to control his emotions and game management to match with his ungodly talent, the sky is the limit for him.
Justin Thomas – 18/1: This was my pick to win the Masters on January 1, 2019. To me, it's between him, Dustin Johnson and Rory McIlroy as the guys who are the best when everyone is at their fifth gear. When he's on, there's no weaknesses in his game. He has tremendous length off the tee, deadly precision with his irons, soft touch with his wedges and can get nuclear hot with his putting. There isn't a golf tournament on earth he can't win.
What has me a little concerned is if he's over the arm injury he sustained at the Honda Classic. He sustained a "dead arm" when he hit a tree root that sent shockwaves up to his wrist, and ever since the incident his ball-striking has suffered as well as his tournament results.
Still, the 18/1 price on what I consider as the most talented golfer in the field is very tempting to me. It has been a month since the injury and though the results hasn't shown it, he does appear to be fully healthy heading into the Masters. He also comes into Augusta without being in the spotlight as much as he was last year. In now his fourth Masters where he's shown better in each year he's played, I see big things for Justin Thomas and expect he'll be in the mix down the back nine on Sunday.
Tommy Fleetwood – 25/1: Jon Rahm's implosion took most of the spotlight in the final group at the Players Championship, but Tommy Fleetwood let a golden opportunity slip through his fingers as well. Fleetwood once again put himself in a great spot to win a prestigious tournament on U.S. soil, but his putter was ice cold and he fell short to win once again.
He keeps putting himself in positions to win, and eventually it will all fall into place for the talented Englishmen. The phenomenal ball-striking statistics he possesses speak for themselves. But in order to succeed at Augusta one must work the ball both ways, and that's a world-class skill he has.
Players typically see a leap in performance once they participate in their third Masters, a bump Fleetwood hopes he'll enjoy with his third trip down Magnolia Lane. He missed the cut in 2017, and he found himself in contention in 2018 before a poor Sunday knocked him down the leaderboard. Will he continue this upward trend for the 2019 Masters for his first breakthrough victory in the United States? With his form and 25/1 price tag, I'm willing to find out.
Xander Schauffele – 40/1: Another guy who has put himself in great positions at big-time tournaments is Xander Schauffele. But unlike Fleetwood he actually has shown what it takes to climb to the top of the mountain. While he's won premier events like the Tour Championship and a WGC, he hasn't been able to find himself at the top of a major championship by the end of the weekend. He's come very close to doing so in each of his two U.S. Open appearances and at the Open Championship last year, but his ball-striking heading into Augusta strongly suggests he can finally break through for his first major title.
The manner he's won on the PGA Tour is also an attribute I consider as an edge this weekend. At each of the Tour Championship, the Sentry Tournament of Champions and the WGC-HSBC Champions he was asked to run down the 54 hole leader and was successful in doing so each time. The final round of the Masters may be disrupted with stoppages and restarts given the risk of thunderstorms, and there's a possibility the event will bleed over into Monday. These unusual circumstances makes it likely that the leaderboard could see a Round 4 shake up as golfers struggle to cope with the start and stop flow of the round. Xander Schauffele once again could find himself in a similar situation of running down the leader to take the win for himself.