It's the little things in life… is often an unavoidable phrase when it comes to resting one's laurels on simplistic enjoyment, or in other cases, latching onto a very niche model of fascination.
For me personally, the little things in my love for sports gambling are the avenues of which that allow and force you to think down a vast multiplicity of possibilities, along with the rabbit hole kind of conversation it becomes (ie: Daily Fantasy Sports roster construction). Well, take those possibilities and add some individual player stat Live Betting, Head-2-Head player-vs-player stat prop, as well as Over/Under wagers per player … all rolled into one.
Enter: the MyBookie.Ag Props Builder Tool
After prying myself away from my personal DFS dementia this past weekend throughout the MLB Opening Weekend, I hopped onto MyBookie.ag and figured I'd poke around a bit to see what some current lines were sitting at.
The Props Builder feature sits atop the middle menu to your left on web browser, and I figured to check it out so I could expand my horizons outside of DFS, but deeply in hopes to discover something similar enough to feel confident in playing. To my delight, I've found a keeper.
Not going to lie, this thing is pretty bad ass and if you're any sort of a geek of contrarianism, like I am (DFS will do this to a person), then you will undoubtedly get some enjoyment out of this tool.
Upon playing with the number of features further, I even found some intriguingly feasible applications of such that can be paired alongside your favorite avenue/facet of sports betting to kind of give you some insight on where you can make your stand on your daily standard wagering.
You'll start off on Quick Picks by default, and you can proceed to toggle your sport of choice to the top right of the Props Builder interface. This allows you to sort available prop bets by Stats or Players, and Live Betting for this feature is also included as well (always a plus for any quality degenerate sports gambler). You can find the prop price listed underneath each margin of wagerable stat category per player available.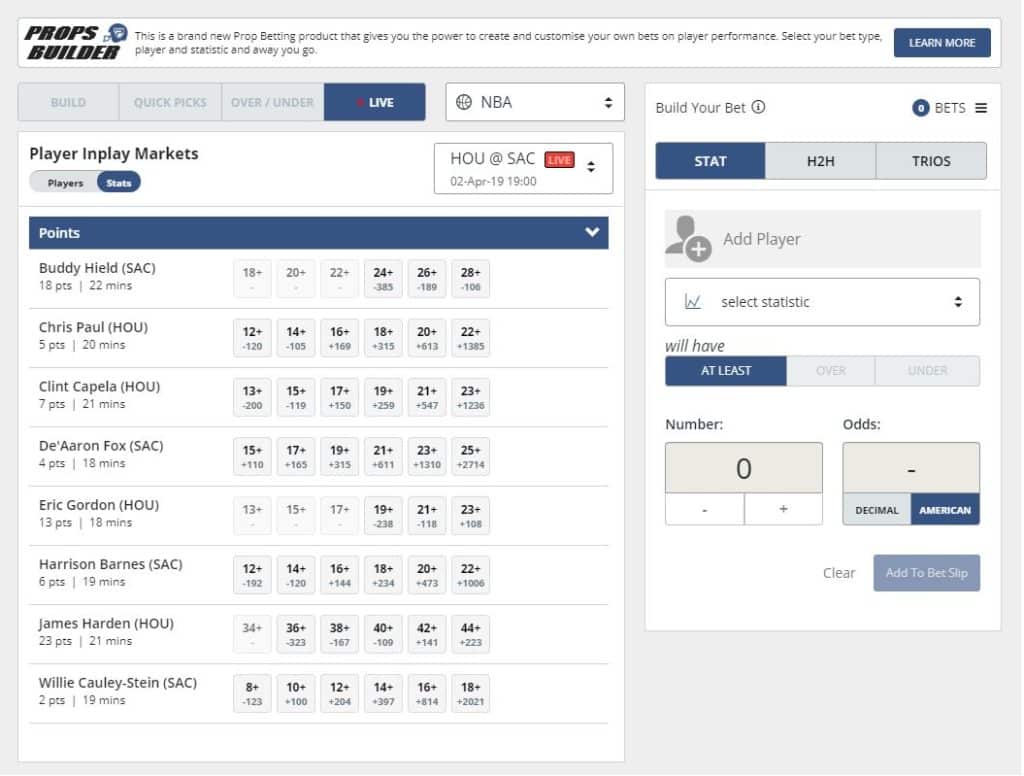 Being cut from the DFS-prioritized side of the sports gambling cloth, naturally my mind wandered when being offered a Skittles bag of options per player to bet on, and for each of the major stat categories especially. And it dawned on me that not only could those taking the standard betting lines benefit from partnering the use of this tool with their daily process, but DFS players can also gain every bit as much by using the individual player margins to your advantage to seeing where the prices breaks are spikes are situated and then making your typical bets from there.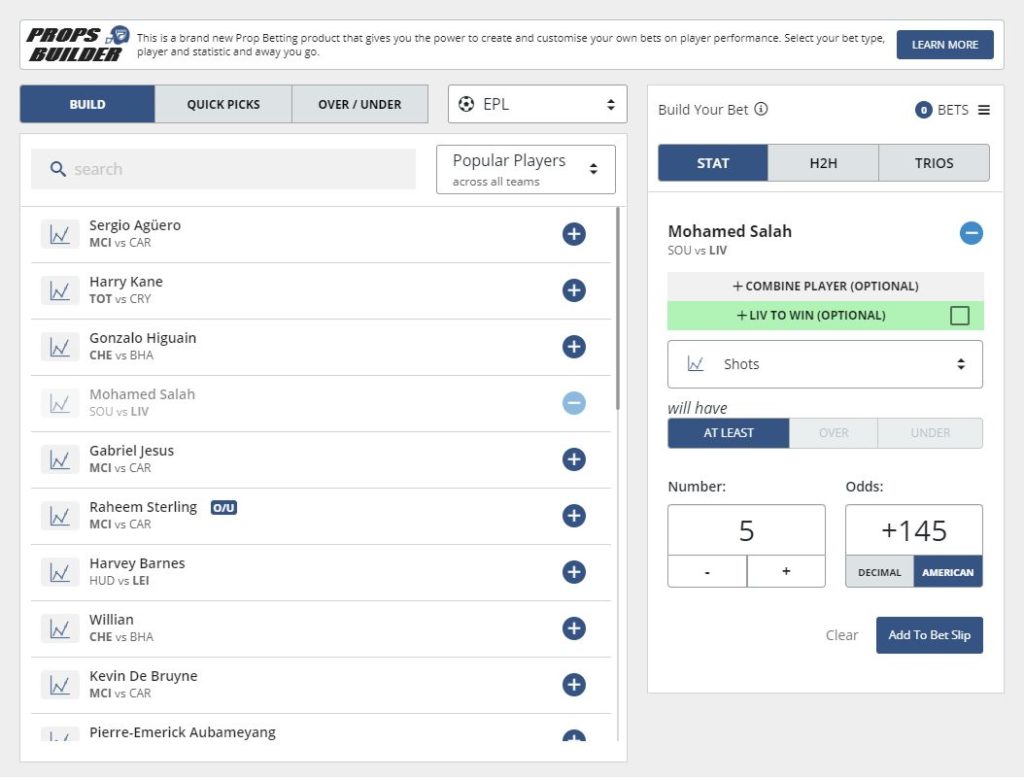 Going back to the Build option takes you into a menu that allows you to set a series of prop bets for yourself that you build from a number of your favorite prop options (or "Proptions", if you want to coin a phrase) and make an awesome parlay of off-the-wall bets that you may find angles with coming from your preferred avenue of sports betting. Analyzing DFS player projections and comparing them to what's offered here makes for a very palatable betting angle from all sides of the dollar at stake.
As you can see, the possibilities are clearly endless and you can even have the option to parlay the betting lines of the actual games themselves with these props and have yourself a parlay party if you're feeling that crazily confident with your betting angles. Baseball betting fanatics of all sorts (like myself) will have a field day using the Props Builder tool now that the season just got under way and we can have an endless number of stat props to wrap our minds around. The soccer betting options were every bit as awesome.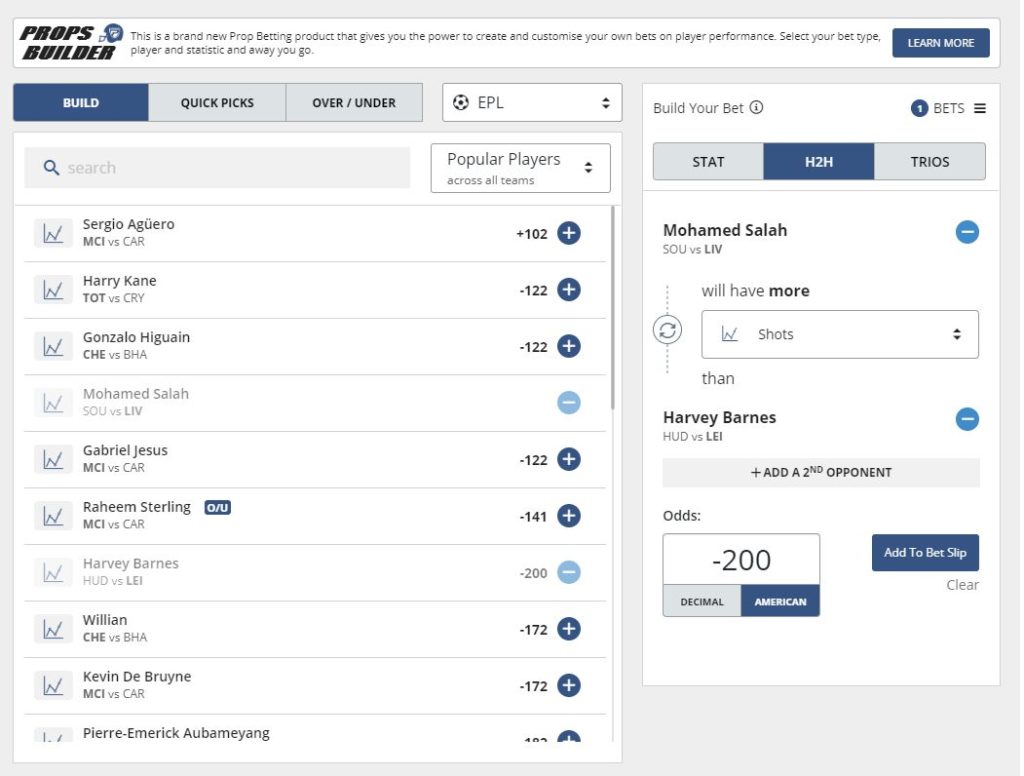 I personally find the Player Vs. Player stat prop options the most entertaining because you can truly take your mark on a specific point that you're hinging your day upon outside of that tool (for example, vesting DFS ownership in a player based on a specific stat advantage point).
I encourage you to play around with the MyBookie.ag Props Builder tool yourself and feast on some of your favorite stat categories that you've already got an edge upon, and discover some unique perspectives of your own with as well. Use the promo code SGP50 for a 50% deposit bonus on your first deposit and get to some Props!